Travelling To Sri Lanka in 2023 – Unpacked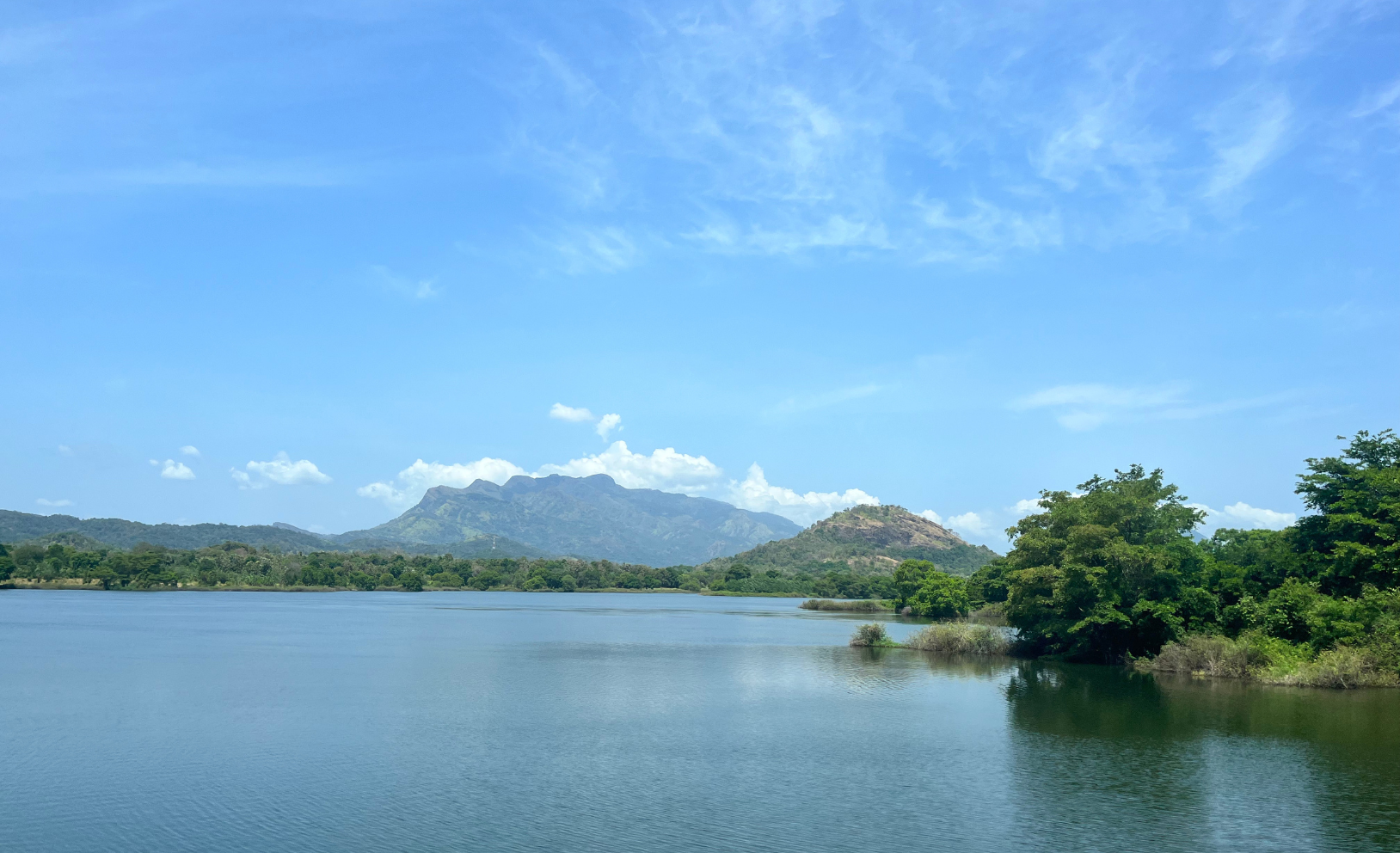 Join us as we journey to Sri Lanka, a land shrouded in mystery and beauty, where ancient traditions blend seamlessly with modern culture. At nemo, we believe that travel is about more than just ticking off a bucket list – it's about exploring the world with open eyes and an open heart. And in this article, we're setting the record straight and uncovering the true state of travel in Sri Lanka, as experienced by our Head of Delivery, Sophie. So, buckle up and get ready to join Sophie as she heads to the Emerald Isle on a journey like no other. With the help of our friends and partners on the ground, she'll delve into the country's landscapes, culture, and history, and discover the incredible wildlife that roams free. Time to discover what travel to Sri Lanka is really like in 2023.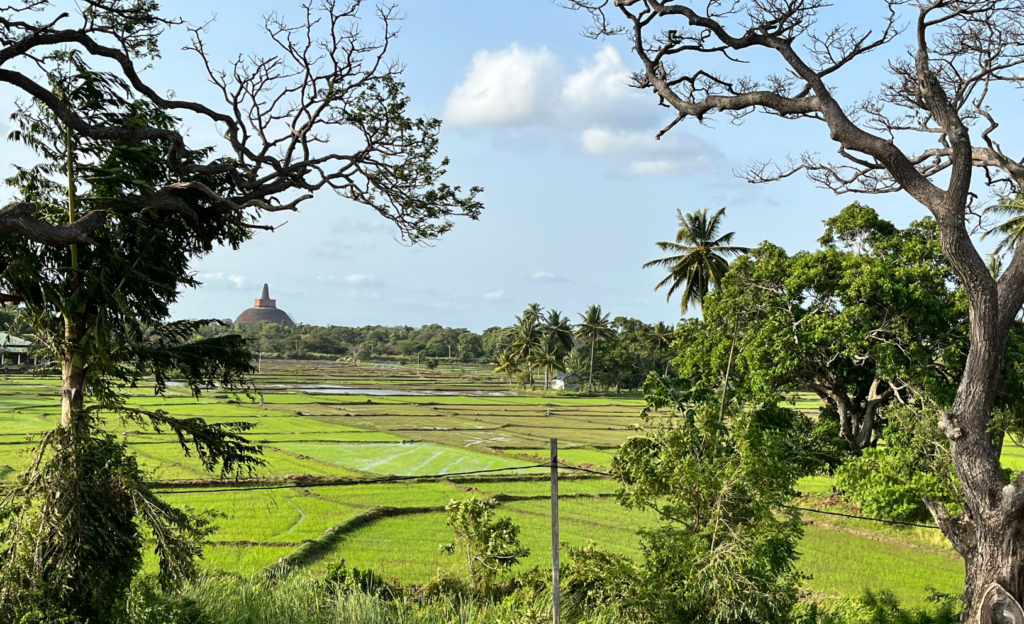 Why We Wanted To Go
Sri Lanka has always held a special place in our hearts as a go-to destination for honeymooners looking for the perfect mix of idyllic beaches, vibrant culture, and thrilling adventures. However, the past year hasn't been kind to this wonderful country, largely following the impact of the COVID-19 pandemic. The barrage of largely unwarranted and inflammatory travel advisories has severely affected the locals' livelihoods. But what we saw on the news didn't match up with what our friends and partners on the ground were telling us. So, in the spirit of discovery and adventure, our intrepid Head of Delivery, Sophie, embarked on an epic two-week journey to uncover the true state of travel in Sri Lanka on behalf of our valued travellers.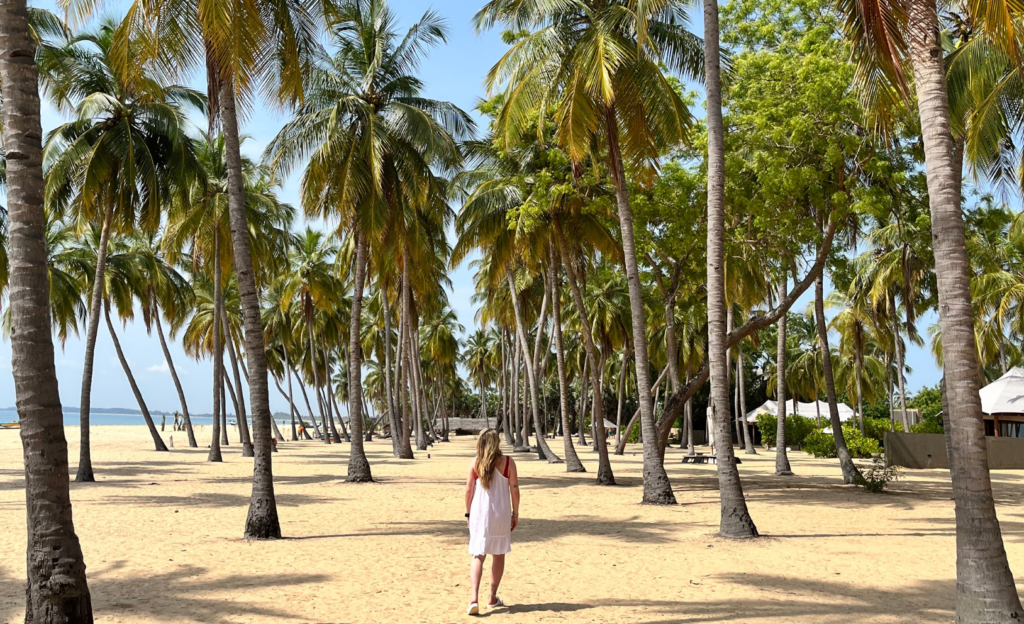 A note from our friends in Sri Lanka…

"The pandemic, followed swiftly by the economic crisis in 2022, has encouraged us to think more about our sustainability, our team members' well-being and the needs of the communities around our hotels. We have developed a much better network of local suppliers, have expanded our hotel gardens, and have curated some new experiences that help guests feel truly immersed in the local area. Throughout the country, tourist sites are quieter than usual and hotels have last-minute availability – what's not to love?" Henry Fitch, CEO – Teardrop Hotels.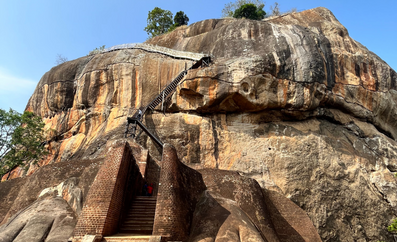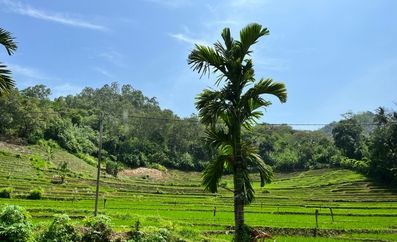 What Sophie Was Excited To See
Alongside our yearning to unpack the situation on the ground in Sri Lanka, it was also time to reacquaint ourselves with the unmatched experiences that this country of contrasts offers. For Sophie, the excitement was palpable as she packed her snorkelling gear for the East Coast. The glass-clear waters that awaited her promised an otherworldly experience of serenity and tranquillity that would transport her to another dimension. Compared to the surf mecca of the South, the East Coast was a serene haven that Sophie couldn't wait to explore.
But the adventure didn't end there. Sophie was ready to venture further inland, eager to immerse herself in the rolling hills and tea plantations of Ella and the Tea Country. The landscapes were unlike anything she had ever seen before, and the cool climate was a welcome respite from the humid coastal regions. She was ready to be awed by the stunning vistas and the lush greenery that stretched out before her.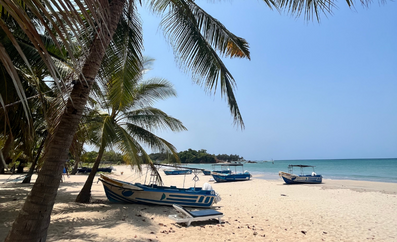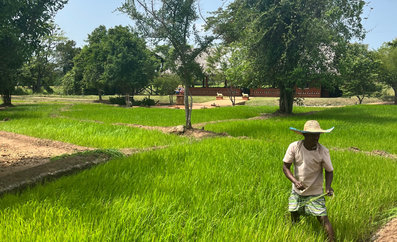 Of course, no trip to Sri Lanka would be complete without exploring the country's rich culture and history, encapsulated in the iconic climb up Sigiriya Rock. This was one of Sophie's most eagerly-anticipated experiences, a chance to marvel at the incredible craftsmanship and ingenuity of those who built it. As someone who has travelled extensively through Asia, she was also curious to delve into Sri Lanka's unique culture and cuisine, uncovering the delicious differences that set it apart from its neighbouring destinations.
And finally, the wildlife. The wistful tales of the elephants and leopards that roam freely around the country had captured Sophie's imagination, and she was thrilled to have the chance to see them in their natural habitat. The thought of encountering these majestic creatures in the wild was an experience that promised to be nothing short of magical.
A note from our friends in Sri Lanka…

"Despite the negativity about Sri Lanka, there are many benefits to visiting the island right now  – fabulous weather, some great value deals to be had, and a reduced number of tourists, so booking last minute is a cinch! It is easy to get around as there is no shortage of fuel for tourists to travel about the country, and the famous Sri Lankan welcome is there to greet guests!" George Cooper, CEO/Founder – KK Collection.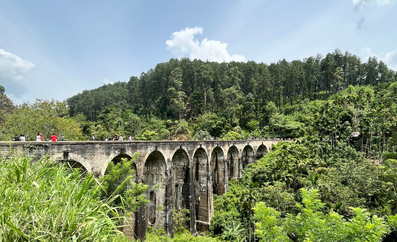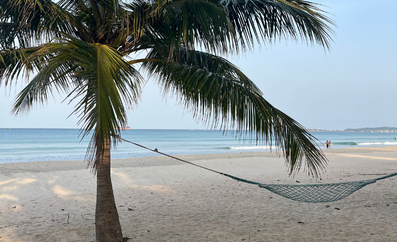 How It Lived Up To Expectations
As ever, Sri Lanka is the destination that truly delivers on all fronts. During her two-week trip, Sophie had the pleasure of experiencing everything from safaris to cycling, walking tours of historic sites, hikes, and relaxing on the beach. And, it's not just the variety of activities that makes Sri Lanka special. It's the people. Despite recent challenges, the locals were some of the friendliest and most welcoming people she had ever met. Their positivity is infectious and really puts things into perspective.
The country's beauty is equally mesmerizing. Everywhere you look, there's greenery, with palm trees swaying gently in the breeze. Driving around Sri Lanka with her own driver meant that Sophie could stop wherever she wanted to take in the scenery, and even experience the local villages that many travellers might overlook. But, for Sophie, the most exciting part of the journey was the train ride through the tea country. Seeing the rolling hills and lush tea plantations from the window of a train was a unique and memorable experience. 
Whilst travel isn't totally back to pre-pandemic ease, with longer-than-usual queues for fuel for example. In all, Sri Lanka truly exceeded Sophie's expectations. So filled with life, vibrancy and, most importantly, a feeling of complete and utter safety. From our experiences, this country is far from treacherous, it's a breathtaking place ready and waiting to welcome travellers with open arms and offer up its myriad of culture, natural beauty and wholeheartedly warm hospitality in abundance.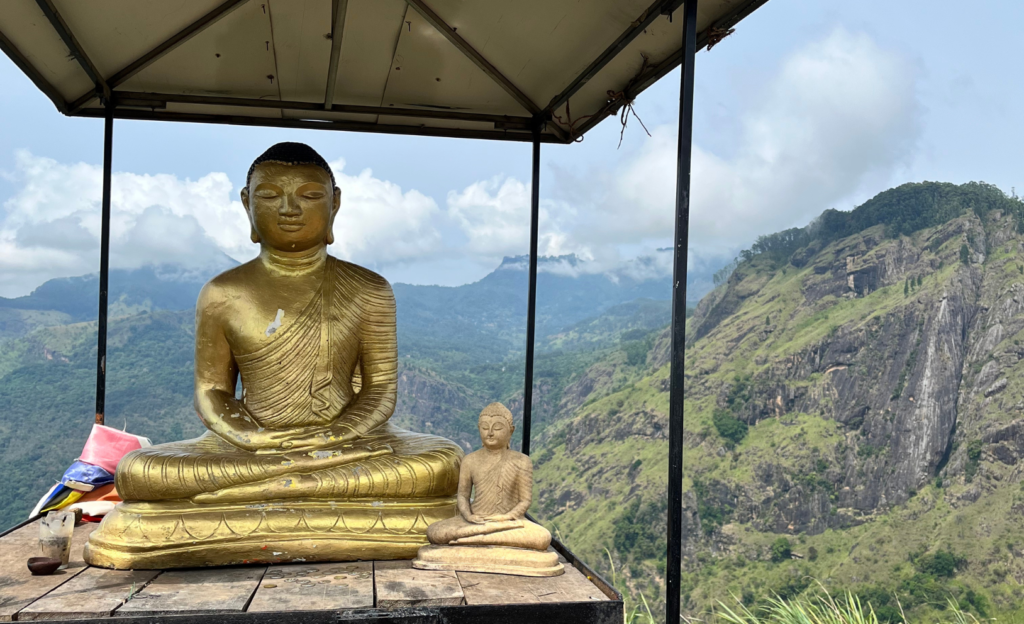 A note from our friends in Sri Lanka…

"There are at least two silver linings to the contradictory and negative travel advice. One is the additional pleasure of experiencing a safe and seamless holiday beyond original expectations dampened by doubt and concerns before departure, as the situation on the ground has been fine since the winter season started. The other is that those experiences are amplified by the warmth of a grateful people and the lack of crowds (for now!) where you typically would not want them." Tim Jacobson, Founder – Manor House Concepts.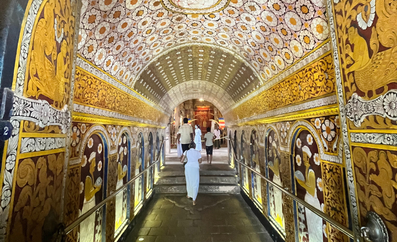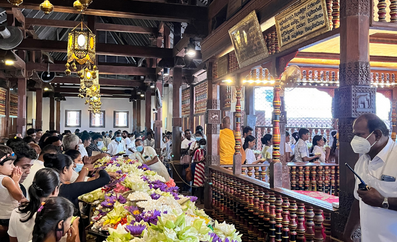 Where To Stay Along The Way
The Ibis, Wilpattu: From the stunning views to the well-appointed rooms, every detail at this property is meticulously crafted to create an unforgettable stay. What truly sets this hotel apart is its commitment to the local community. All of the staff are drawn from nearby villages, creating an authentic atmosphere that allows guests to connect with the culture and people of Sri Lanka. The team takes visitors on unforgettable safaris through the lush wilderness of Wilpattu, while also creating delicious feasts that showcase the best of Sri Lankan cuisine.
Aliya Resort, Sigiriya: Minimalistic in style and entirely eco-friendly, Aliya is somewhat larger than The Ibis. The highlight of this retreat is undoubtedly its stunning pool, which is perfect for a refreshing dip after a day of exploring. With Sigiriya as a backdrop, the views from the resort are unbeatable, and there's no better location for exploring this incredible destination and the surrounding areas.
Karpaha Sands, Kalkudah: Nestled at the end of a remote dirt track, along a 7-mile stretch of pristine coastline, Karpaha is the epitome of escapism. Days are spent roaming barefoot, with next to no signal, perfect for travellers seeking a digital detox. The perfect way to unwind and experience Sri Lanka's east coast with no other tourists in sight, bar the select few travellers staying at the hotel.
Most Memorable Experience
Nestled in the crystal-clear waters of Trincomalee, Pigeon Island proved to be a highlight of Sophie's trip to Sri Lanka. Donning her snorkelling gear, she dove headfirst into the vibrant underwater world, coming face to face with black reef tip sharks. The thrill of swimming alongside these magnificent creatures was truly unforgettable. And if that wasn't enough, Sophie was then treated to a feast of fresh seafood at the local eatery 'My Kind of Place.' Crab and prawns straight from the ocean were on the menu, and she savoured every bite. As she chatted with the owner and their driver, Sophie gained unique insights into Sri Lankan life and culture. It's no surprise that she's already planning a return trip, this time to explore the wonders of the South of the Island.