Activities in Morocco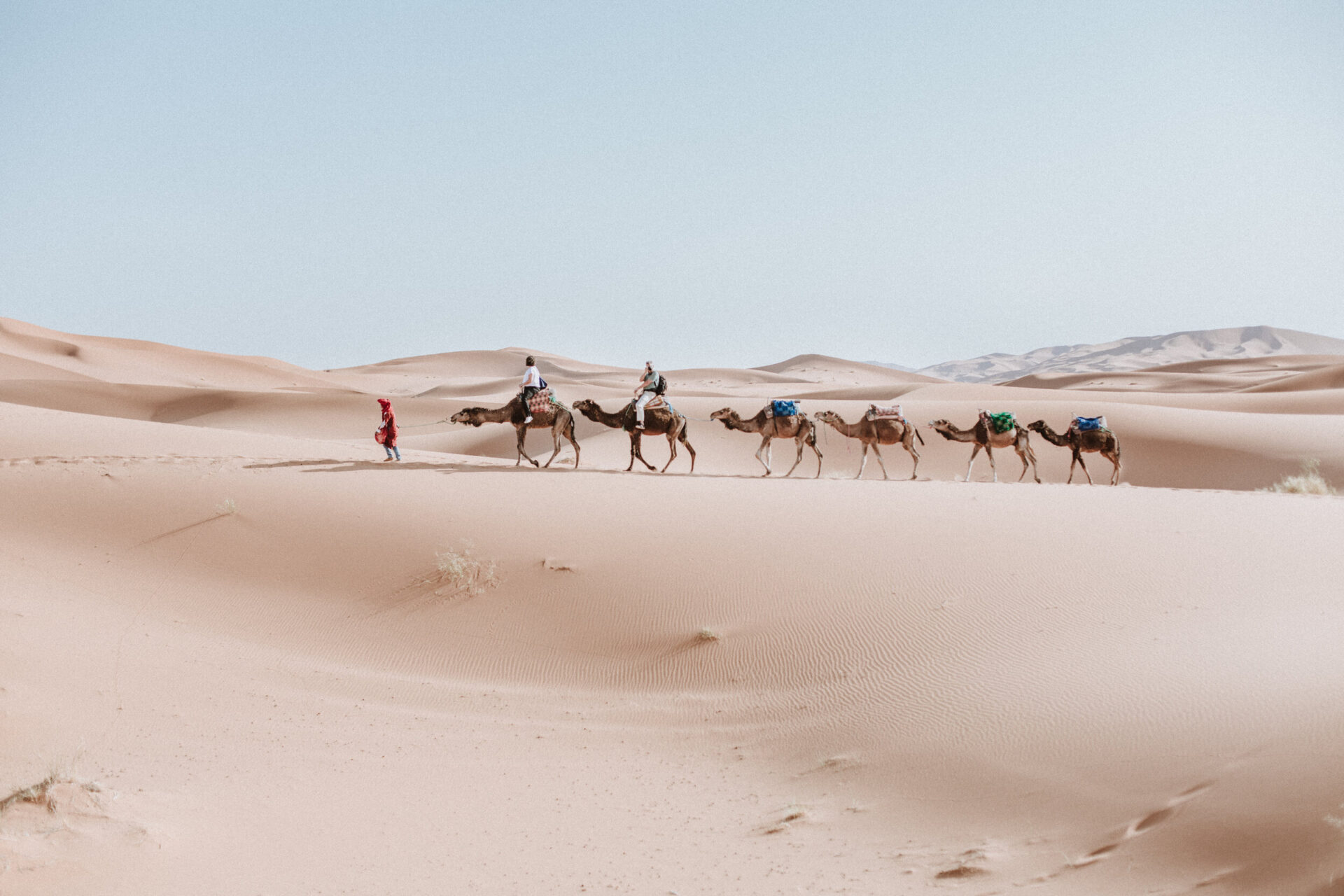 All About Authentic Experiences
Morocco has a special allure that has captured the imaginations of travellers for centuries and the experiences to be had are out of this world; take a sidecar tour of Marrakech, a camel ride through the Agafay desert or intrepid hikes in the Atlas Mountains. Below, we've rounded up our favourite activities to top off your trip.
Marrakech
Cookery Class with Souk Cuisine: There are lots of different classes available around the city and a really fun way to firstly get stuck into the markets, and then learn to make some delicious local dishes (usually tagine!). £60 per person.
Sidecar Experience: Quite a unique one! But I couldn't recommend it more. Spend a morning or afternoon with a guide exploring the backstreets of the city in a vintage sidecar.  £220 total.
Hot Air Ballooning: An early start but well worth it. You would drive just outside Marrakech to enjoy a hot air balloon above the city and surrounding desert, with views of the Atlas too. £180 per person.
Street Food Tour: A fun one if you want to explore the medina one evening and try some local delicacies. £100 pp.
Agafay Desert
Stargazing: An ethereal experience under the vast desert night sky where as you're guided through the stars by a professional astronomer (includes dinner). £30pp.
Camel Riding:  A real must-do when in Morocco, for an unrivalled and authentic panoramic view of the wild tracks of the Agafay desert. £30pp.
Horse Riding: Feel like a golden-age adventurer with a sunset ride across the desert. Your guide will tailor the experience to your equestrian abilities. £85pp.
Mountain Biking: This half-day activity will take you off the beaten track, through canyons, the eucalyptus forest and vast expanses of desert alongside your experienced guide. £60pp.
Quads / Buggies: For those wanting a real adventure, this adrenaline-fuelled activity is an incredible way to explore the vast dunes. From £120pp.
Yoga/Meditation Session: For a zen experience in the Agafay, reconnect with mother nature through sequences of stretching, postures and breathing exercises – all led by expert yoga instructors. £40pp. 
Atlas Mountains
Horse Riding: You will ride through the villages of Timalizen and down to the river. It is a great way to discover the Ourika valley without too much effort. £30pp. 
Treks: There are a few route options for each level of trek each taking a different length of time, see an example for each below.
Easy Trek: Starting from the Kasbah, explore the traditional salt productions at Taourirte, visit a berber village, and come back to the Kasbah through the little fields of olives, plums and vegetable gardens (2h – 2h 30min). £40pp. 
Medium Trek: Explore the Traditional Salt Mines at Taourirte, visit the nectarome (botanical garden) and Christine's Safran Garden farm plus the local Berber market of Tnine. In case you get tired the guide can arrange a local taxi to collect you which cost 150 dhs from the Safran Farm to the Kasbah (4-5h). £60pp. 
Hard Trek: Explore the several villages and their local way of life before entering into the National Park where you will discover the different types of trees of the Valley, such as juniper, Holy oak, pine and carob (7h). £80pp. 
Overnight hike – it would be £550 (without transfers to the start) for the hike.
This includes:
Breakfast (at KBO, lunch and dinner on the first day, and breakfast and lunch on day 2)

Overnight accommodation in the ghite (simple accommodation)  

English speaking guide

Water and mule support
Please let us know if you'd like to add any of these activities to your trip, we'll book it all for you and tailor them to your specific interests and abilities.