Where to Eat and Drink in Marrakech
From tuk-tuk rides through the spice-scented alleys to charming restaurants and bars, the vibrant city of Marrakech is bursting with culture and offers many hidden gems. It's a city full of flavour and wonderful cuisines and you certainly won't fall short of things to try – think orange-cinnamon crepes paired with traditional mint tea to Moroccan-inspired couscous. Feeling hungry? Read on to discover our hand-picked favourite spots to eat and drink so you are fully set for your city break of sunlit brunch dates and rooftop cocktail hours.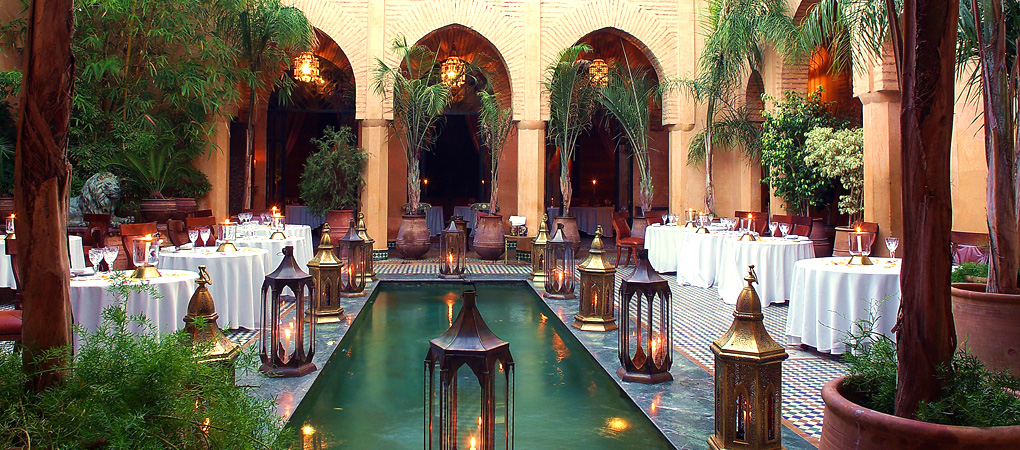 Our favourite restaurants
1. Nomad: Dive deep into traditional Moroccan cuisine at this trendy spot located in the heart of the Rahba-Kedima/Spice Square, the ideal place for a light lunch option. Please note that no alcohol is served here (a common theme in Marrakech's restaurants).
2. Café Des Epices: With its relaxing low-key vibe, this world-renowned café serves up authentic light bites, plus a wide selection of coffees paired with freshly baked Moroccan-inspired pastries. A great spot to fuel up for the day, open to walk-ins.
3. Dar Yacout: Head here for an amazing dinner spot. Expect large courses focusing on highly traditional Moroccan cuisine, and enchanting interiors that offer views over the city's celebrated landmarks. Let us know your preferred evening so we can be sure to book ahead.
4. Le Foundouk: This trendy rooftop bar is the ideal spot for a romantic meal for two. Serving top traditional Moroccan tagine that will have you thinking of Arabian nights. 
5. The Royal Mansour: A luxurious hotel with plenty of internal restaurant options. Our top pick is 'La Grand Table', promising an unforgettable experience with a Michelin-star chef fusing contemporary flavours with traditional cuisine (one to book ahead).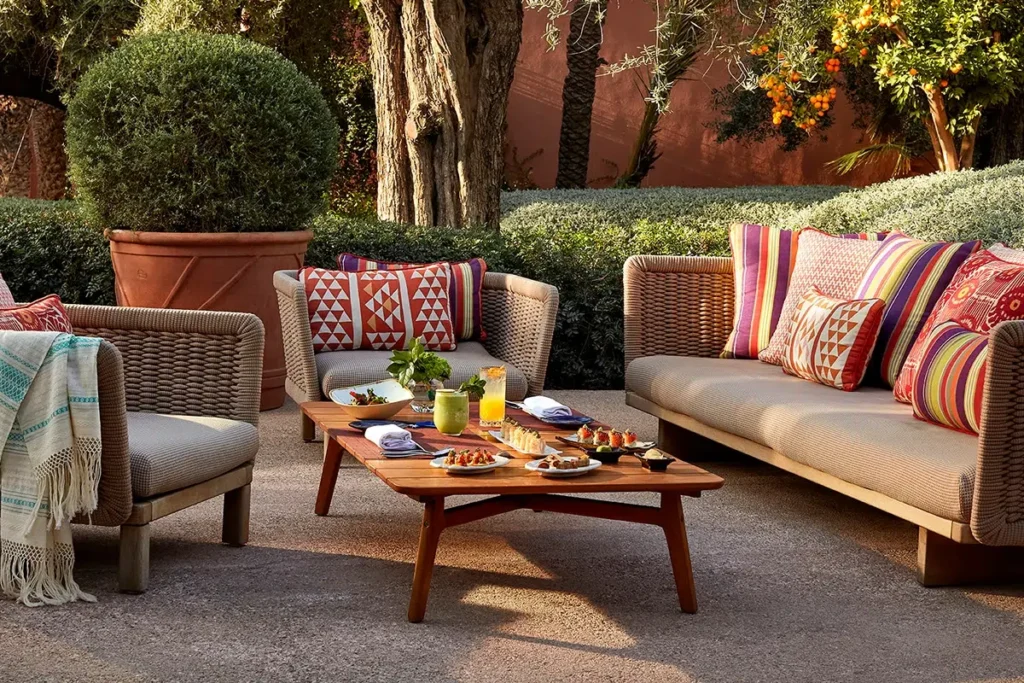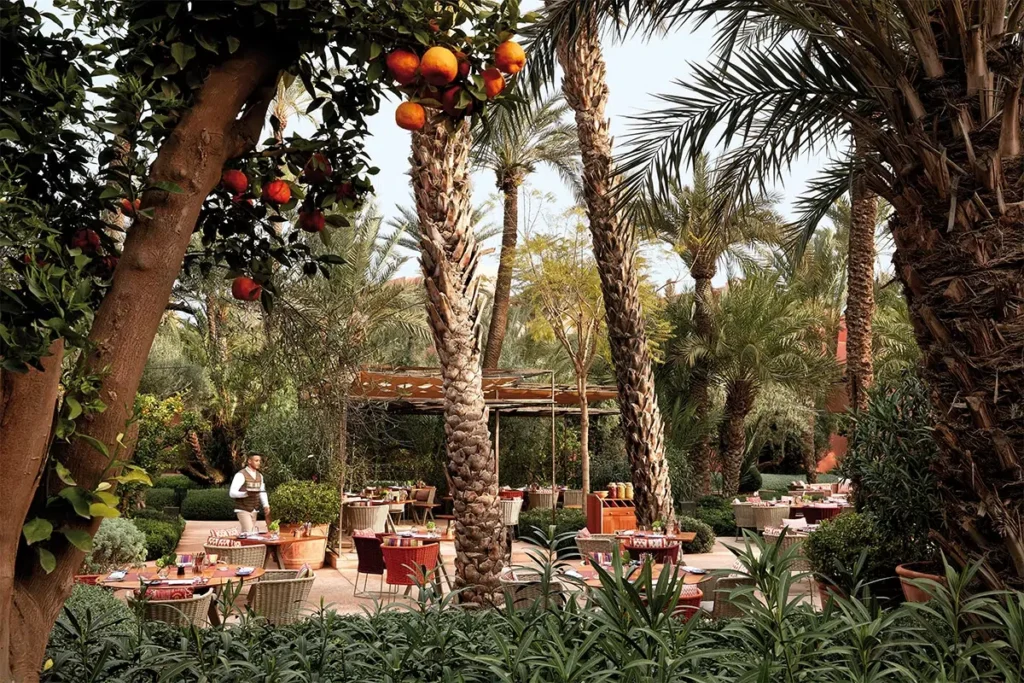 6. Le Jardin Secret: This secret garden spot is the perfect place to rest when feeling a bit peckish after a morning wandering the medina and yearning for a break from the midday heat. One of the oldest palaces in Marrakech, it shows off stunning artwork and outstanding examples of Islamic architecture.
7. Bacha Coffee Marrakech: A gorgeous coffee room and boutique that oozes Moroccan charm and tradition. Serving Arabica coffee, delicious teas, and Mediterranean cuisine – it's the ultimate spot to take a break from wandering the souks.
8. L'mida Marrakech: A stylish oasis serving dishes inspired by Marrakech traditions. Wine and dine within the lush leafy setting of the restaurant's rooftop bar and admire the views with a glass of tea or refreshing fruity mocktails.
9. Le Salama: Time to sample some of Morocco's finest flavours, Le Salama attracts the city's night owls who come for the expertly shaken cocktail, friendly service, and spectacular entertainment – think belly dancers and fire shows.
10. Plus61: This place captures the Australian lifestyle with its fresh no-frills aura and minimalist interiors. Here you can pause from the bustling city and relax with friends over citrus cocktails, shared platters, and a bottle of wine.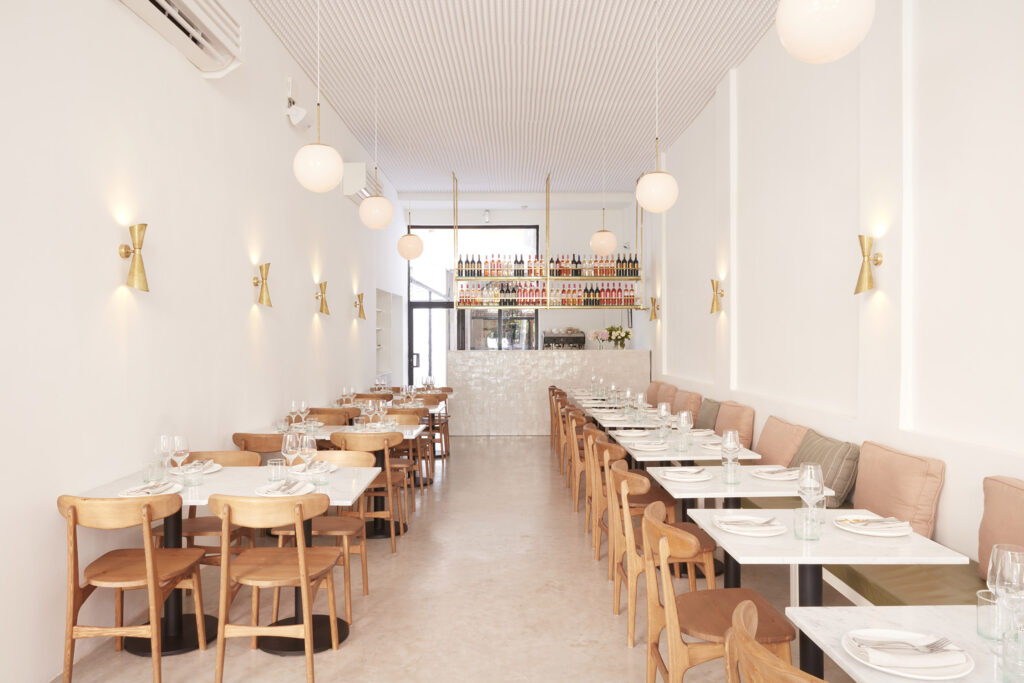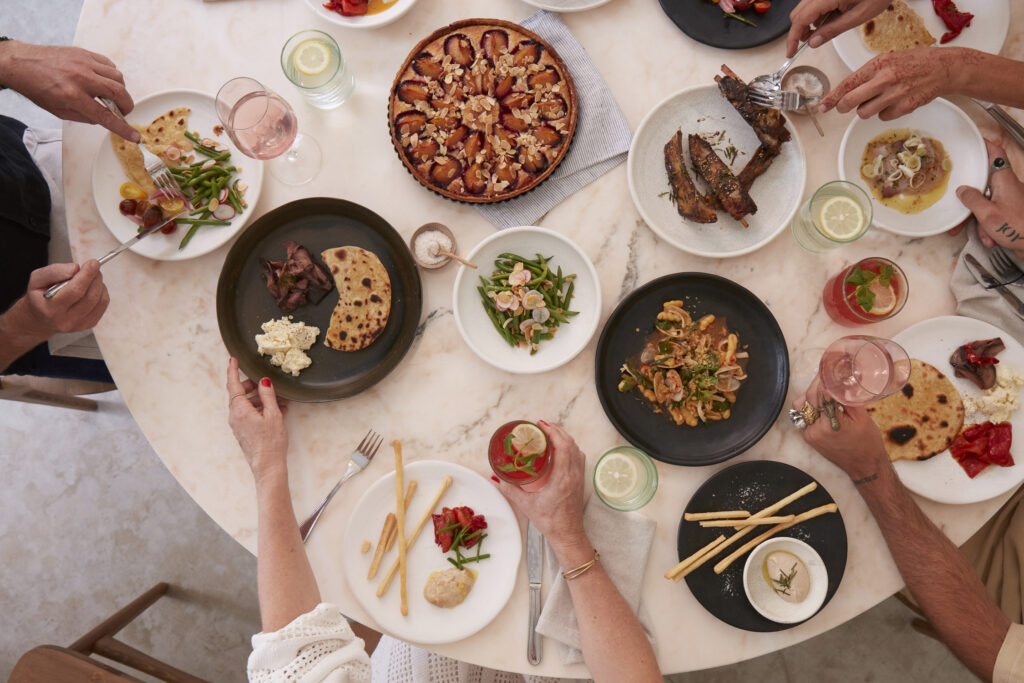 Our favourite bars
1. El Fenn: A favourite among locals and tourists alike, this stylish hangout fills up quick so ask us to reserve a table for you ahead of time! The rooftop bar serves up stunning sunset views over the Atlas Mountains with a selection of sweet cocktails (be sure to try the lychee martini – it's a team fave!).
2. Cafe Arabe: One of the best spots in the city for afternoon rooftop relaxation. Take a seat and sip on a glass of award-winning Moroccan wine or opt for the traditional mint-infused tea.
3. Kabana Marrakech: Featuring a calm and cosmopolitan atmosphere, this is the highest drinking hotspot in the city. With vibey DJs, tasty mojitos, and sushi platters, it's a drinking spot not to be missed!
4. Bazaar Cafe: Provides a charming and wholesome setting specialising in Moroccan wines and spirits. Plus, a great option for those health enthusiasts with its organic cleansing juices and shakes.
5. Baromètre Marrakech: Inventive cocktails take centre stage at this super trendy vintage-inspired bar – think rose-infused gin paired with fruit puree, sweet sugar syrup and rose water. The very first bar dedicated to mixology in the red city.