Where to Eat/Drink and What to do in Hermanus
Hermanus is a quaint coastal town nestled on the stunning South Coast of the Western Cape that offers a plethora of ocean-borne adventures, beachfront wine bars and trendy seafood restaurants. But the thing that drives most travellers to this corner of South Africa is the whales that frequent its shores, so get those binoculars at the ready! Below, we've rounded up the best places to eat and drink along Hermanus' coastline and some of our favourite experiences in the region, why not add your favourites using our interactive itinerary builder?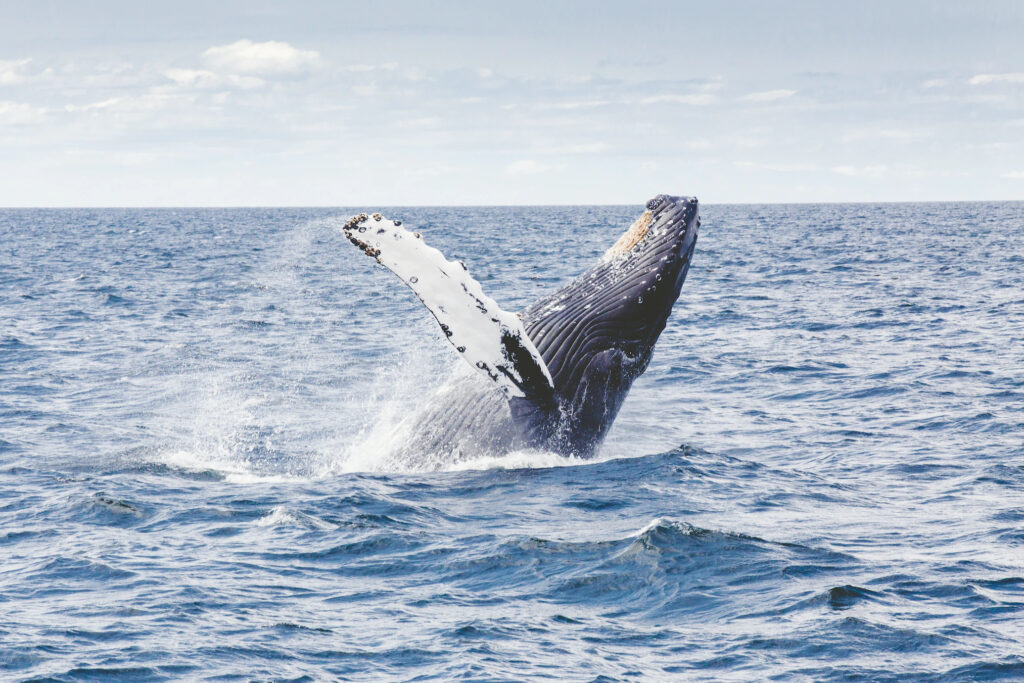 What to do
1. Whale-watching boat trip: Hermanus is one of the best places in the world to see whales up close and personal! With sightings possible from May but best from June-October, take a shared boat trip into the ocean and spot these gentle giants. You can also glimpse the whales from the shores, for any travellers unsure about their sea legs! *
2. Visit Hemel en Aarde Wine Estate: Widely regarded as one of the most exciting wine areas in South Africa, with epic scenic views and vineyard walks. While away an afternoon and enjoy a journey through the creation of traditional South African Pinot Noir and Chardonnay's, and sip on fine vintage samples as you go.
3. Kayaking Walker Bay: Explore the stunning coasts on this amazing kayaking adventure, and glide through the blissful marine reserve capturing epic sightings of cape fur seals, penguins, cormorants and other sea birds and marine mammals. *
4. Walks along Walker Bay beaches: For those nature lovers and hiking enthusiasts, Walker Bay Nature Reserve offers an array of beautiful coastal beach and cliff-side walks for all walking and fitness levels. Be sure to pack your binoculars as amazing whale sightings can be spotted on foot.
5. Marine Big 5 boat trip: Experience the best shot at seeing Africa's epic Marine Big 5 – think African penguins, great white sharks and pods of dolphins – on this fantastic guided boat tour with an amazing experienced crew. A great option when in the area outside of whale watching season.* 
6. Whale-watching boat tour, Gansbaai: Make your way to Kleinbaai Harbour in Gansbaai for another whale-watching boat tour option. Travel to Dyer Island and experience rewarding close-up sightings of the Marine Big 5 and spot the Geyser Rock, home to around 60,000 Cape Fur Seals – a truly memorable experience, one to tick off the bucket list! * 
7. Walker Bay scenic flight, Stanford: Enjoy a once-in-a-lifetime experience as you take to the sky above Hermanus and Stanford. You'll fly over the dramatic Kleinrivier Mountain views and pristine beach scenes. From the air above, you'll be able to spot the spectacular marine life and of course, the famed Hermanus whales in their natural surroundings. *
8. Wine Hopper: Experience the dreamy Hemel-en-Aarde valley on this unique hop-on hop-off safari-style vehicle adventure. Hop from cellar doors to the boutique wineries comparing the wines characteristic to this region – think Pinot Noir and Chardonnay tastings all day long. *
9. Shark cage diving: This invigorating, educational experience offers the opportunity to witness sharks in their own territory and to come closer to acknowledging that there is more to these animals than meets the eye. No diving experience is required and all equipment & refreshments are supplied on board. 100% safe, 100% adrenalin – the ultimate nemo experience. *
*All experiences marked with an asterisk can be booked through nemo, all others can be enjoyed independently.
Restaurants
1. Bientang's Cave Restaurant & Wine Bar: One of the best spots in South Africa for seafood platters and West Coast oysters, enjoyed in a restaurant that has been carved into the depths of a century-old cave – Instagrammable to say the least! Enjoy a selection of the Cape's finest wines whilst admiring the whales swimming (month dependent) mere stone's throw away from your table.
2. Burgundy Restaurant: A charming, vibrant location with dazzling views over Walkerbay, a great option for those brunch enthusiasts with its delicious eggs benedict and blueberry & coconut detox smoothies.
3. Ficks: This trendy oasis serves dishes that are inspired by Northern Spanish cuisine. Grab a few delicious pintxos plus a cocktail or two and relax while on the expansive wooden terraces overlooking the endless ocean views.
4. Hermanus Country Market: Open every Saturday, all year round, this country town market offers the most wholesome of mornings. Arrive early, and stock up on farm-fresh veggies and artisanal bread before enjoying your iced latte alongside warm, freshly baked pastries.
5. Fisherman's Cottage: Dive deep into delightful seafood dishes at this quaint historic fisherman's house, where a traditional menu is served with a contemporary twist – think Durban-styled Calamari and spiced seafood curry.