Tara Cookery's Top Tips for Sri Lanka
Sri Lanka's Tastiest Coconut Roti and Sunset Elephant Encounters
We caught up with Tara Cooker, nemo traveller, friend and incredible chef after her foodie-fuelled adventures in Sri Lanka last December. Read on for an honest account of her incredible trip, from hotel reviews to hidden crab curry pit stops …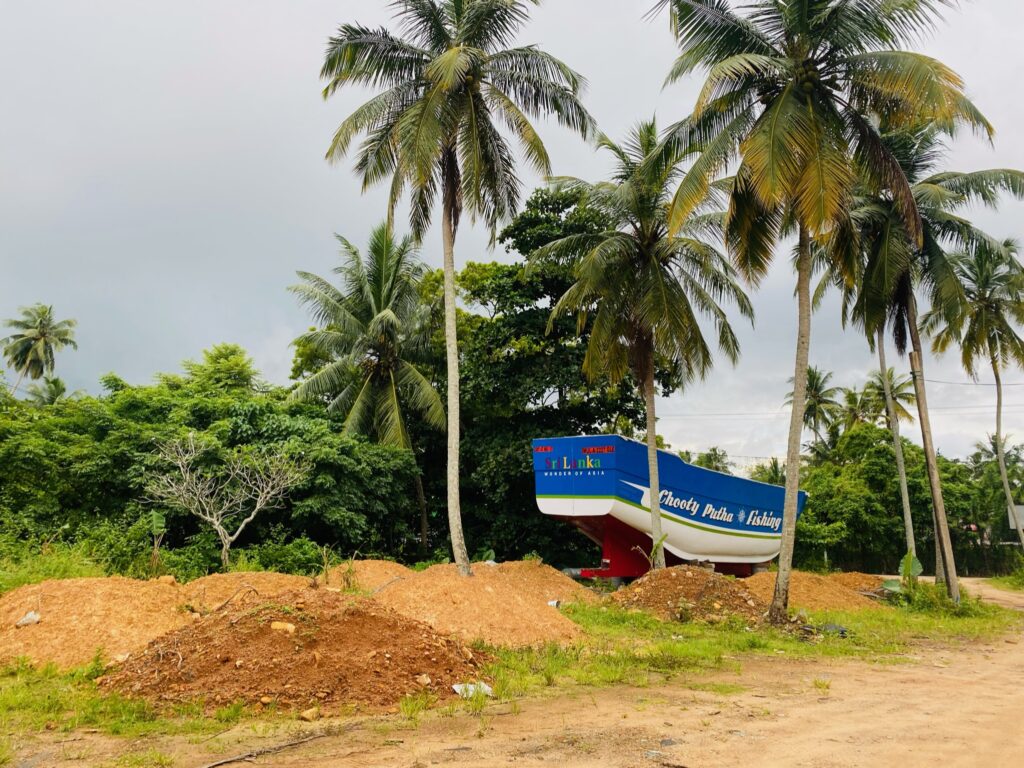 18th-20th November 2021 – Colombo
Uga Residence –
A lovely modern hotel with old colonial and boutique touches. Amazing big rooms and welcoming and attentive staff. We only ate breakfast in their restaurant 'Rare' which was very good. We opted for the Sri Lankan breakfast of chicken curry, coconut roti, symbol and dal. Delicious coffees, juices etc. This hotel knows what it's doing.
Gallery Cafe –
Dinner on our first night. This is a very cool restaurant / cafe. Lots of black and white striped table runners and beautiful candelabras. At first the menu was slightly off putting as it has everything from bolognese and beef bourginion to pad thai and nasi goreng. Do not let this put you off, we had the black pork curry and the prawn curry which were absolutely excellent. We discovered kankun (sp.) which is wild/water spinach. They cooked it with oyster sauce and garlic, to accompany the prawn curry. Our first taste of sambol (coconut flesh chopped up with tomato, chilli etc used as a fresh condiment) was fantastic. It was full moon so no alcohol but we had very tasty virgin mojitos which hit the spot. The shop and gallery attached are brilliant, lots of well priced pottery. We bought loads of Christmas presents here.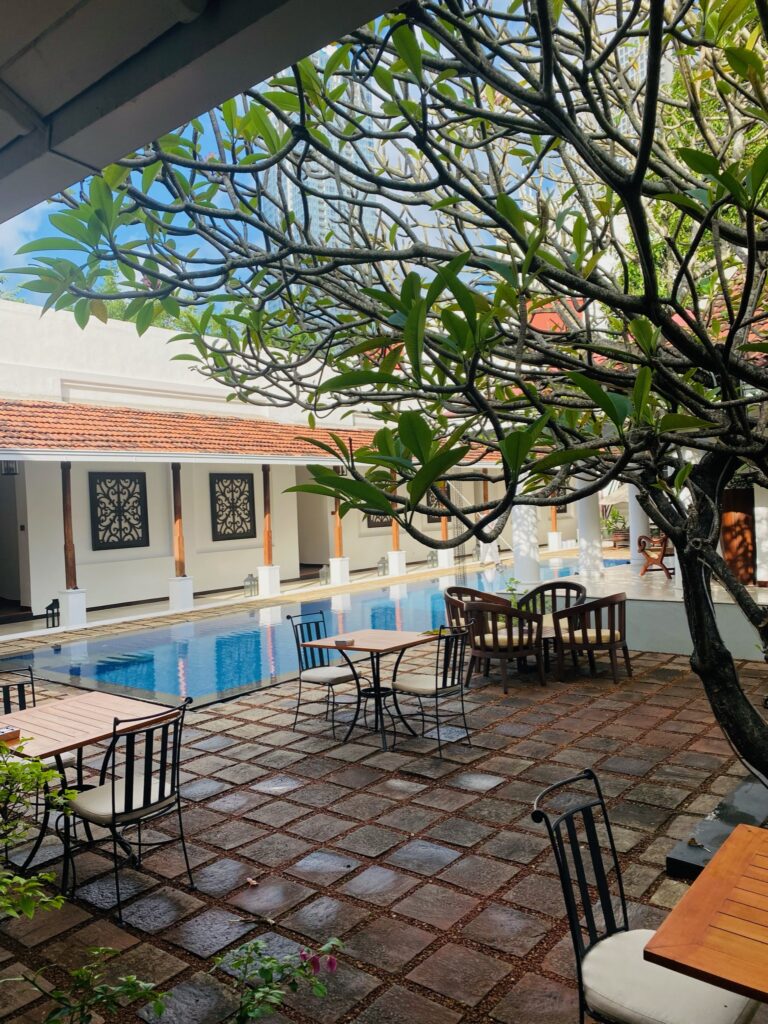 What to do in Colombo –
Walk around Peteh market, general hustle and bustle. Not a food market though.
Viharamadevi park was very close to hotel. Lovely to stroll round.
Gangaramaya Buddhist temple, worth a look round. Absolutely bonkers, has old cars watches and cameras as well as Buddhist statues.
A drink at the Dutch Pub, cold beer but terrible music! Nice place to stop before lunch.
In the Dutch Hospital complex. Grab your "Keep Calm and Eat Crab" bib and roll up your sleeves. We shared a medium crab (chilli garlic), shrimp rice, bread and more of our favourite kankun (this time just wilted with garlic). What a feast! You are given a selection of tools to release the delicious crab meat. We had a cold bottle of sauvignon blanc and sitting under a cover, with the last of the monsoon rain coming down two feet away, we were in heaven.
The same chef from the Ministry of Crab opened Nihonbashi in 1995.
Nihonbashi –
Although it felt a bit odd going to a Japanese restaurant on our second night in Colombo, it was highly recommended and it did't disappoint. It's been in Asias Top 50 restaurants for the last 4/5 years. The decor is questionable but the food is delicious. They are very proud of their tuna and and crab with most of it normally exported to Japan and Singapore. The braised pork belly was exceptional. We had a chilled bottle of pinot noir and thoroughly enjoyed an extremely affordable and delicious Japanese dinner. Something I had never had before is the curry leaf tempura; crispy, salty, deep fried curry leaves. Order some of these to have with a cold beer on arrival. The meat on sticks, with a raw egg yolk to dip into, were James's favourite.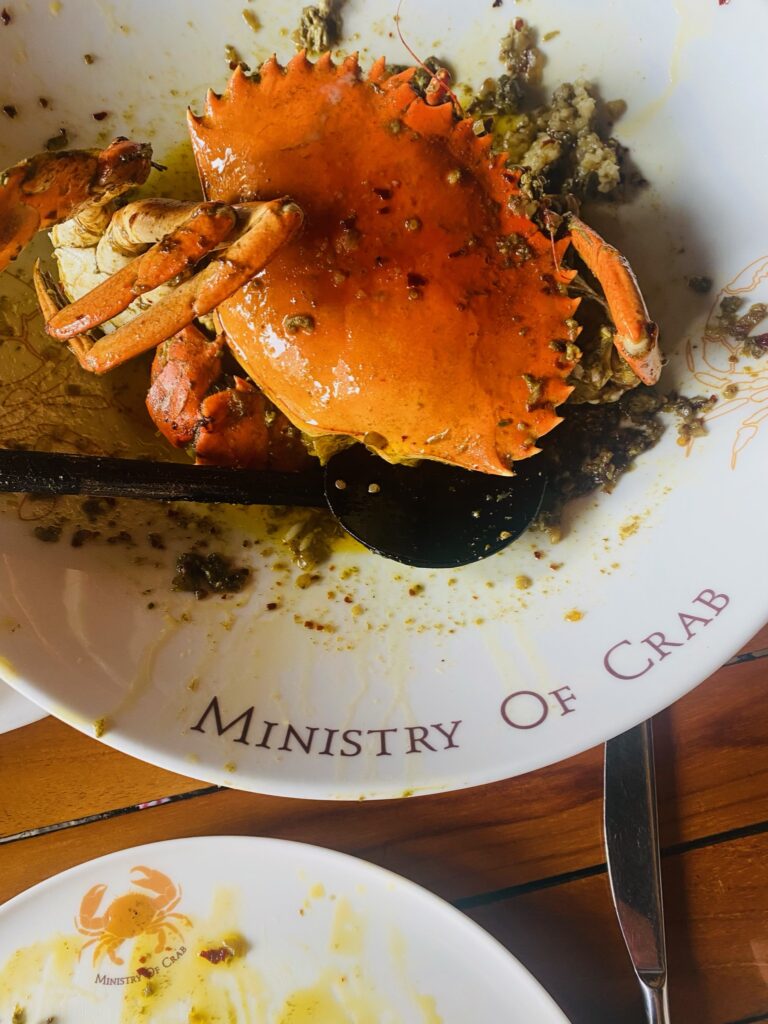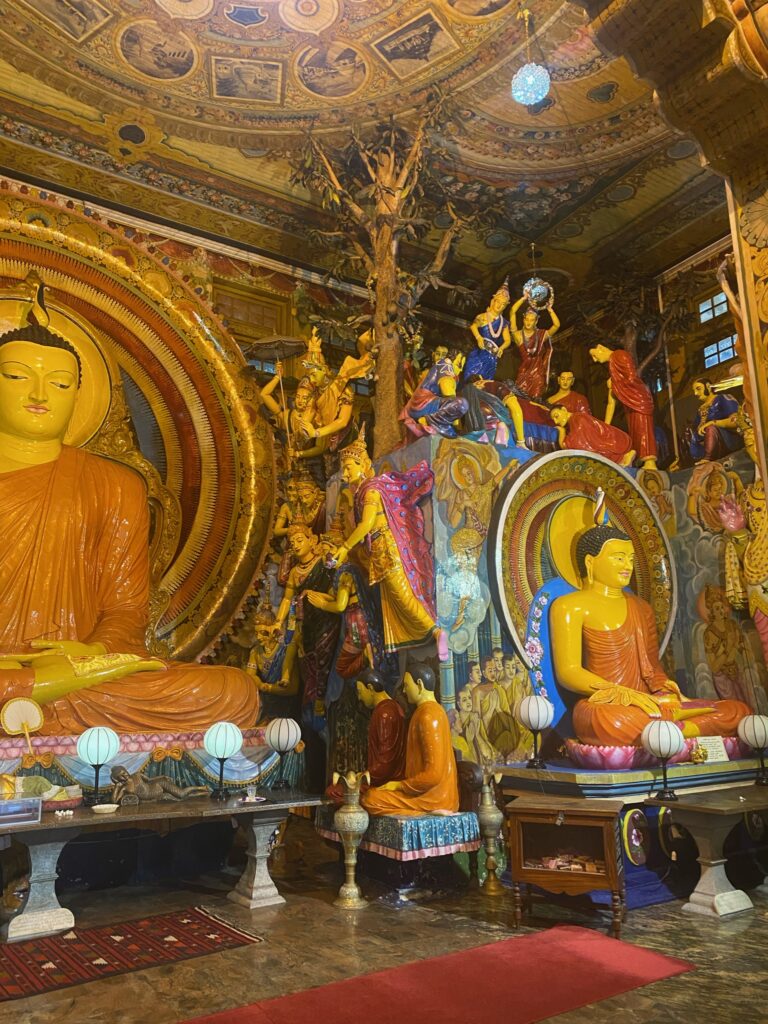 20th-23rd November: To The Cultural Triangle
Aliya Resort and Spa –
This was a much larger and less glamorous hotel compared to Uga. The main hotel building has an airport feel. It was running at half capacity because of COVID so it felt very large and empty. The area is purely tourist driven, you are there to see the sights. In my opinion your hotel does the job if you have a nice room as you are out all day exploring, and that it did. The swimming pool area and view were incredible and the staff were extremely attentive. The food definitely wasn't as good as Uga but I know Aliya was cheaper as we were saving our 'splashing out' for Ella and the coast. The hotel usually has three restaurants but the Sri Lankan and Chinese were closed so we only had the western restaurant available. I would recommend having lunch and dinner out as there are lots of great places and the hotel food wasn't great. A few places were closed due to COVID but the ones we went to were excellent (see below).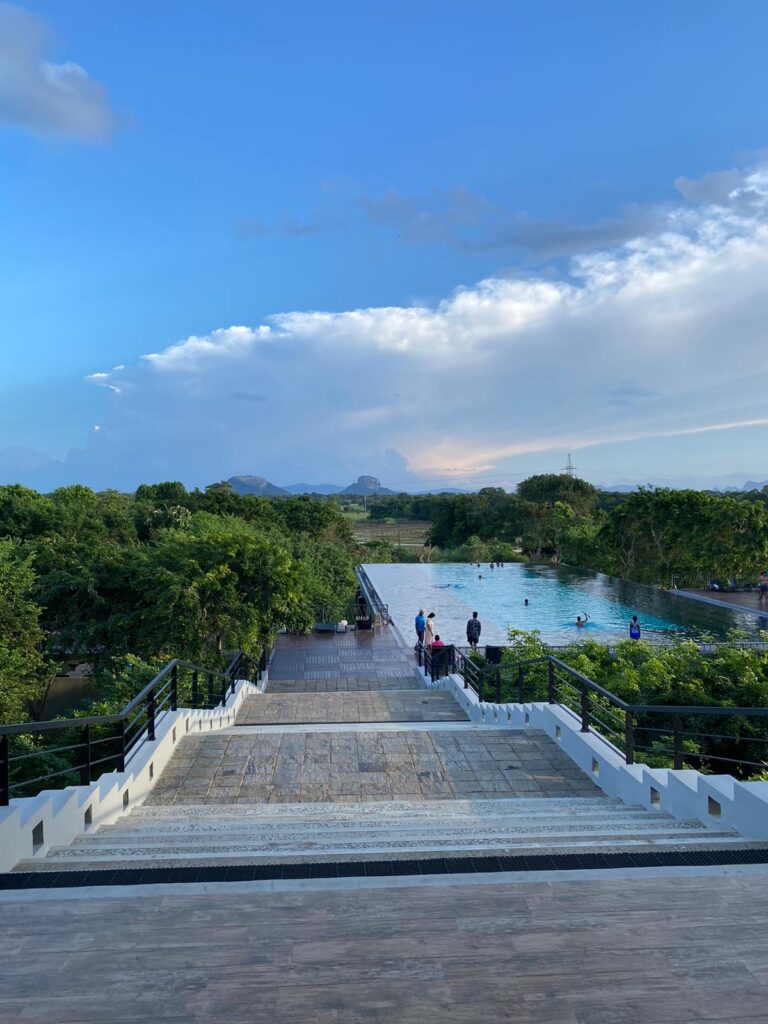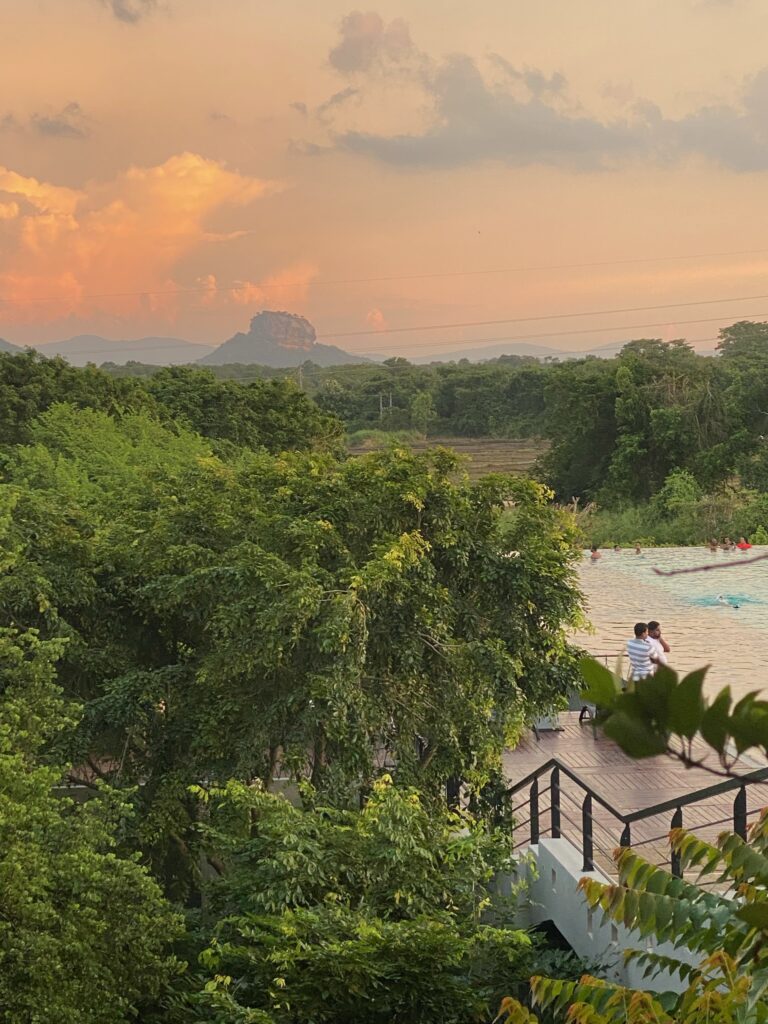 Culture –
Chamilla (our incredible guide) drove us from Colombo to Dambulla. Dambulla is the economic centre of Sri Lanka. All the fruit and vegetables grown all over the country come here to get redistributed, we drove past bulging tuk tuks of pumpkins, golden coconuts, 5 different varieties of bananas and vegetables I'd never seen before. Chamilla took us to a basic tourist restaurant for a quick lunch to get us refuelled before going to see the caves. We had Kottu which is finely chopped roti fried with vegetables. There are lots of street stalls selling this famous dish, it's so good! The caves were wonderful, and they were pretty much empty other than us. We explored the four caves filled with Buddha statues and paintings. The next day we climbed Sigiriya rock first thing. This is wonderful and really worth the climb.
Dewata Villa's –
This wonderful, quirky restaurant hidden away treated us to a feast of Sri Lankan curries. We asked Chamilla if he could recommend a restaurant for some traditional Sri Lankan food, after dinner in the hotel the night before. It was empty (normally completely full before covid) and they were very happy to see us. After seeing just Chinese inspired dishes and sandwiches on the menu I asked if there any chance of some curry and rice. We came back a couple of hours later and we were served rice with seven different curries!! We drank lots of Lion lager and stuffed ourselves. We had banana flower curry, when I asked what this was I was taken into the garden. I was shown that at the very end of a bunch of bananas, that was growing in the tree, is a black pointy end. This is the banana flower that they finely chop up to make the curry. The restaurant itself is wonderfully eccentric with a painted tin roof and lots of empty bottles of spirits.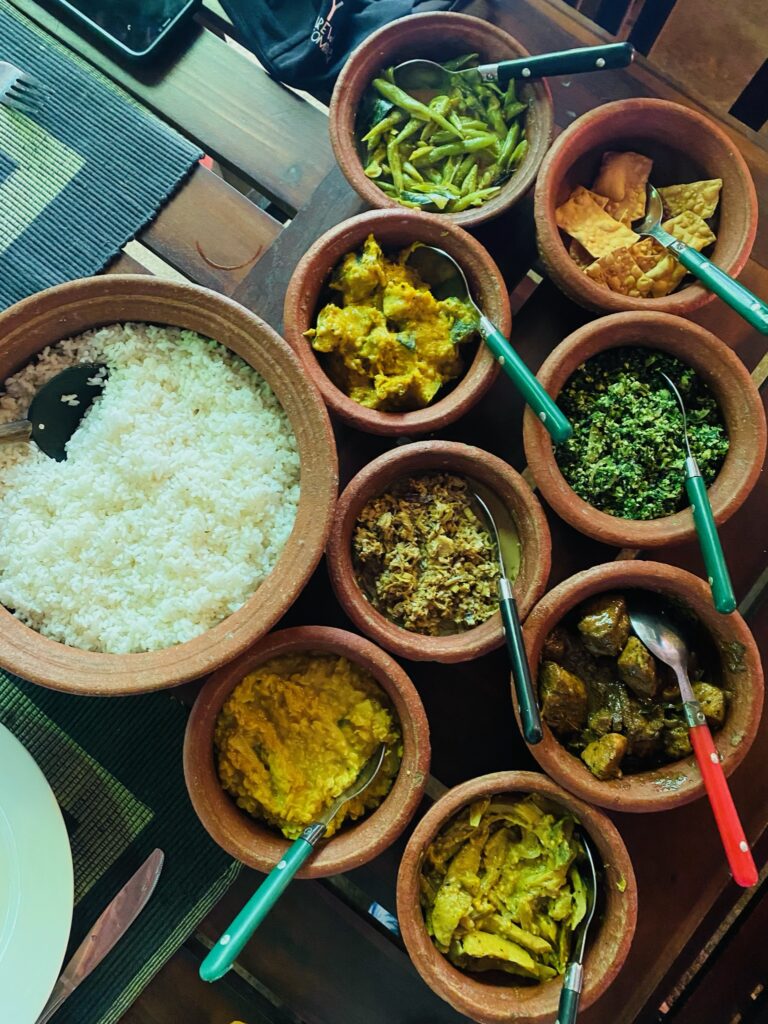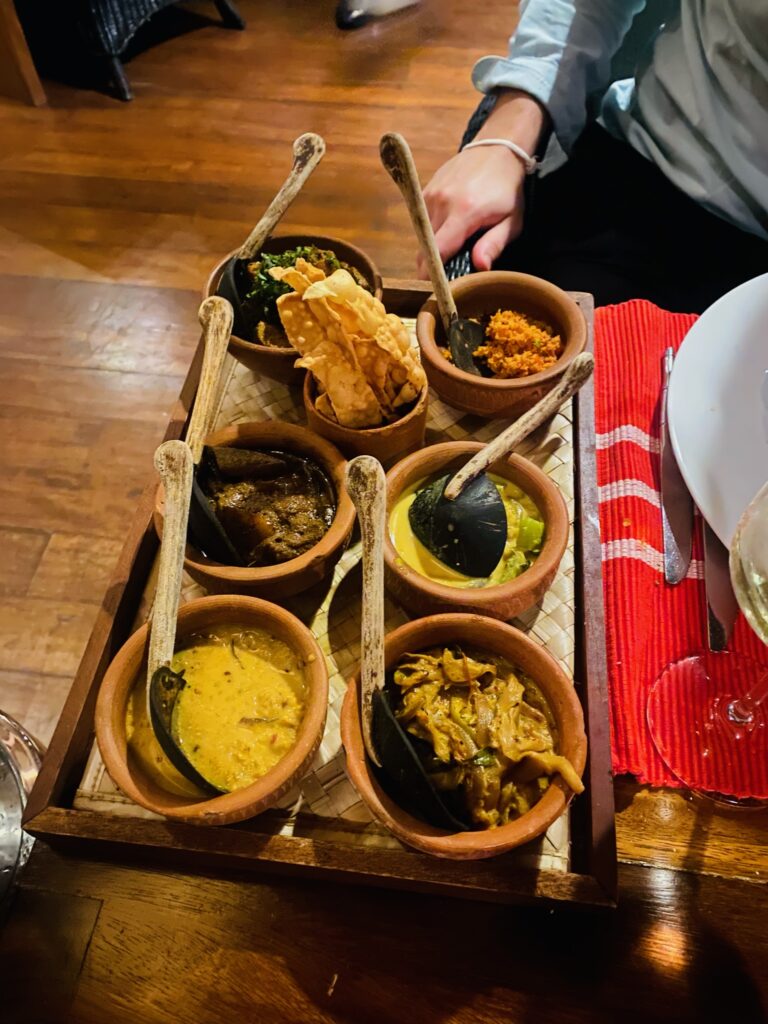 Jetwing Vil Uyana –
Get ready to step into luxury. We were greeted by a buggy which drove us down outdoor lit up passage ways lined with hotel suites. We had delicious cocktails looking at the full moon. We then went upstairs for dinner. It was excellent. We made the mistake of having a starter. It was delicious but you really don't need it. We were finally learning that if you order one curry you will be served six minimum as well as rice and papadam! A stand out was the bee honey and pork curry. We finished with a bowl of complimentary curd and syrup made from coconuts, which apparently is the way to finish off a Sri Lankan feast.
We had a culture packed day in Polonnaruwa visiting lots of temples and ruins of the palace. We really enjoyed it and Chamilla was a brilliant guide and also treated us to a cold coconut.
Lunch and Tharaka Jeep Safari (Habarana) –
The place we went for safari also served us lunch before we got in the jeep. This was brilliant, again a selection of 8 curries / dishes, two of which James and I helped prepare in the kitchen. I mentioned in passing to Chamilla that I was interested in learning  how to make the pumpkin curry and he made it happen! James was put to work getting the coconut flesh out and deep frying lake fish and papadam.
On the safari we saw lots of impressive birds as well as a huge herd of elephants as the sun was setting.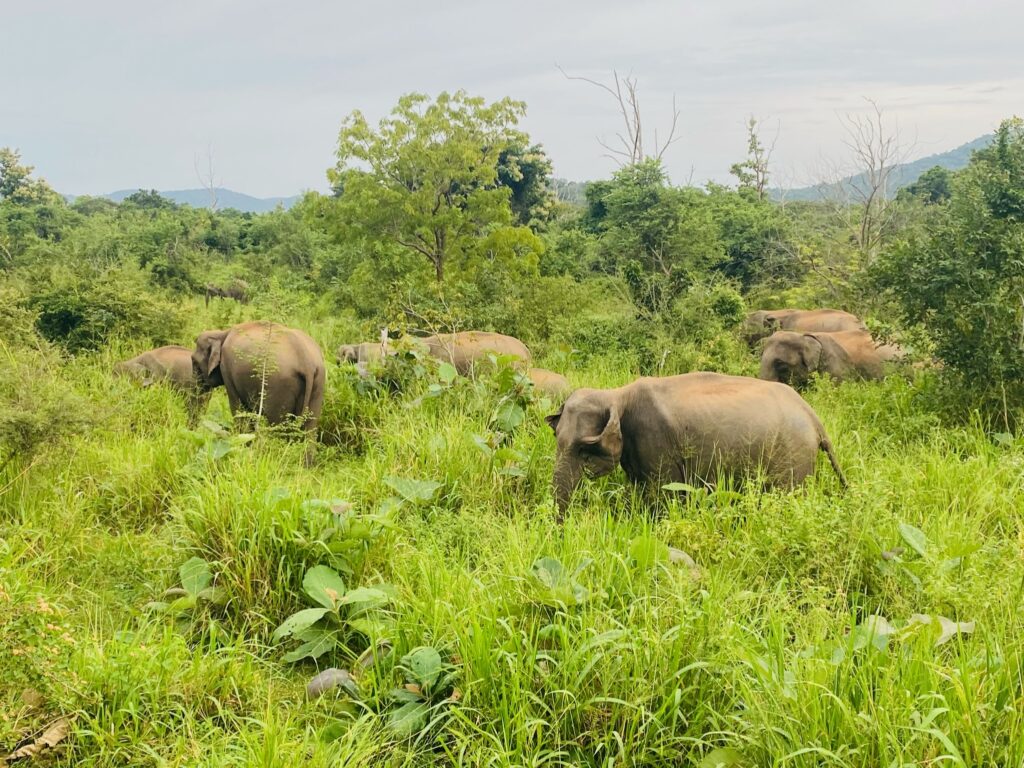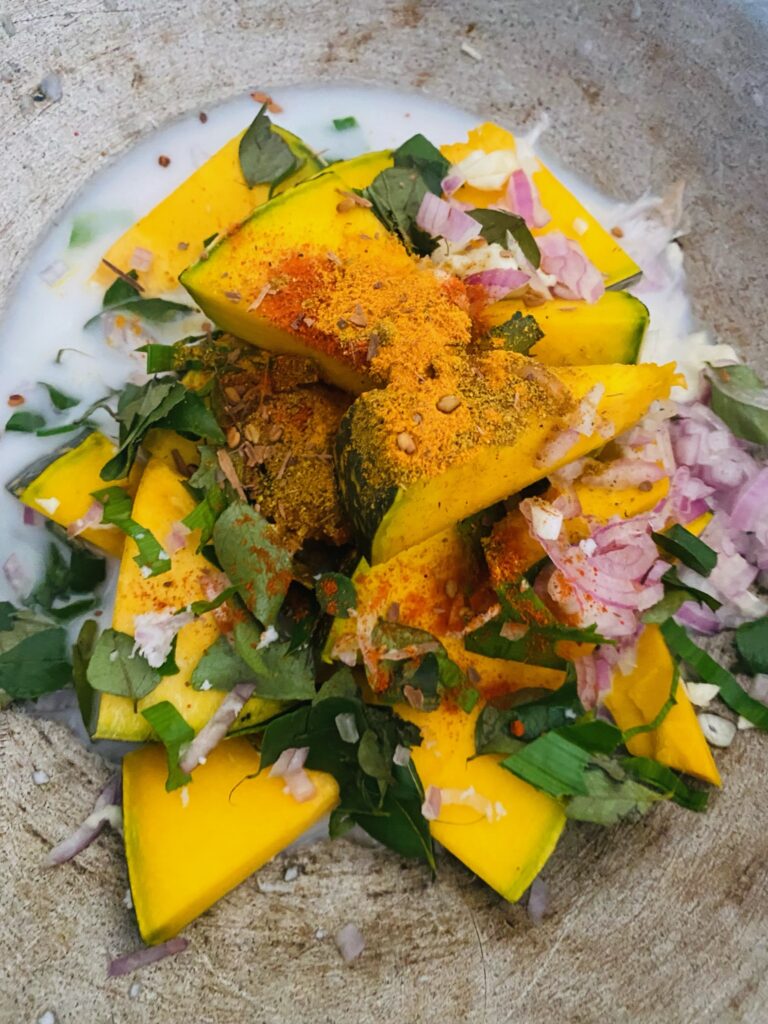 23rd-24th November: Kandy
Theva Residency –
We were the only people staying here so we were given the best room with a big jacuzzi bath with the most incredible view. We had one of our best dinners here – 17 different curries, really delicious. It was perfect for our one night stay.
Kandy itself doesn't have that must going on. We went to the ceremony at the Temple of The Sacred Tooth with our guide. It was very interesting and definitely worth a visit. Most things were closed so we didn't go for a drink anywhere.
The train was out of action so we drove to Ella stopping at an incredible waterfall called Ramboda and a tea factory called Damro where we were shown around the factory and drank a delicious cup of tea. We also stopped in Nuwara Eliya for a quick lunch. There are some beautiful old buildings here such as the post office. It's called 'Little England' and you can see why. Driving up and down through the tea plantations is truly wonderful, there were so many different things growing as well as tea and lots of people selling the most beautiful selection of colourful fruit and vegetables on street corners. You could look out of the window for hours.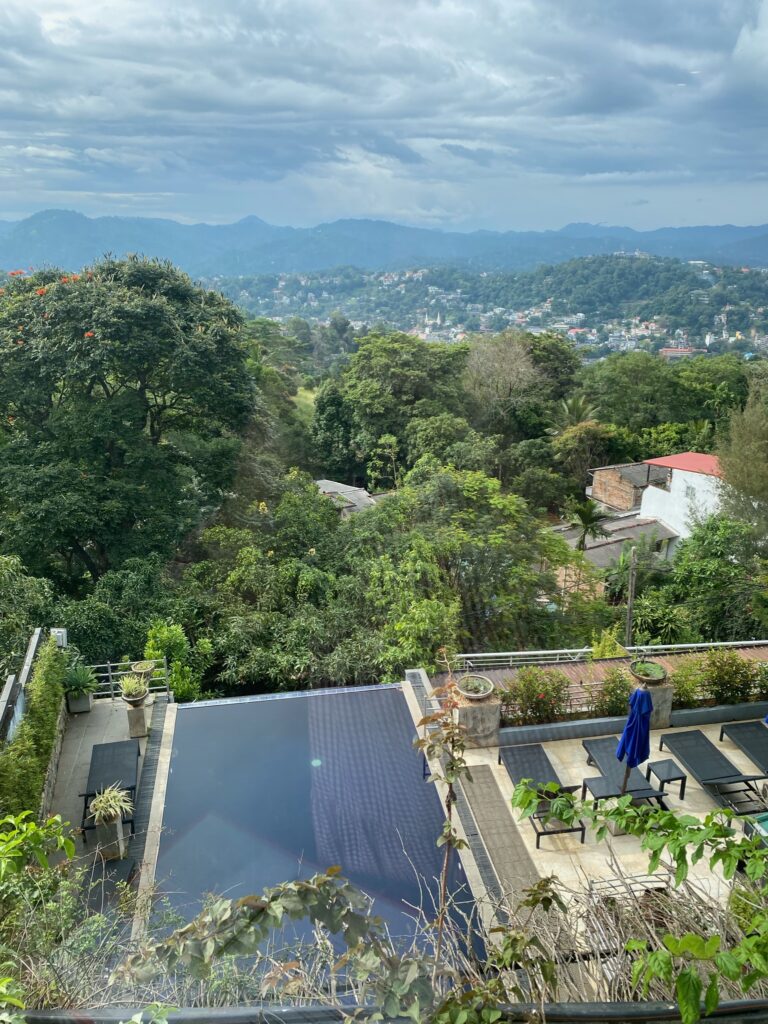 24th – 26th November: Ella
98 Acres Resort –
WOW – what a hotel! Incredible wooden buildings with dried palm roofs. The hotel sits high up with the most incredible views over the hills and tea plantations. We ate dinner and lunch in the hotel, both really good. The prawn curry was the best, as usual served with at least 7 other sides and condiments. Their mango chutney was extremely good. The hotel buffet breakfast was excellent as well, hoppers and any type of egg are available from the live station. The selection of coconut sambols and spiced caramelised onions mixed with hash browns and eggs was insanely good. The massage I had was one of the best I have ever had! The spa rooms have glass fronts so you can take in the view at the same time.
We walked up Little Adams Peak and went to see the Nine Arches Bridge. We didn't make the 5am hike up Ella's Rock as we had a long period of monsoon rain . It cleared up on our last day so we were able to appreciate the epic view, thank goodness!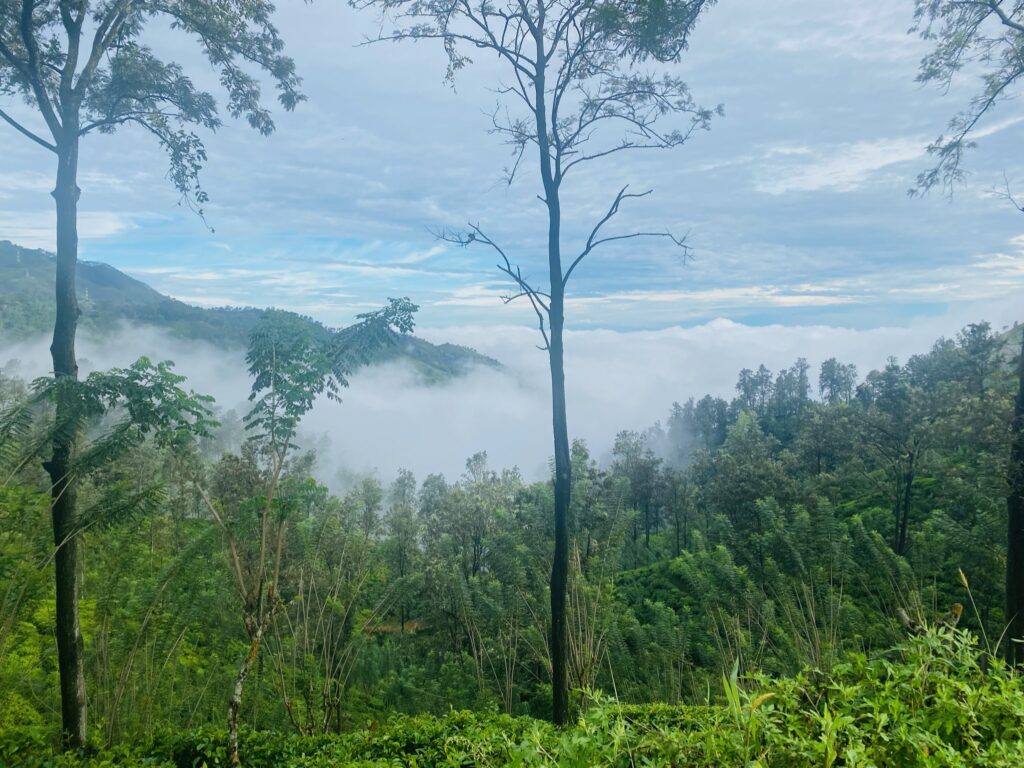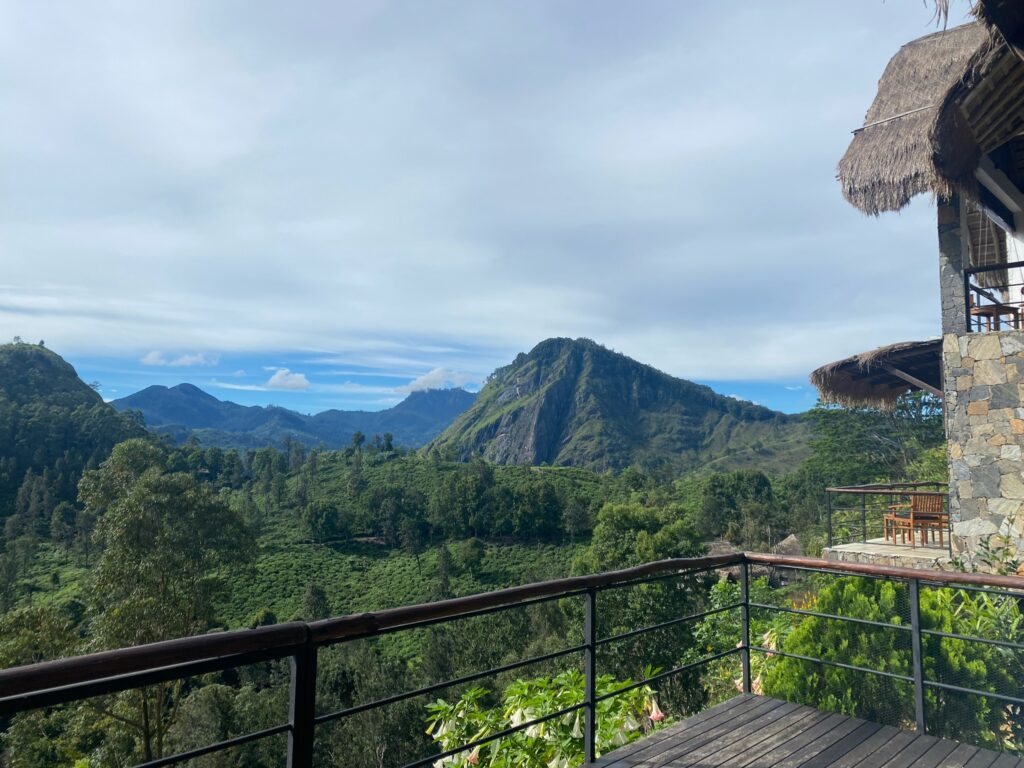 One Love Bar/Restaurant –
This is a great spot for incredible cocktails (I highly recommend the mango mojitos). We didn't try them but the pizzas from their big wood oven looked good too. It's three storeys at the top of the town, near the train station, looking over Ella with lots of day beds and bean bags. It's a very 'cool' spot and the waiters are very chatty.
Chill Restaurant –
This two storey restaurant (make sure you go upstairs) was the buzziest place we'd been too. We opted for Western food and ordered the carbonara. This was a bit of a mistake. I'm sure the Sri Lankan food would have been better. I really recommend the place though, great service and atmosphere, even though our food was rubbish.
26th November – 1st December: Balapitiya
Kumu Beach –
This was the most luxurious and wonderful hotel. I cannot fault the food. The Sri Lankan and the western food were seriously delicious. The sea was warm and there were turtles. There were also iguanas on the beach and beautiful birds. We were the only people staying there at one point so we really did have the whole place to ourselves. The cocktails were delicious too. Everyone that worked there were amazing. We both celebrated our 30th birthdays while we were there and we had a chocolate cake made for us on both.
Personal favourites were the rice and curry and the fish and chips. The chef was very friendly. I don't think I've ever been to such a perfect hotel. We got upgraded as the hotel was empty, the bigger rooms looking over the pool/sea are even nicer. All the attention to detail is excellent, even the bathroom products were so nice and smelt amazing.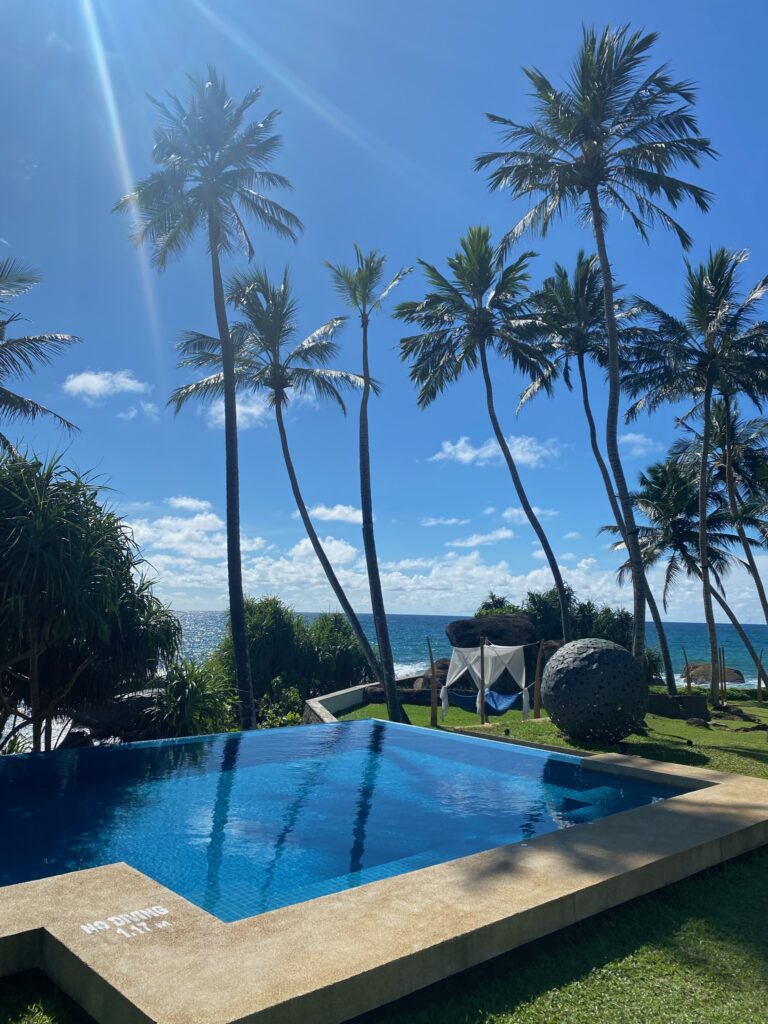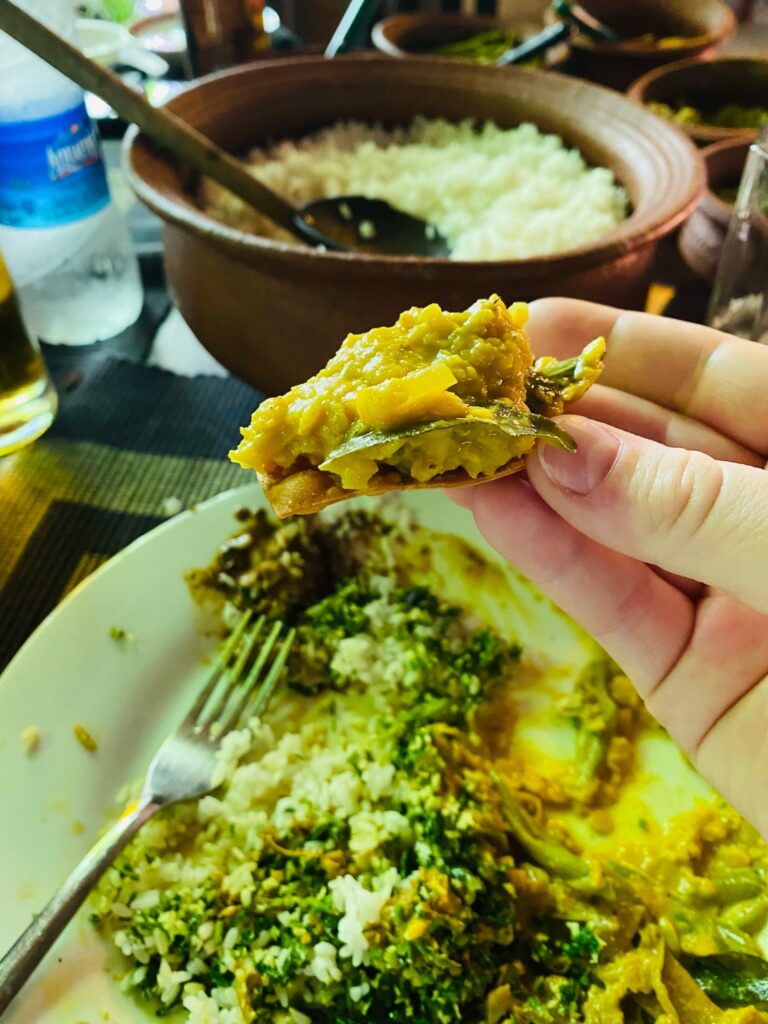 Galle –
We ventured out (an hour journey) to Galle. We went to see the famous cricket pitch and stood on the fort walls. This is a wonderful place on the sea with so much history and beautiful buildings. We walked around the main couple of streets doing some shopping. We went for a drink in The Merchant which was a cool outside courtyard bar. We ordered two beers (without looking at menu), they served them in big cold white mugs, we were then charged separately for the beer (and given a proper bill for the water). We think maybe we were having it secretly but who knows!
You can do Galle in one afternoon / evening.
A Minute By Tuk Tuk (Galle)
We went for dinner but I recommend coming here for lunch as the view would be great looking out over the sea. It's upstairs in the Dutch Hospital Complex. We had really delicious prawn curry and calamari. We were recommended the crab curry but sadly it was unavailable.
Jungle Restaurant –
About 15 minutes away from Kumu Beach is Jungle. It is a beach hut hotel, restaurant and beach bar. The beach here is amazing and great for swimming. The bar was closed due to lack of tourists but it looked like it would be great. We had one lunch and one dinner here, both were excellent. Particular highlights were the sea food platter, fried cuttlefish with aioli and the aglio olio pasta with grilled prawns. It's a very basic place, beer is the only option but wow the food is good.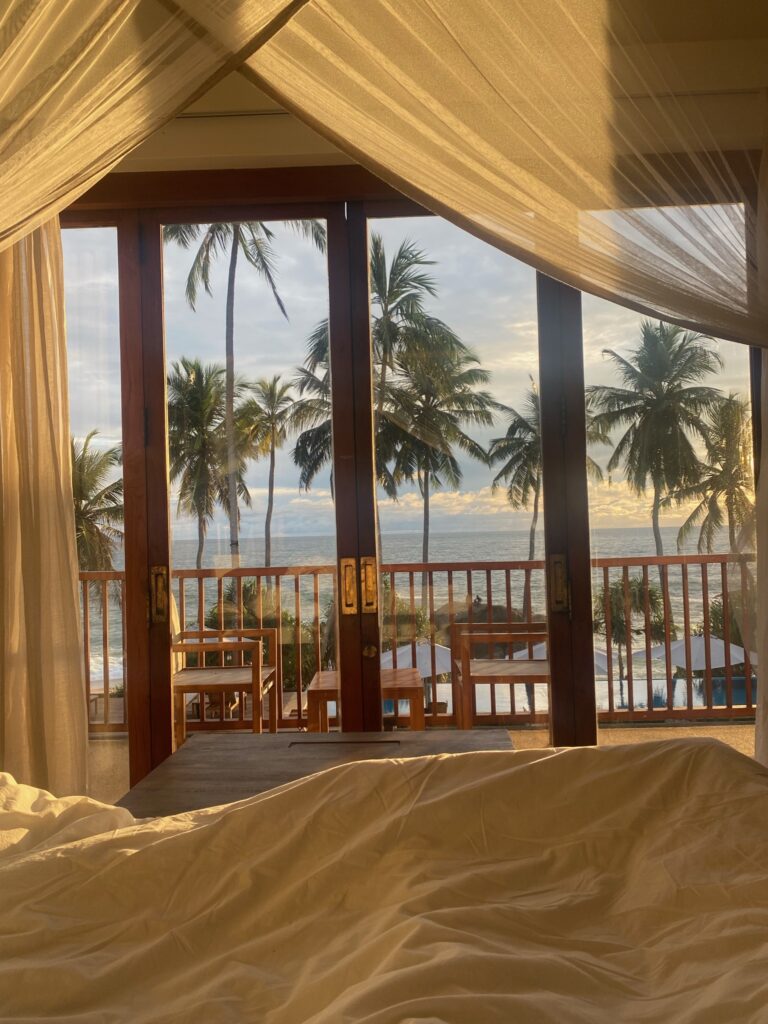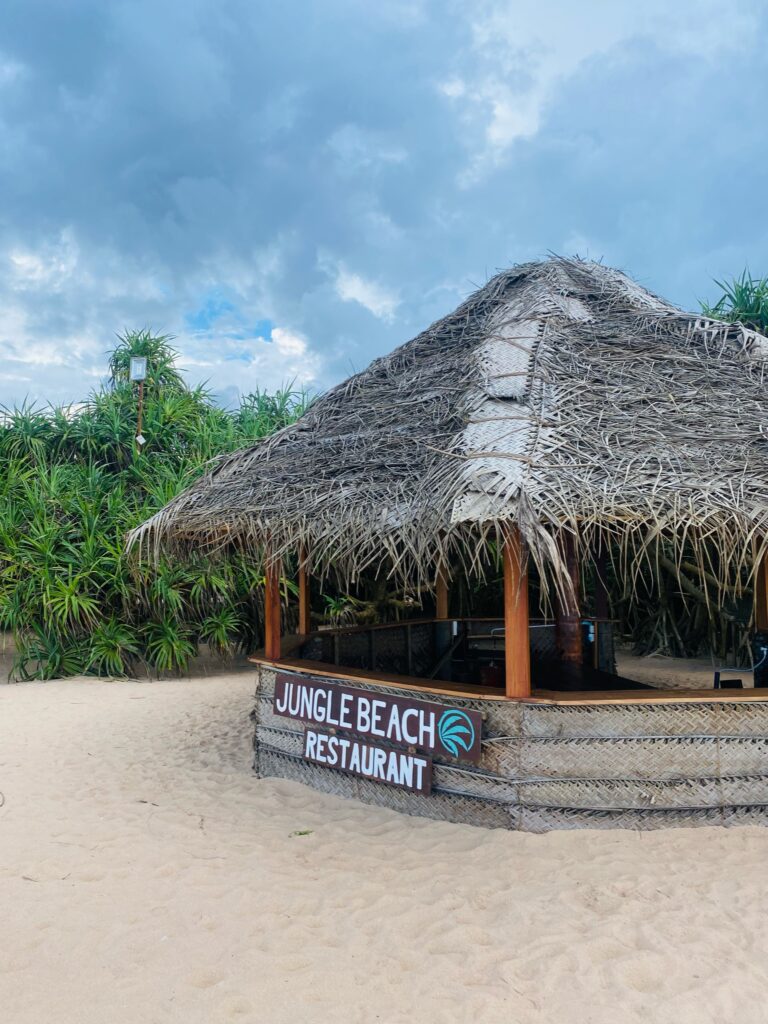 Feeling inspired by Tara's Sri Lankan adventure? Check out our curated collection of Sri Lankan stays and trips … there's something here for every type of traveller!