Feasting in the Deep Mani with Tara Cookery
Nemo ambassador Tara Cookery has just returned from an epic trip to the Deep Mani, where she stayed at one of our favourite hotels, Kyrimai. Read on as she gives her top tips for the best foodie spots, white wine winners and which dish you should order when you visit!
A note from Tara: I would love to give more information about what to do in the area, but to be completely honest we spent the whole week, apart from walking to the tavernas for meals, either lying on a sun bed, swimming or sleeping! We had the most wonderful relaxing week which was exactly what we were after, this is the place to come to completely unwind and recover. I cannot believe how easy it was to do nothing for a week. It was absolute bliss. The atmosphere at the hotel is very calming and quiet, the lovely slow rhythmic pace of the days here creates a wonderful environment. Leaving all of the hotel guests content and smiley.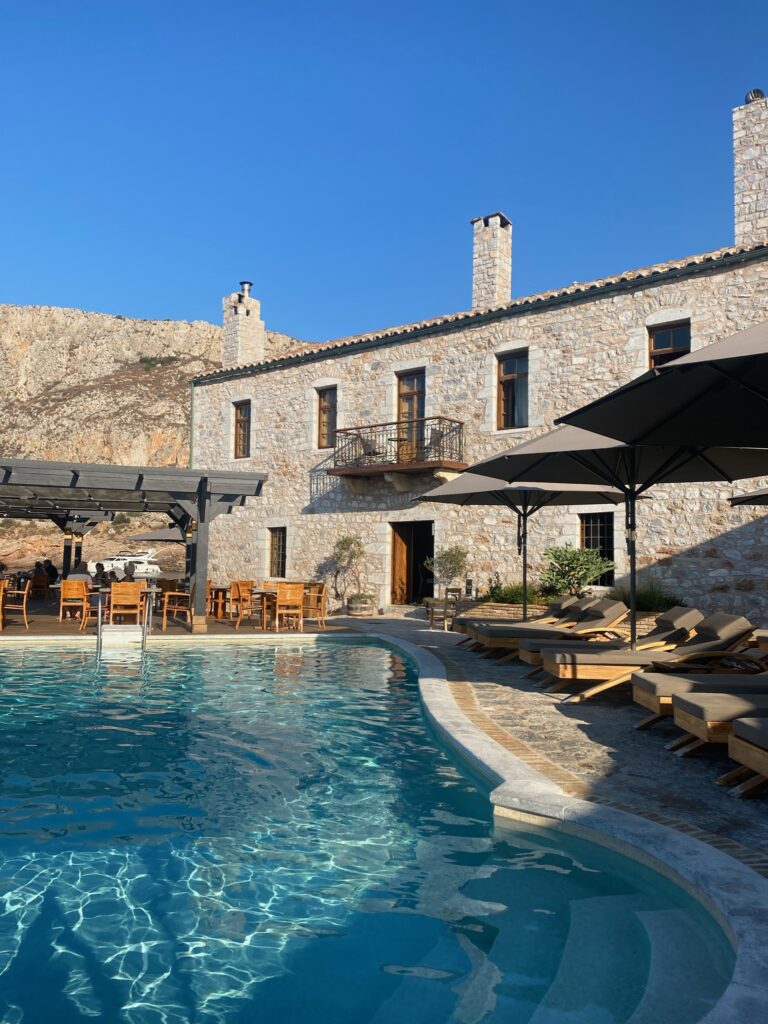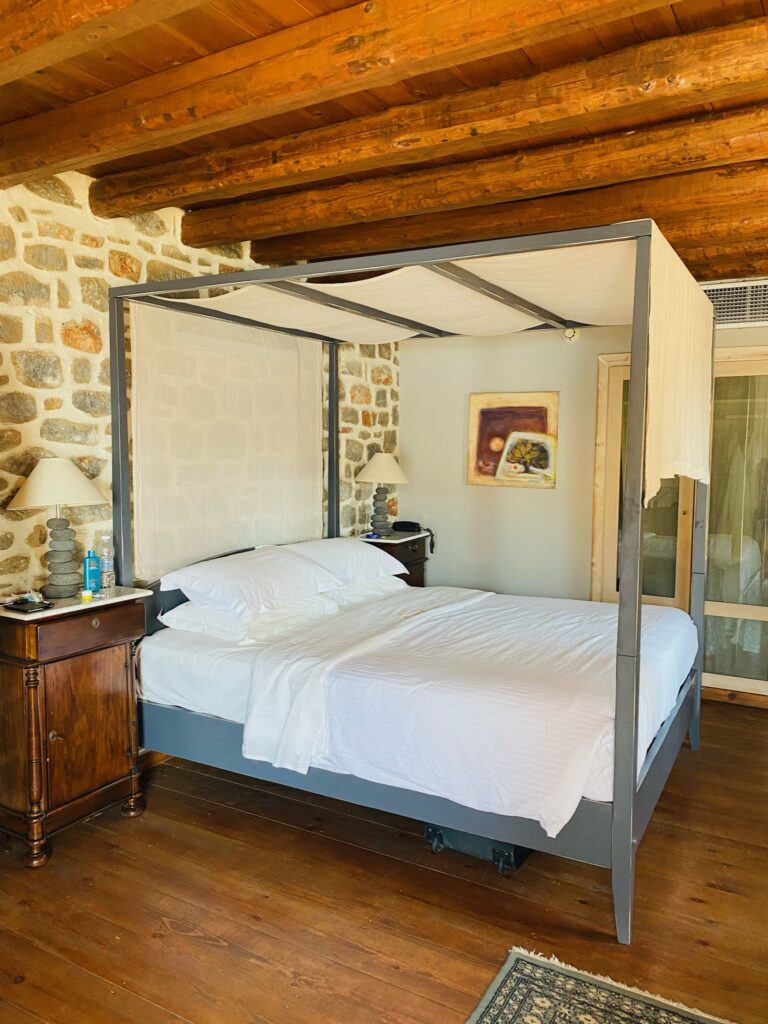 On the way
After our flight into Athens nemo recommended we stayed at the Sofitel (hotel airport) on the first night, it was perfect and meant there was no mad rush to get to our main hotel … so we could really soak up the incredible drive down! The next day we rented a car from Europcar, this was super easy and off we went driving through the Peloponnese to our hotel for the week: Kyrimai. 
On the way we stopped and had a delicious lunch at Astakis, perfect for fresh fish and octopus … and there's a huge turtle that frequents the waterside of the restaurant, amazing to see! You might have to tune out of the slightly annoying music being played at the bar next door, but other than that it was great and the perfect pitstop on your way.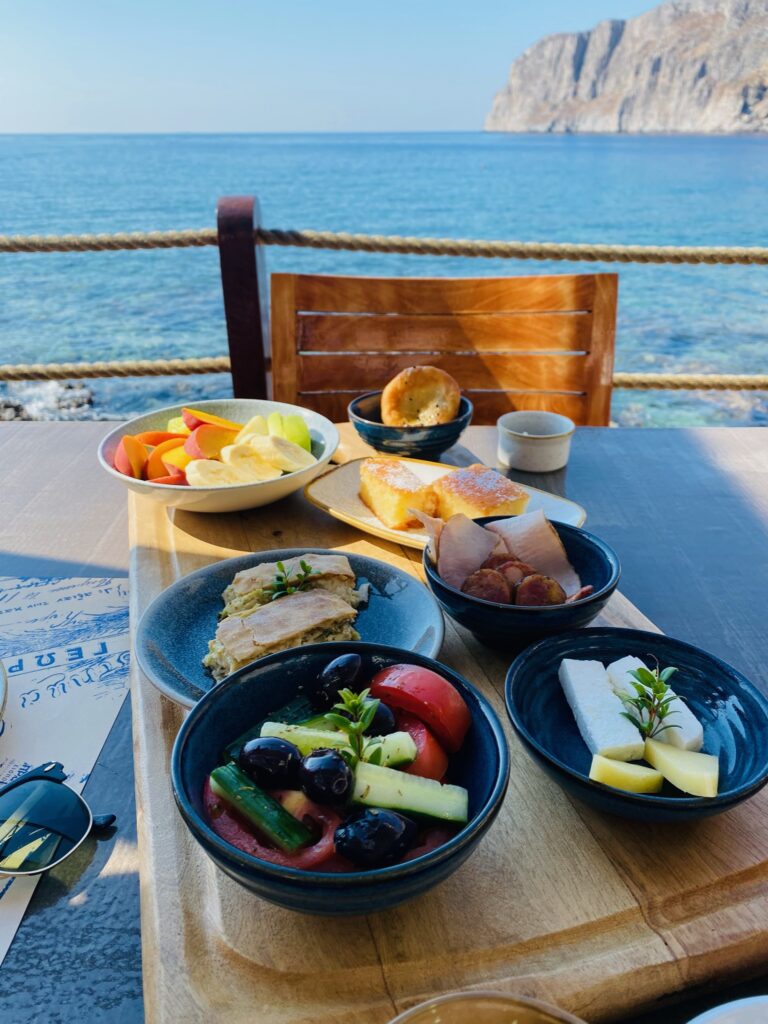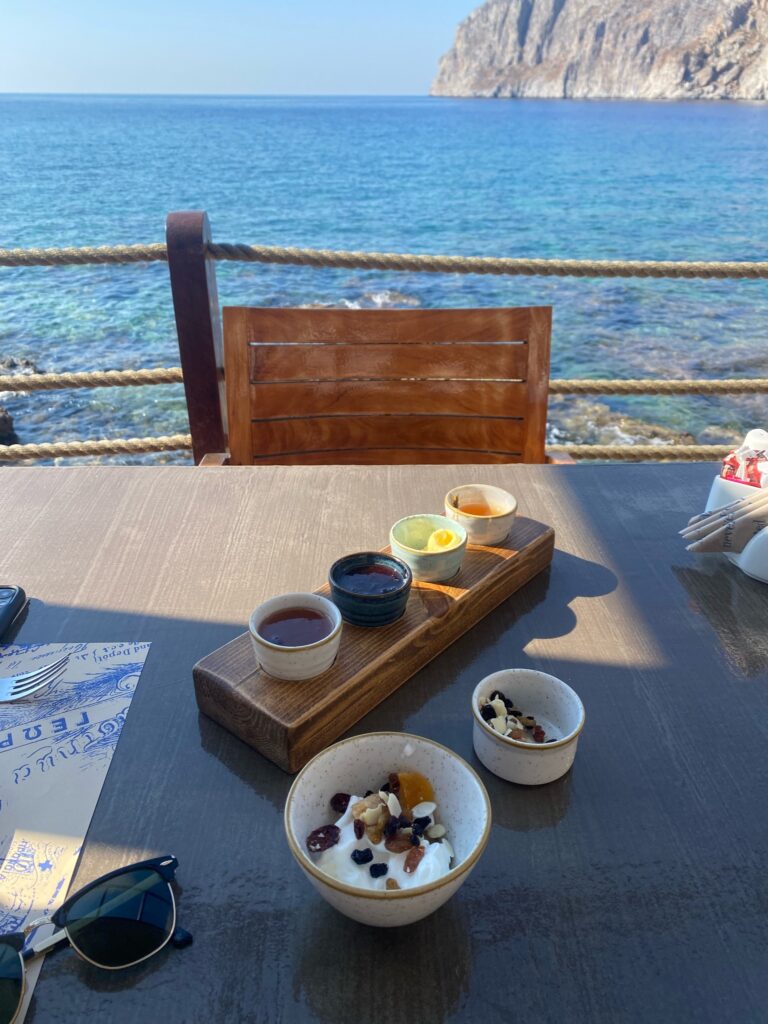 Kyrimai, Gerolimenas
This is a wonderful hotel, tucked away, with beautiful blue sea surrounding the restaurant and outside area. Our room was cosy, as the building is old it doesn't have big windows but the stone walls stop it from getting too hot … pop on the air con and it's a fab cooling welcome after a day sunbathing!
Food at the hotel 
Breakfast is served to you, rather than a buffet (not sure if this is a COVID arrangement), with the option of eggs and lots of different small Greek dishes. The Greek yoghurt and honey with dried fruit and nuts, and marmalade etc were delicious, and we sampled plenty of the other dishes – all superb! Breakfast was faultless, and eating by the water in the morning sun was bliss. 
For lunch you can choose from lots of different things, I'd definitely recommend sharing a pitari (their pizzas from the wood oven) and a Greek salad (one of the best we had, with carob husks and rock samphire!). We had fab prawns with cods roe here as well and the chocolate mousse was a top favourite. It is expensive though, and if you aren't looking for something as 'fine dining' as this I recommend hitting the tavernas (read on for a few tips on these!)
We had dinner twice at the hotel, sharing grilled Greek cheese and lamb chops with saffron risotto and oxtail stew with pasta and dill yoghurt. It was exceptional, but at 28 euros they don't come cheap! On our other nights we decided to change things up and eat at some of the fantastic local tavernas – it was great fun heading to a new one each evening and getting a feel for the real, authentic food and local ingredients!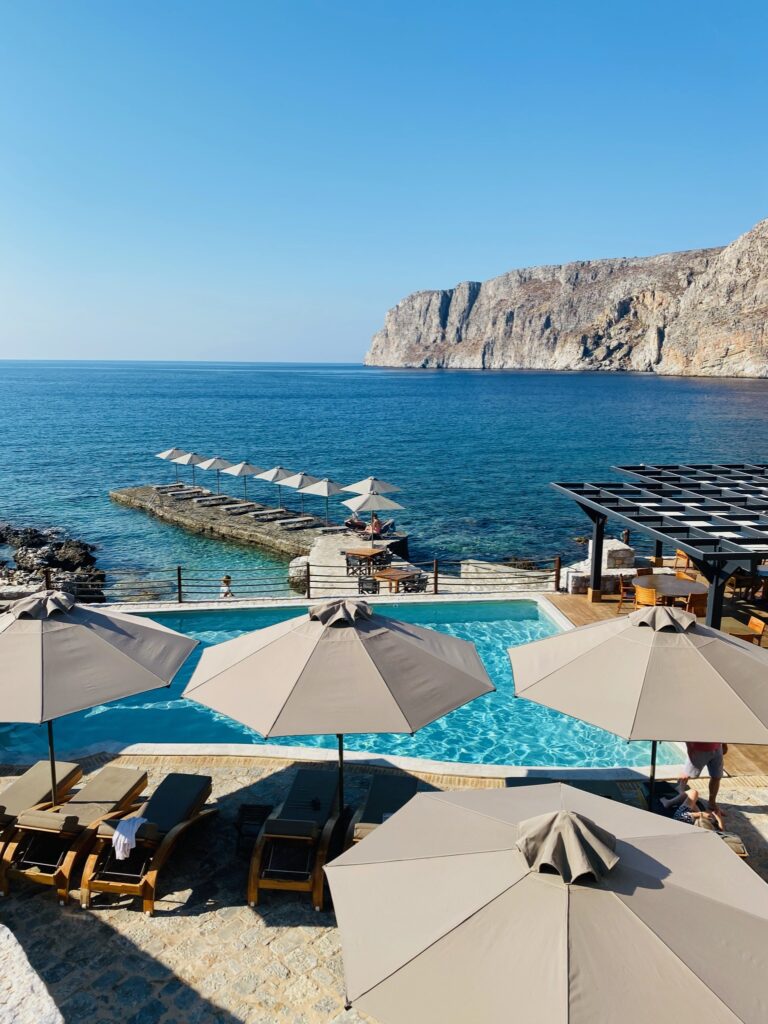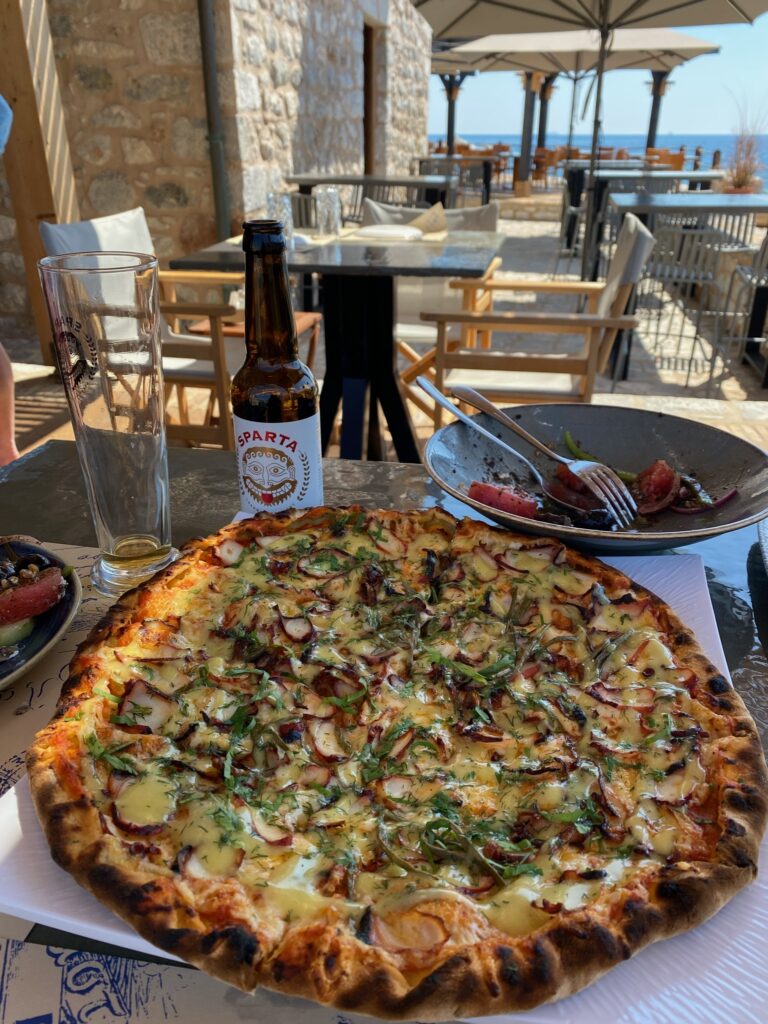 Gerolimenas: The Tavernas
A few notes: 
– The Greek salads were always ginormous 

-The house white wine is ridiculously cheap and perfect for lunch time drinking

– Our favourite beer was sparta

– Saganaki is deep-fried cheese with lemon (delicious), but if it says 'mussel saganaki' or 'prawn saganaki' etc, it's actually a dish of the fish baked in a tomato sauce with cheese melted on top, also very good. 

– When ordering bottles of wine, white wine is less risky unless you buy a really nice bottle of red.
Akrotainaritis
The first taverna you come to is a great spot really popular with the locals, especially on a Saturday lunch time. They won't always have everything on the menu (it half depends on what's available at the market!) it's perfect if you're after the classics like tzatziki, saganaki, calamari etc. The house white is 4 euro for 500ml and v e r y drinkable! It's charming and very cheap … we quickly became attached to this place! 
There was a groovy bakery/bar in-between these two that we never made it to called Gerogrosso with a big terrace area, it looked really nice for cocktails and coffee. There's an ATM and a good little shop for magnum ice creams and cigarettes here.
Petrino 
We only came here on our last night for dinner as someone recommended it to us by the pool. It was such a shame that we only discovered it then as we loved it! I was craving a Greek salad after a week of fried food, fish and cheese, so I had that with a tahini dressing – fresh and delicious. Don't order the crab salad, it's crab sticks rather than fresh. The grilled fresh fish was cooked perfectly and the service was excellent, it's got more of a refined vibe than the others and it's great for easy-going, faultless evening meals. We loved the white wine – alpha estate sauvignon blanc.
Mani Mani
Tom recommended this to us, and we loved it just as much as him! Be warned of the man with long hair and a headband, who tried to sell us his most expensive fish and order the most expensive bottle of white wine … but after a week of frequenting this spot we had a great relationship with them and would often tease him about it!
The setting is amazing at the tables down on the water. They are the most popular taverna in the village, rightly so as the food was outstanding and the service great – and they know it! It is great but make sure you give the other smaller tavernas a look in, as they are special as well!
You can even swim back to the hotel after lunch if someone else takes your things, if you're not too full!
Katagounas
The very last taverna you come to on the cliff at the back of the little beach, this spot is as local as they one. It's the perfect super-relaxed, homemade spot and whilst it's not as refined as the other tavernas but really sweet and well worth trying!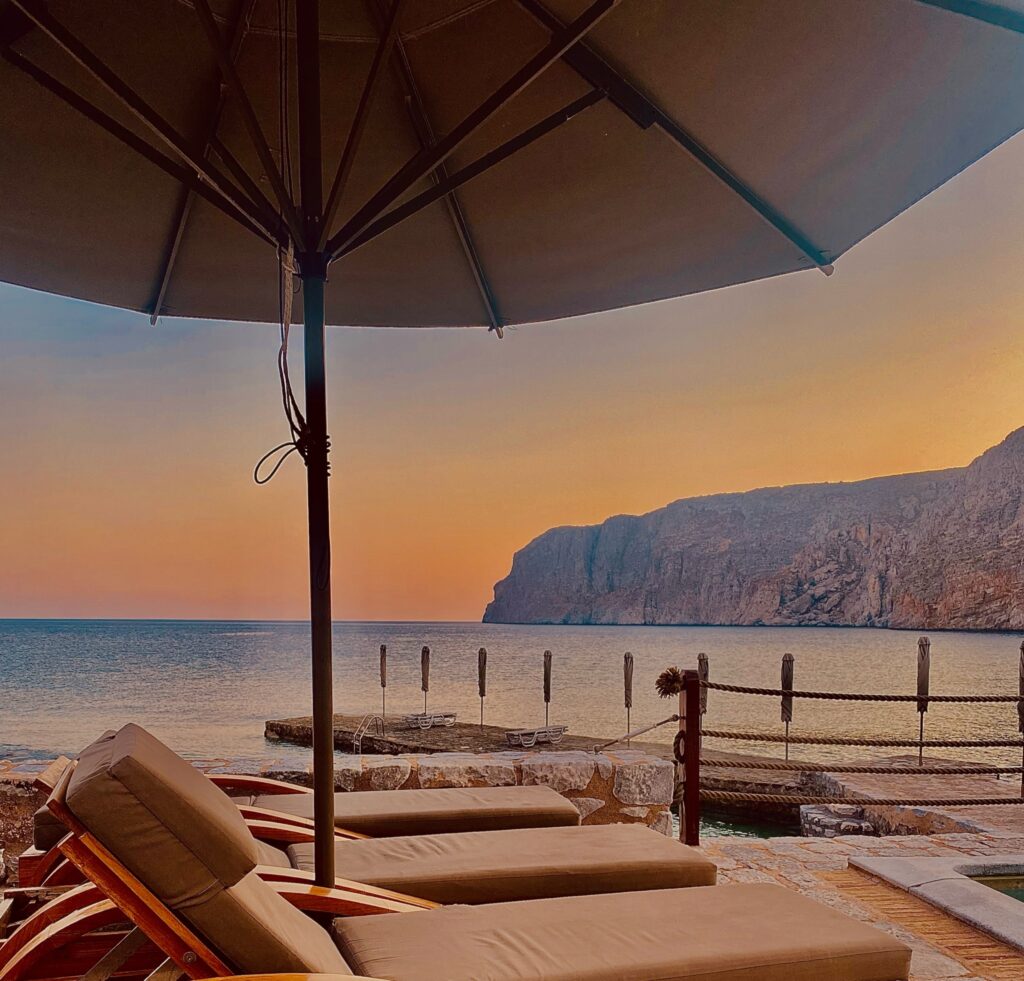 If you've got any questions regarding the latest travel announcement and regulation change,  just get in touch! That tropical break you've been wanderlusting over for the past 18 months could soon be a reality …