October Sun in Italy … Puglia is the Place to be!
The land of La Dolce Vita is a-go!
You can now visit Italy quarantine-free and we think Puglia should be on every sun seekers' radar. The crowds vanish and the weather stays warm late into October. This is the real Italy and we can get you deep into the heel of this amazing country. Expect sunny days, crystal clear sea, exceptional cuisine, even better wine and much, much more.
The weather stays balmy well into October and it's one of our top spots for some late summer sun – there's nothing like the feeling of getting away as the weather turns chilly here in the UK, and why should summer end as the clocks go back?!
We've rounded up our four favourite hotels in the region plus our top tips for beaches, cafes and more! Read on to get all the insider info you could wish for …
Top Stays in Puglia
1. Don Ferrante, Monopoli: once an ancient fortress, now a beautiful boutique bolthole in a panoramic location on the cliffs of Monopoli. With a show-stopping rooftop restaurant offering freshly caught seafood and mesmerising ocean views, it's ideal for a week of uncensored bliss
2. Borgo Canonica, Cisternino: an entire village transformed into a rustic, romantic hotel with 42 trulli, refreshingly minimalist rooms, a beautiful swimming pool, and a restaurant that shines a light on fresh, seasonal produce, making for a well-rounded (and beautiful!) Italian hideaway
3. Canne Bianche, Torre Canne: if you're looking for a laid-back beach retreat, look no further. Minimalist elegance is the overarching theme as palms and a turquoise pool pop against white walls and lime-washed wood, plus the freshest of seafood and the warmest of welcomes from the staff!
4. Masseria Cervarolo, Ostuni: 16th century trulli and a stunning fig-and-olive-tree-surrounded pool, alongside traditional cooking and dance classes, owner Patrizia's Apulian pride is clear. Plus, it's a guilt-free getaway with an EU Ecolabel award for its environmentally sustainable practices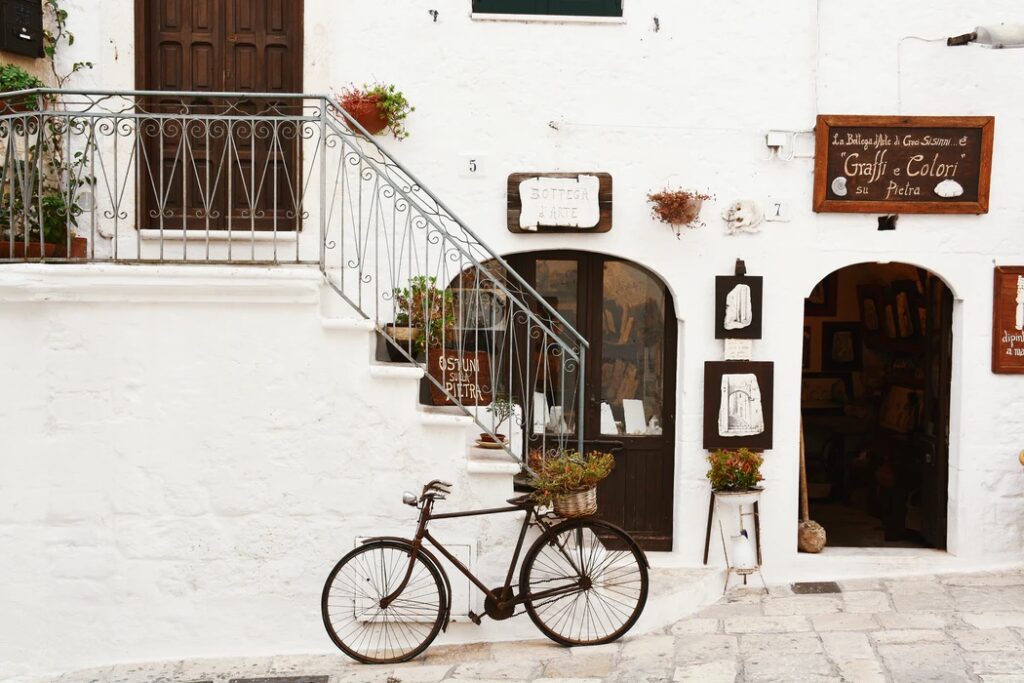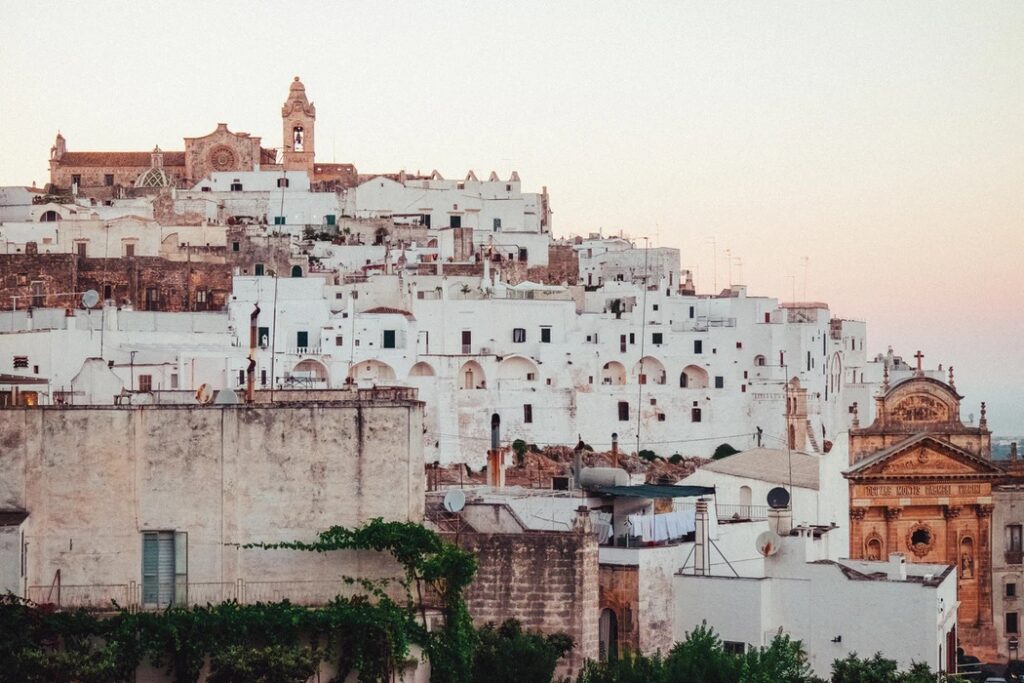 Top Tips for an Exceptional Pugian Adventure
Ostuni
Eat & Drink
1. La Mela Bacata Lounge Bar: with panoramic views over the hills this is the perfect spot for a pre-dinner aperitif. Via Scipione Petrarolo, 15/17, 72017 Ostuni BR, Italy
2. Borgo Antico Bistro: hidden amongst the alleyways serving delicious sharing plates and cocktails and with some of the best views over dinner in the city. So local it doesn't have a website! Via Fina, 8, 72017 Ostuni BR, Italy
3. Masseria Il Frantoio: feel like one of the family as you're welcomed into the stunning masseria courtyard and sit for a special home-cooked meal and enjoy multiple courses from their tasting menu. Strada Statale 16, km 874, 72017 Ostuni BR, Italy
Explore
1. Saturday Market: if you're in town between 8am and 1pm on a Saturday, be sure to check out the local sellers' stalls with artisan produce, crafts, clothing and more. Around Via Gabbriele D'Annunzio and southwest of Ostuni centre
2. Ostuni Cathedral:  with its unusual facade this unique 15th-century cathedral is an impressive sight, be sure to wander within its walls as the ethereal art-covered ceiling and alters are a sight to behold
3. Piazza Della Liberta: for a real buzz and local vibe head to Ostuni's largest square, a major social hub and dotted with impressive landmarks from ancient palaces to historic churches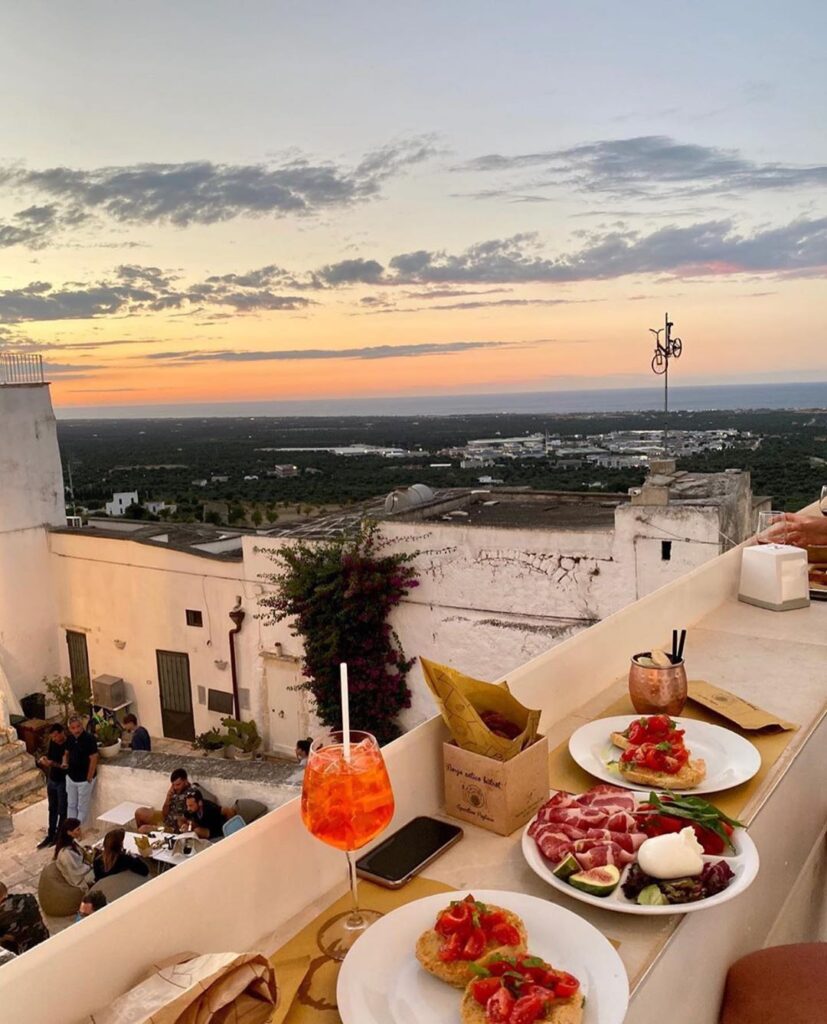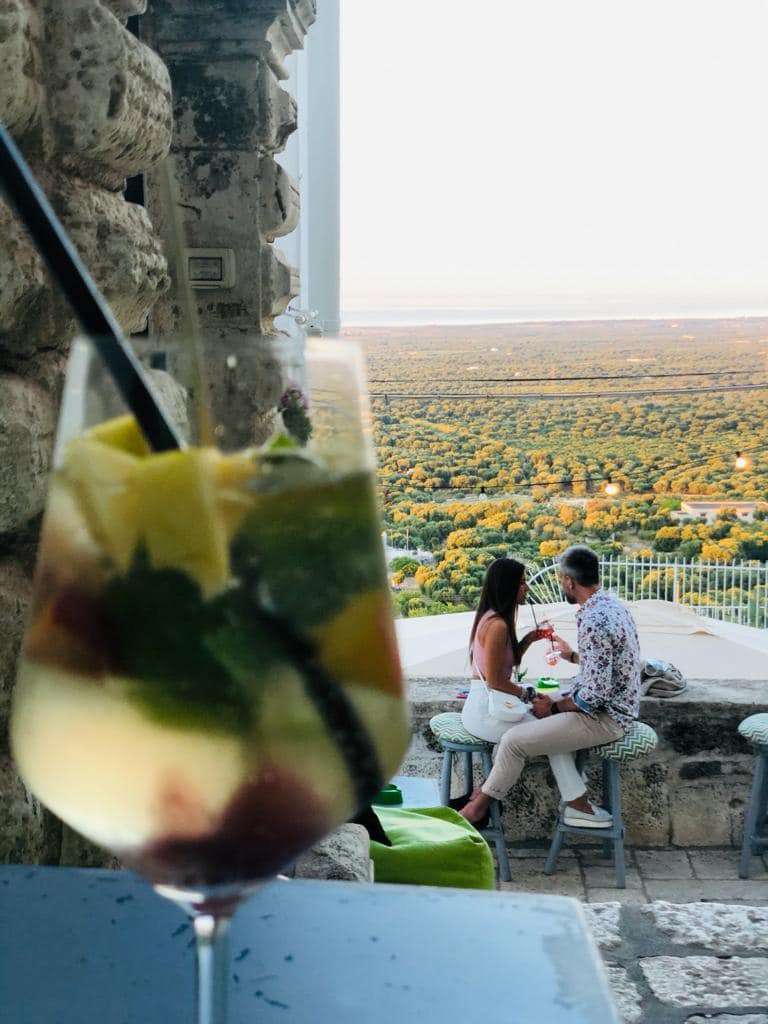 Polignano A Mare
Eat & Drink
1. Piazza Vittoria Emaneuele II: take a seat in this busy square and enjoy a caffe leccese as you watch the world go by
2. Grotta Palazzese: hidden within an ancient cave and host to parties and banquets since the 1700's, if you're in the mood for a real holiday treat this is the place to go – it's arguably the most incredible restaurant in the region
3. Mint Cucina Fresca: what this bistro lacks in size it makes up for with impressive flavours and fantastic staff – expect creative, vegetable-focussed plates
Explore
1. Cala Porto: the town dramatically drops to a miniature beach with crystalline waters enclosed by great limestone cliffs
2. Poetry Streets:  as you wander the town's picture-perfect alleyways, keep an eye out for Guido Il Flâneur's handwritten poems adorning walls and stairways alike
3. Sea Cave Boat Trip: arguably the best views of Polignane a Mare are from the sea, hop on a boat, explore the famous sea caves and get the perfect Instagram-worthy snap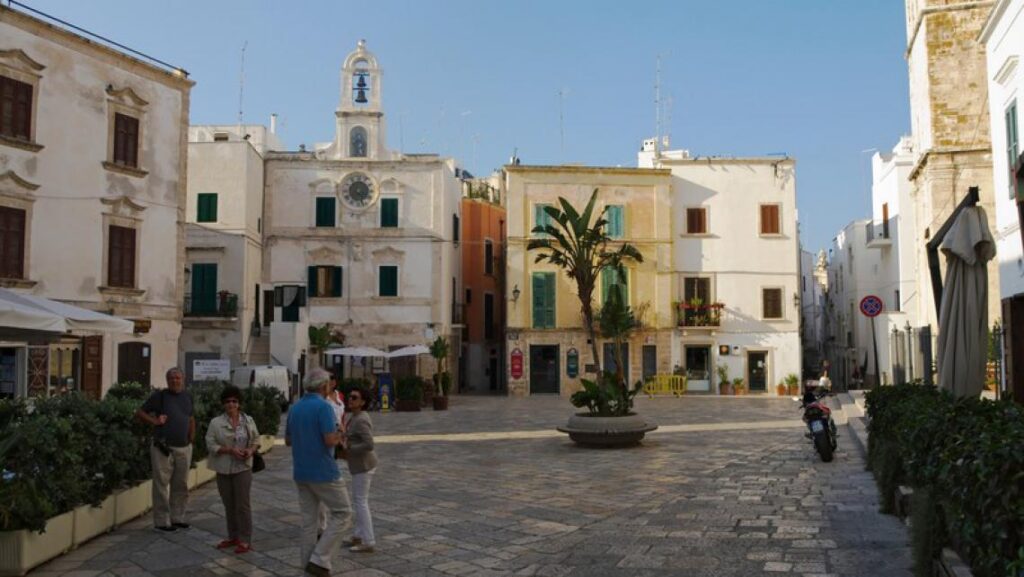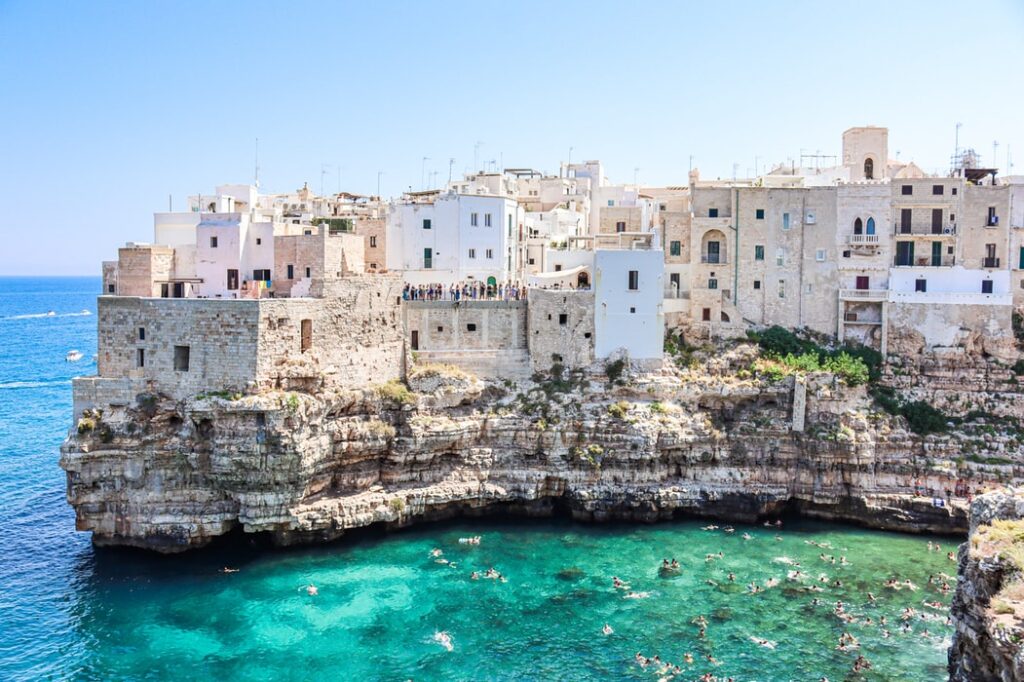 Alberobello
Eat & Drink
1. Trattoria Terra Madre: this organic, home-grown, vegetable-focussed restaurant is as charming as the food is delicious
2. Focacceria "la Lira": one of the best spots to taste a Pasqualino, Alberobello's traditional sandwich, read all about the history here
3. Arte Fredda: need something to cool down? Head here for the best gelato in town … it's even won awards!
Explore
Rione Aia Piccola: Alberobello is home to Puglia's famous trulli and its main streets are heavily commercialised (but the town relies on tourism, so a purchase or two from the quaint gift shops is hugely appreciated!). This street is away from the crowds, and offers some of the best views in the town. If you want to learn all about the trulli history, check out this two-hour guided tour
Sant'Antonio Church: the world's only Trullo Church, a must-visit whilst in the area
Street Market: if you're in the area on a Thursday morning, be sure to check out the local wares sold at the street market, the best place to pick up a tasty treat or authentic souvenir for a loved one at home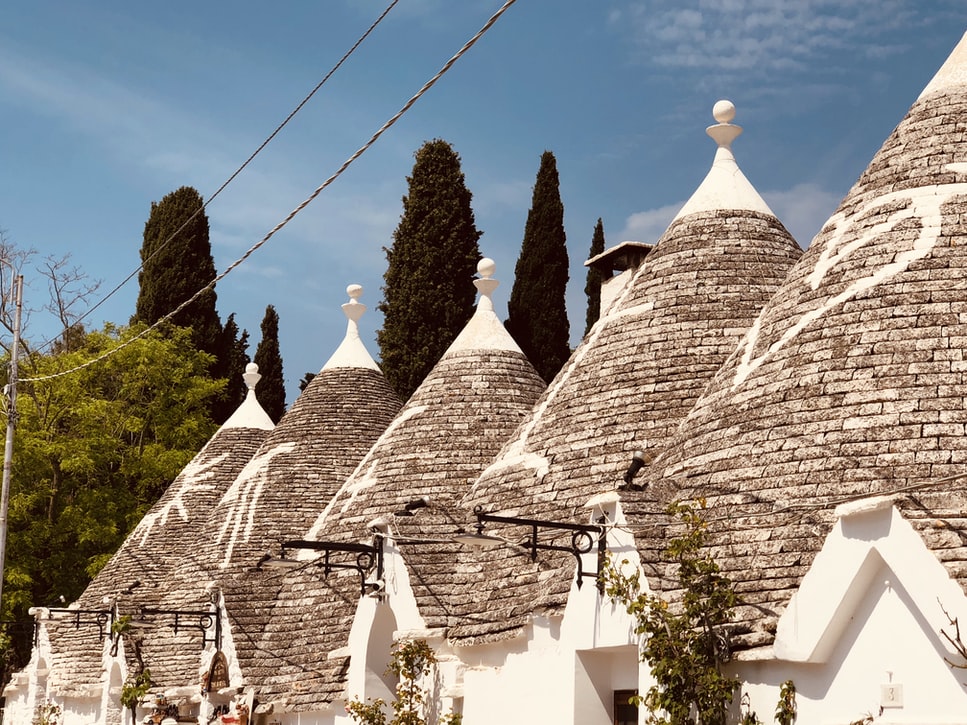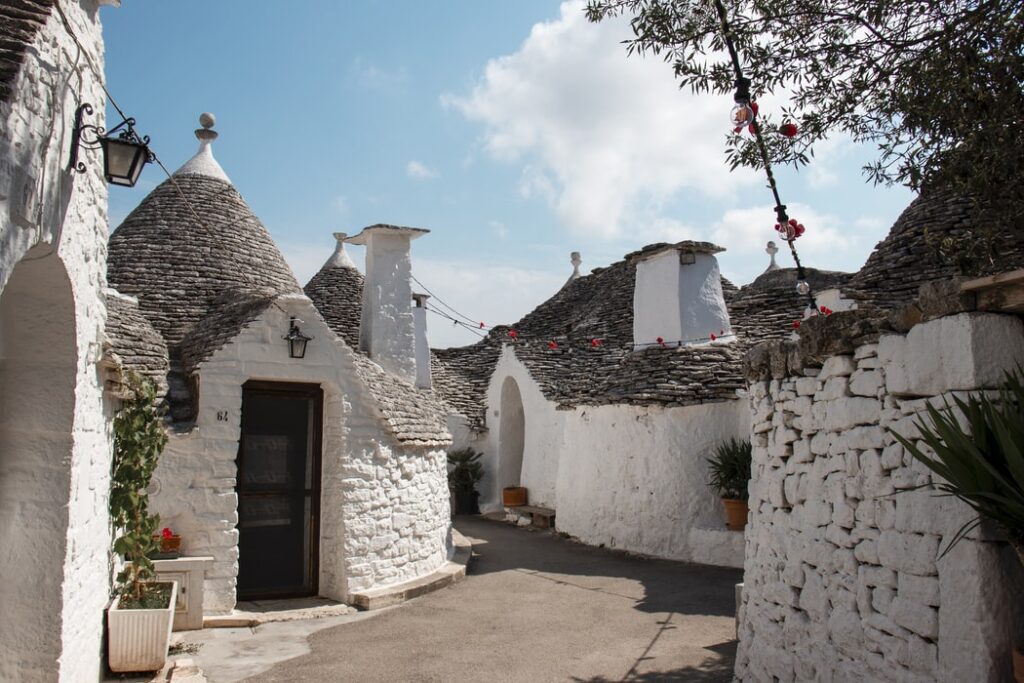 Locorotondo
Our favourite thing about Locorotondo is the distinguishable lack of same-y tourist attractions, it's a town to spend an afternoon wandering, finding the best local focaccia and listening to the bubbling sound of nonna's chatting from shaded doorways. For the best view, head to the top of the hill (easy to find in this little town), and gaze over the golden countryside. Wine-lover? Head Via Madonna della Catena, to taste the town's famous sparkling white at main wine producer Cantina Sociale del Locorotondo. As the sun goes down sink a couple of Aperol spritz or local rose's at one of the little wine bars around the edge of the old town with great panoramic views overlooking the hills.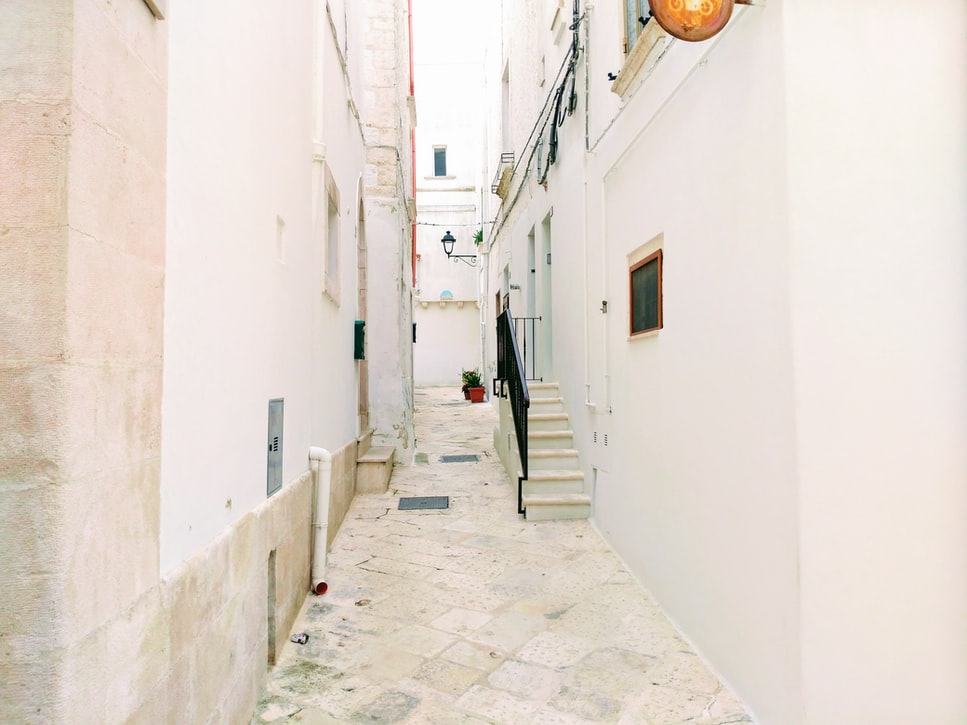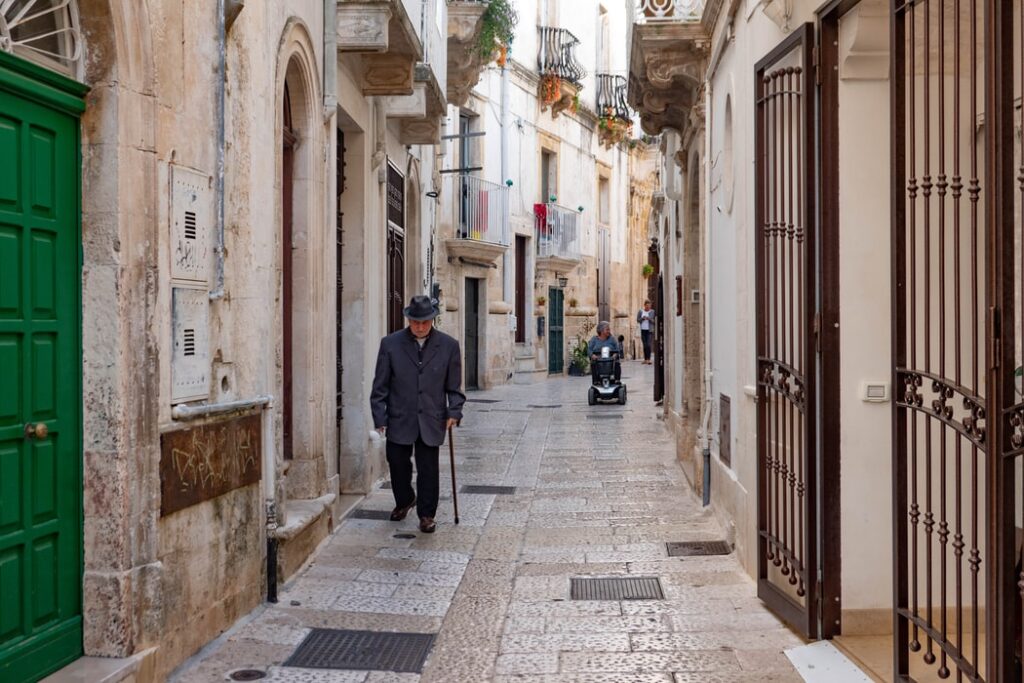 Gallipoli
Eat & Drink
1. La Spingula Wine Bar: a cool spot with wine barrels as tables, great for a pre-dinner aperitif
2. Il Bastione: a timeless classic sunset spot, serving delicious seafood overlooking the ocean
3. Bina Ristorante di Puglia: serving exquisite Puglian fare within a stunning cave-like setting, a classy restaurant with a well-earned place in the Michelin Guide
Explore
1. Centro Storico: meander the narrow alleyways of the town's old quarter, hopping between shaded coffee spots and stopping to chat with the locals from time to time
2. Castello Angioino di Gallipoli: the most famous landmark in town and dating back to the 13th century, adult tickets are a reasonable €7 and well worth it to get clued up on the lengthy history, and for glimpses of the town through the arrowslits
3. Cathedral Sant'Agata: the town is sprinkled with a plethora of churches, but this one is a real standout with an incredibly intricate facade and awe-inspiring artwork on the innermost ceiling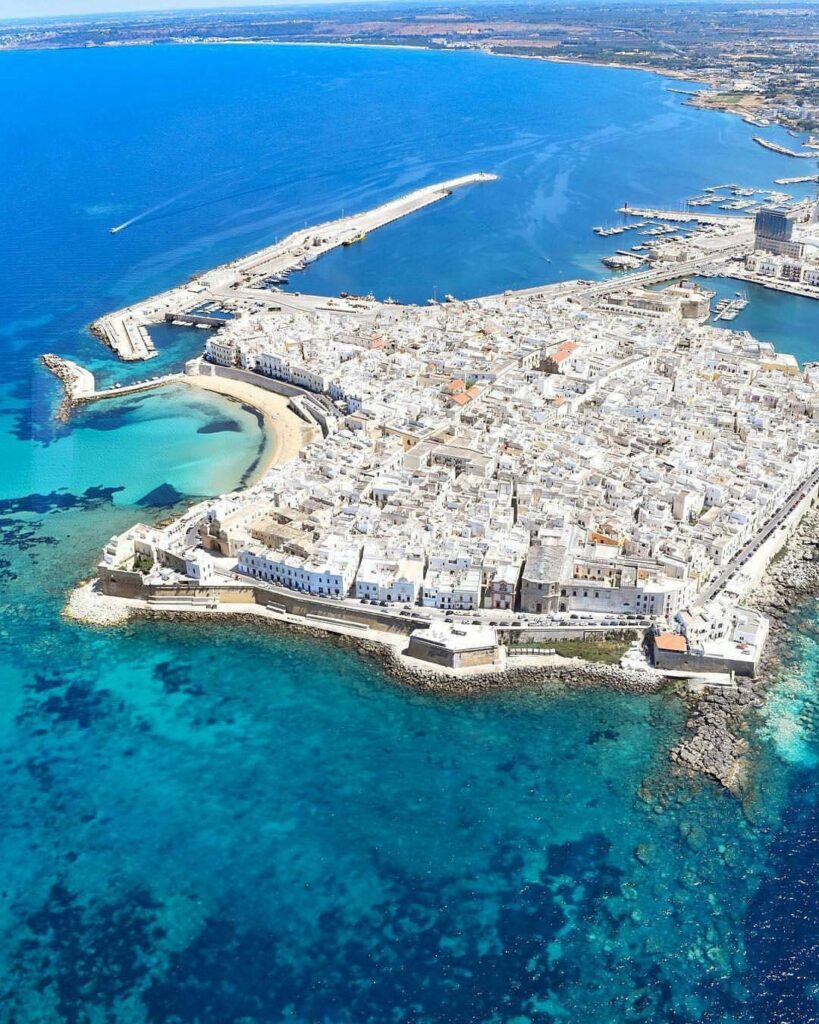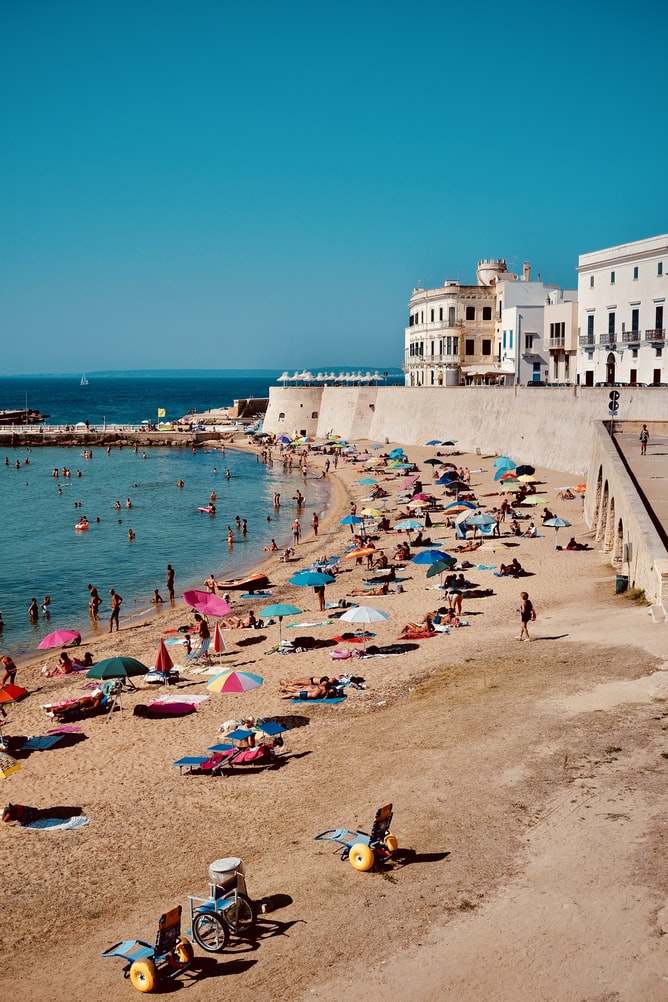 Lecce
Eat & Drink
1. Mamma Elvira Enoteca: a cool little wine bar serving a seriously good charcuterie board
2. Pasticceria Alvino: the perfect spot for a caffè leccese and traditional Lecce pasticciotto after exploring the bustling square
3. BROS: for something a little different check out this avant-garde restaurant with roots tied to local tradition and an 8-course menu changing with the seasons
Explore
1.Roman Amphitheatre and Piazza Sant'Oronzo: take a step back in time in the main square and gaze at the Ampitheatre that once held 14,000 spectators. Time it right and you're in with a chance of enjoying a performance – let us know if you'd like to reserve a seat!
2. Museo Faggiano: if you visit one museum during your time in Lecce, make it this one. A private house until 2001 when renovation uncovered the incredible remains of tombs, secret passageways, a Knights Templar fresco and more. Dating back to pre-roman times, this is an amazing experience!
3. Basilica di Santa Croce: this impressive, exquisitely intricate Baroque Church is a real sight to behold, created from the unique Lecce stone that gives the structure its light cream colouration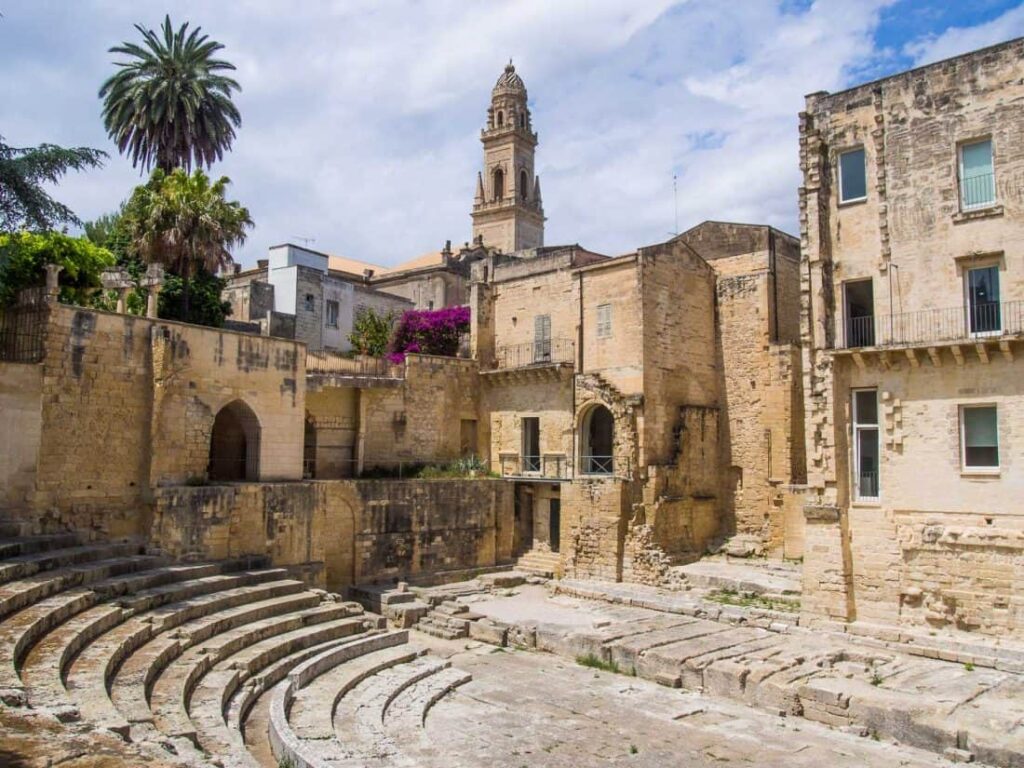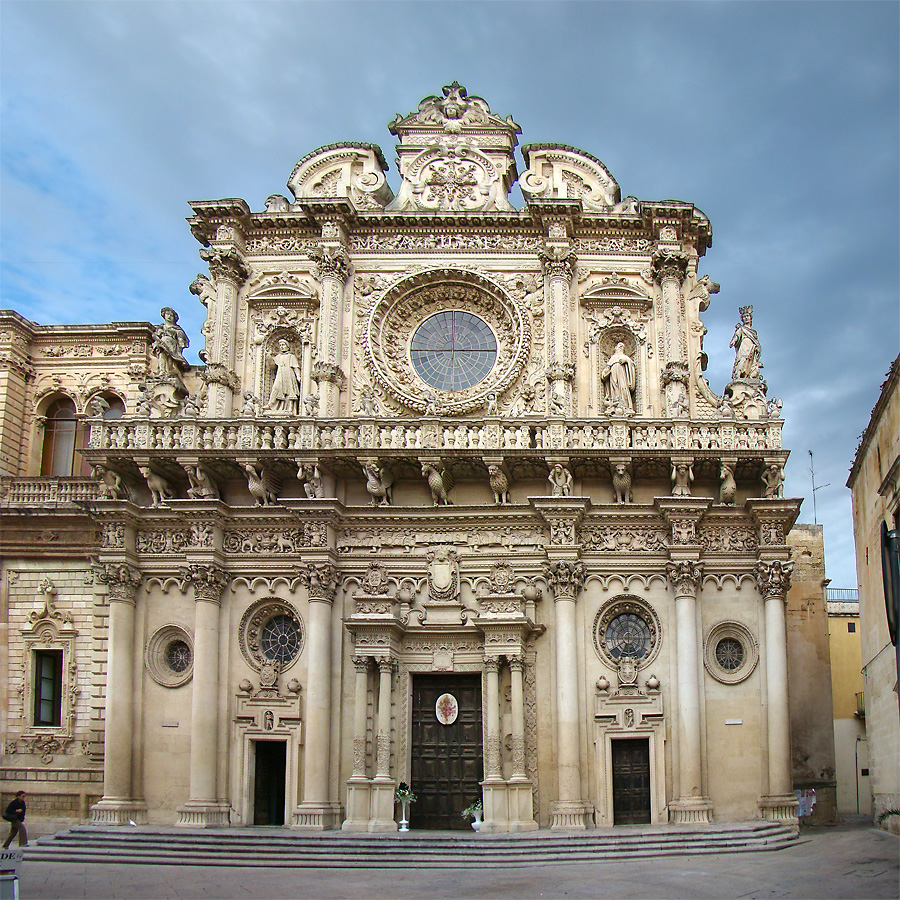 Fancy prolonging your summer and escaping to Puglia? Our experts have all the best tips to create a truly exceptional trip, for you. Tempted? Get  in touch today, you won't regret it.