Escaping the Headlines in the Peloponnese, with Becky Kruger
It's so good to see nemo travellers return with a massive smile on their face. This week, defying the headlines and making the most of summer, some of our most loyal clients Becky and Nat returned from an epic trip to Southern Greece. They grabbed a hire car in Athens, cruised through the Peloponnese peninsula, and proved that a big adventure is still there to be experienced.
Without further ado, over to Becky to tell you all about their trip and how Kyrimai was the perfect pick for them…
Words by Becky Kruger
Firstly, it felt SO good to get out of this country, the world still exists! And it's ok to travel. It's seriously refreshing – and in my opinion, everyone that can needs to do it.
Plus, Greece is awesome to explore and the perfect place to relax whilst filling yourself with unbelievable Greek tastes. Perfect.
We set off for Kyrimai after a hilarious night
At Arachovikita Kalivia (highly recommended) we drank with Maria, our fantastic 70-year-old Greek host in Sparta, late into a beautiful evening. The stop at Skoutari Beach for a swim and sunbathe was stunning. This beach was so deserted. Only a few Greeks, the warm turquoise sea and the sunshine!
Driving in the Peloponnese is far more beautiful than I had thought it to be. I'm not really sure what I was expecting this part of the mainland to be like to be honest. It's like being in the Atlas Mountains. Extremely sparse and spoilt with Cyprus trees, cacti 🌵 olive and orange groves. What more could you want?
Plus, there's nobody anywhere. Each village is deserted – is it always like this or just because it's the end of the season I wonder? If only we had a soft top and could take in more of the orange and olive smells.
Visiting Hades, The Underworld
Much of the Mani Penninsula's landscape is barren, but the occasional towns which dot the coastline are stunning to admire. In particular, Mani's emblematic tower houses full of 17th-century Greek history. We also visited the southernmost tip of the Peninsula one day, Cape Tainaron, one of Laconia's most notorious legends.
We did a small walk which leads you to a cave near the cape's edge and a lighthouse. Ancient Greeks believed this is the entrance to Hades – the underworld…
The Greece you Picture
There's a lot more to explore around here. UNESCO sites plus beautiful hikes – which we'd like to do when and if we come back one day! We loved having the car as it made the trip so much more of an adventure. Also, you see more of the stunning Greek landscapes, local villages and coastline; rural Greece.
We drove about 4 hours over the mountains to Ermioni. This is a sweet little/pretty fishing town where we left the car. Leaving the car was so relaxing, we didn't have to pay for parking and parked right by the ferry port!
25 mins after hopping on a ferry, we landed on Hydra island. Great way to do it. On the way back we managed to have a dip just up from the main town which was lush. The locals were all doing the same thing!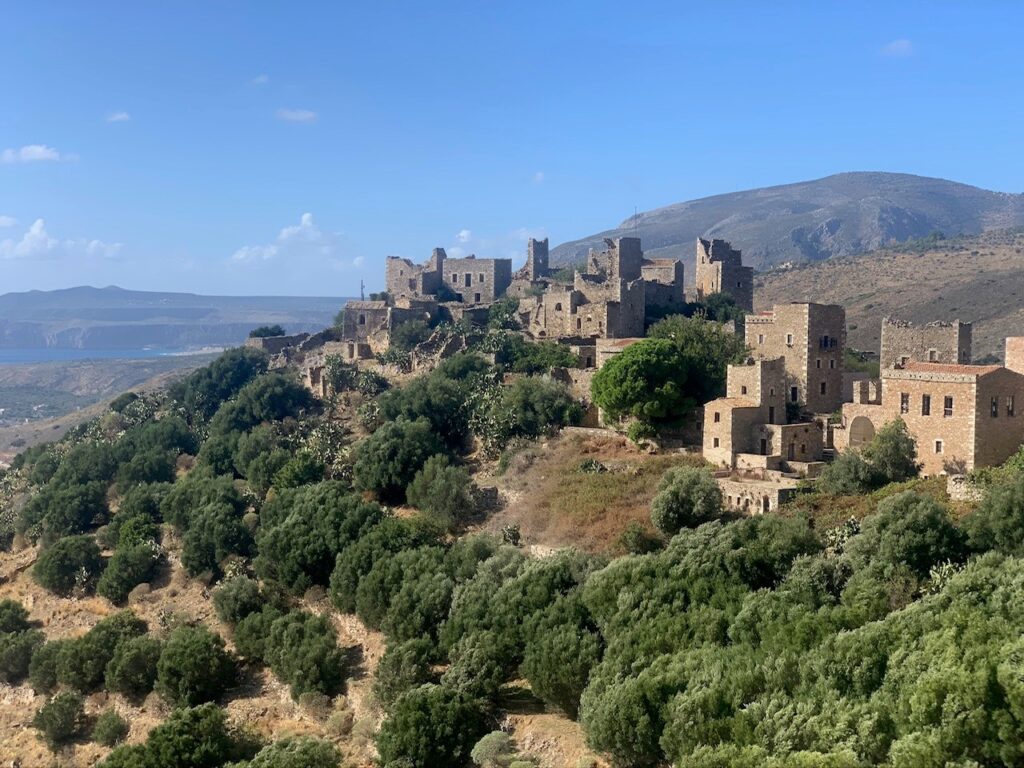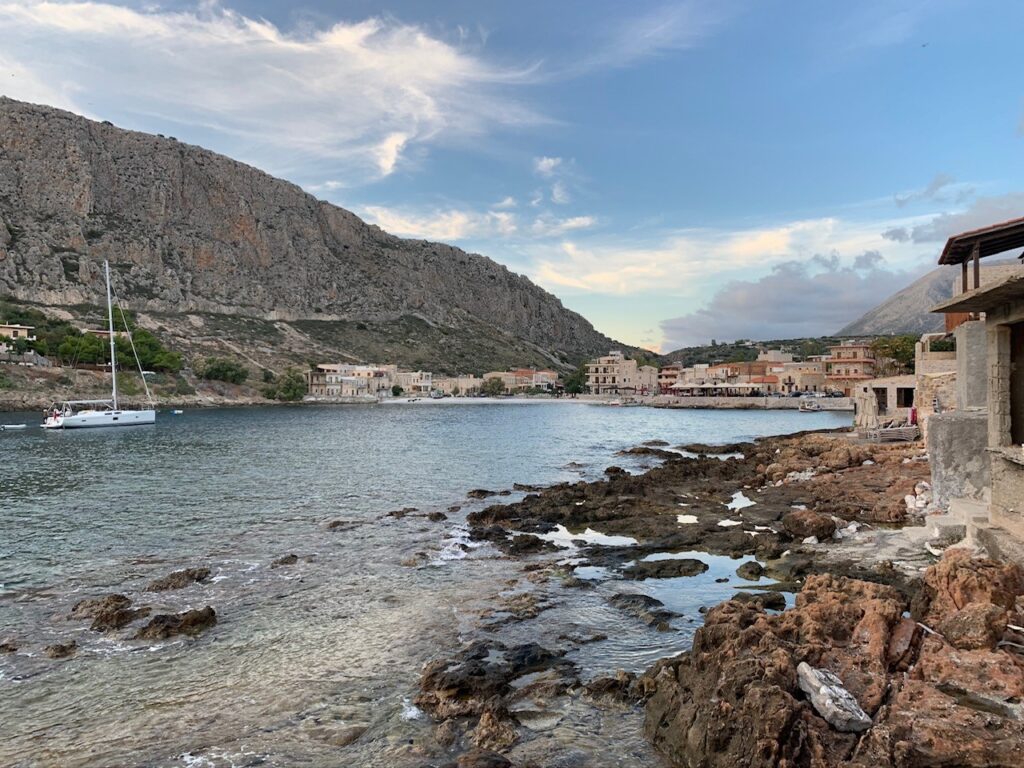 The location of this hotel is set amongst a mountain valley. It's in the sweetest Greek fishing village (if you can call it a village!), just off the southernmost tip of Mani.
The hotel faces the crystal blue sea and rocky landscape making it a serious destination to arrive and not move from. It's been restored from the 19th-century and is bursting with history. It is full of archives and artefacts and stories from the people who have stayed and worked there through the decades.
This not only made it homely, but it also made it far more interesting than a typical 5-star hotel.  
Grecian whites,  Grecian pots and Grecian stone furnishings.
The hotel is decorated as a luxurious mansion house, combining tradition with modern comforts. I fell in love with the beautiful Grecian styled whites, pots and stone furnishings.
Being situated right on the water's edge with waves hitting up against the hotel grounds is what did it for us. Every morning Natty and I would get up and jump off the hotel jetty and swim around the lovely bay. This is before devouring an 8-course breakfast, heaven!
The owner of the hotel hangs out there. He's normally on one of the balconies having coffee with his wife doing various bits and bobs. You wouldn't know he was the owner. He's typically Greek, so chilled out and always hanging out! Love this. 
Traditional tastes with delicious twists
So, I would totally just come back just for the food! There is one restaurant. You can either sit on the deck like you're dining on a boat or inside the beautiful dining room. I have to highlight the breakfast, a total Greek feast to the utmost quality. It had traditional tastes with so many delicious twists.
There's no buffet (due to Covid) which at first, we were like, "whaaat!". Then, after our first experience of being served an 8-course breakfast, we were like "yeah this is epic, keep it coming".
Not having to choose and having it placed in front of you is actually a real treat. Especially when it tastes so damn good! Every morning we were also offered homemade bread and marmalade/honey. The owner's mum makes the marmalade – lemon and bergamot, which is a Greek tangerine and honestly the best marmalade I have and will ever taste!
Greek pie, fresh local cheeses, olives, Greek salad, eggs – in any way. As well as fresh fruit Greek yoghurt and dried fruits, 2 sweet dishes which changed every day (always unreal). It's safe to say we never needed lunch!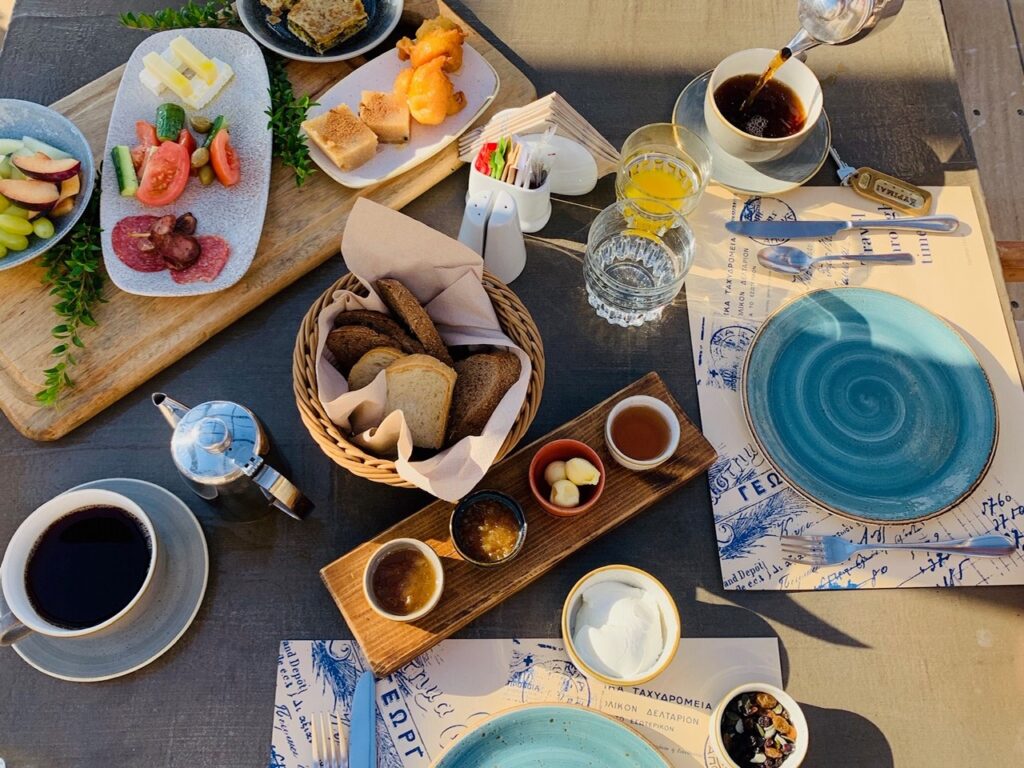 Cocktails, wines and desserts
We ate supper at the hotel twice and then once in a taverna in the little village. The 2 meals at the hotel were insane, our favourite dishes were the goat & local pasta, sea bass and bread and grilled octopus. The cocktails, wines and desserts were all very good too!! Take me back!
There's an area alongside the hotel for sundowners and where they also served lunch (which we never needed after our breakfast marathon; however, the menu was extremely tempting!). The Taverna that we ate at on our middle night, Mani Mani, looked as local as you get in Greece but tasted as good as you get!
Highly recommend going here and having the shrimp saganaki, grilled calamari, spicy feta dip and marinated anchovies!
Detox starts when I get home.
I hope to come back 🙂 We made friends with the waiter, who like everyone else is only there for the season then heads back to their respective homes (Athens etc). 
The hotel has a lovely pool overlooking the sea and a deck area for sun-lounging. We swam every morning before breakfast around the little bay, admiring the beautiful hotel, rocky landscapes whilst seriously switching off and enjoying Greek luxury. Staff are very hospitable, lovely products and amenities in our room, seriously comfy bed, tick tick tick. 
Hydra – 100% I would recommend this island, there are no vehicles, just lots of delicious tavernas, swimming spots, donkeys, sunset spots and Greek lazy life! What more could you want when you go to Greece?
Want to plan a trip to Greece and Kyrimai? Get in touch now.