Where to Eat and What to do in Rome
Ah, Rome! The city of love, of history, and of indulgence. From the cobbled streets to the gelato-filled piazzas, there's an air of romance and excitement that simply can't be beaten. And while there's certainly no shortage of incredible sights to take in, the real magic of Rome can often be found in its food. So, fellow travellers, join us as we take you on a journey through the tastiest and most immersive experiences the city has to offer.
From classic carbonara to the best gelato in town, we'll be your guide to the culinary delights that Rome has to offer. But that's not all. We'll also be sharing our top recommendations for unique and unforgettable experiences, from exploring the city's vibrant street art scene to discovering the hidden gems of the Vatican.
So, whether you're a seasoned traveller or a first-time visitor, let's dive into the best that Rome has to offer.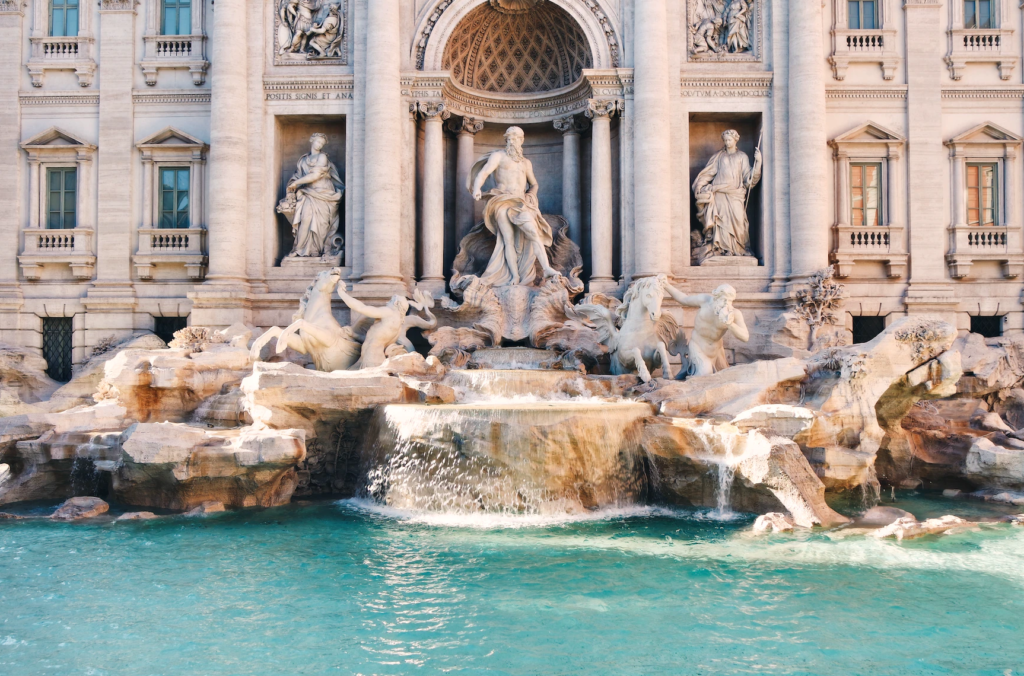 What to do
1. Vespa tour around the city: Hop on for a thrilling tour as you discover the city's highlights by Vespa, Italy's most iconic scooter. Make like the locals and follow your guide through this ancient city's bustling streets. *
2. Vatican Museums and Sistine Chapel: 100% worth the visit, particularly for art and history enthusiasts who want to gain an insight into the city's rich historical past. Enjoy a tour of the Vatican's 2000 years' worth of art exhibits and majestic ancient statues, before exploring the iconic ceiling architecture of the Sistine Chapel. *
3. St Peter's Basilica: In a city of remarkable churches, none can top St Peter's, the largest, wealthiest, and most magnificent basilica in Italy. Explore it at your own pace and discover the best 360º views of the 'Eternal City'. *
4. Cooking class: Roll up your sleeves and master the art of rolling and filling fresh pasta like a pro. Uncover the most delicious of Italian arts and learn how to make classic dishes during this gastronomic workshop from the best Fettuccine pasta to mouth-watering tiramisù. *
5. Food tour: Meet your local guide and experience the true flavours of Rome on a behind-the-scenes guided street food tour. Taste your way through the city, sampling local delicacies such as stone-baked pizzas, homemade gelato, cannoli, supplí, and more! *
*All experiences marked with an asterisk can be booked through nemo, all others can be enjoyed independently.
Top places to visit
1. Campo dei Fiore: The centre of Rome's hustle and bustle, home to an open-air food market that takes place every weekend. The square comes alive throughout the day with the aroma of baked bread and fresh veggies, and at night the area turns into a hotspot for locals to enjoy aperitivi.
2. Villa Borghese: Beautiful landscaped gardens in the heart of the city surrounded by world-class museums, a collection of art galleries, and one of the best locations to catch a view over Rome.
3. Piazza del Popolo: Famous for its beautiful twin churches, the Santa Maria di Montesanto and Santa Maria dei Miracoli, as well as its obelisk and lively atmosphere.
4. Piazza di Spagna: An iconic meeting point for the city located at the bottom of the Spanish Steps. This cultural, artistic, and shopping hub has become an unmissable tourist destination for cafe hopping and Aperol Spritz-fuelled afternoons.
5. Piazza Navona: Surrounded by trendy restaurants, bars and gelaterias; Piazza Navona is the ideal location for people-watching.
6. Castel Sant'Angelo: Known as Roman Emperor Hadrian's Tomb, an ancient fortress located on the right bank of the River Tiber, moments from Vatican City.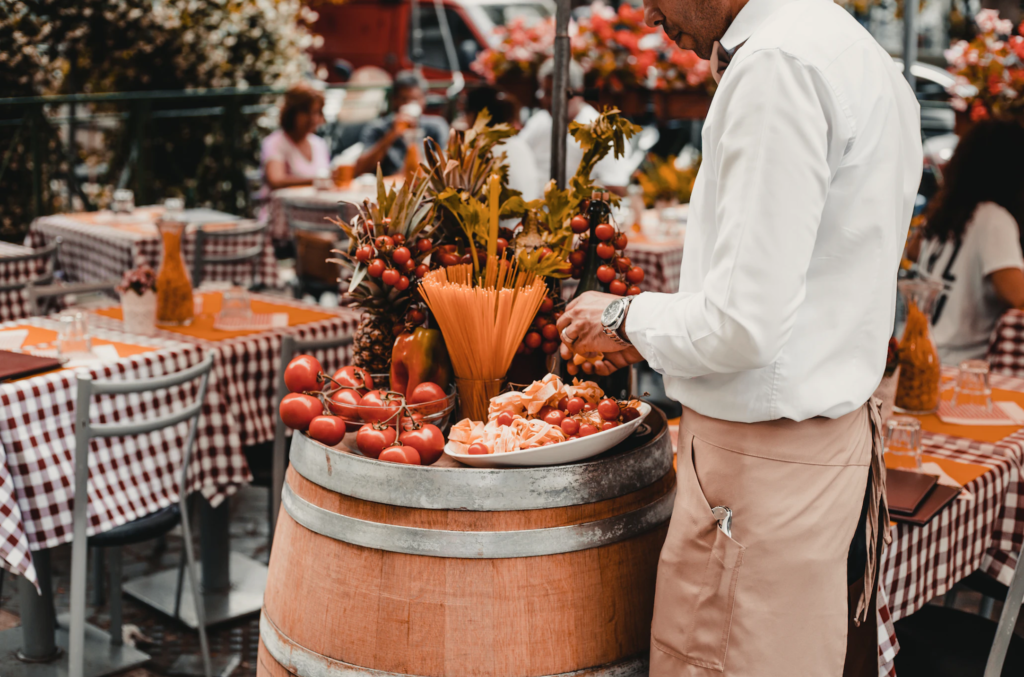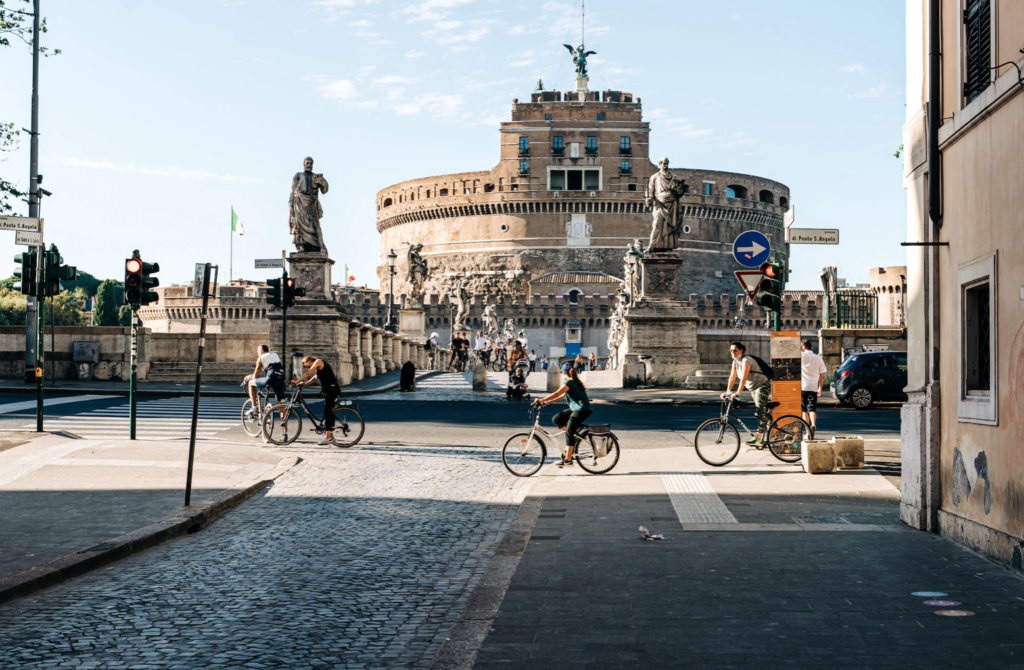 Top places to visit… continued
7. Belvedere del Gianicolo: A hilltop viewpoint well worth the climb, with breathtaking city vistas and live music performances. It's a great place to relax and spend some time enjoying the 'dolce far niente'. 
8. Fontana di Trevi: A magnificent Baroque fountain located in the heart of Rome, considered one of the city's most iconic landmarks. It is said that throwing a coin into the fountain guarantees a return trip to Rome, making it a popular spot for tourists to make a wish and take a photo (all proceeds go to the Italian Red Cross). To avoid the crowds head out early or late at night.
9. Vatican City and Museums: A top destination for art lovers with a wide selection of galleries showcasing Classical and Renaissance art masterpieces. 
10. Pantheon: Considered one of the best-preserved and most impressive examples of Roman architecture and engineering, with its iconic dome and famous oculus. Built as a temple to all the gods, it has since been used as a church, a tomb for Italian royalty, and a monument to the nation's cultural heritage.
11. Colosseum and Roman Forum: Representing the grandeur and might of the ancient Roman Empire. The Colosseum, the largest amphitheatre in the world, was used for gladiatorial contests and public spectacles, while the Roman Forum, once the political and commercial centre of Rome, was the site of temples, public buildings, and triumphal arches, offering a glimpse into the daily life and history of ancient Rome.
12. Altare della Patria: The largest national monument in all of Italy honouring the first King of Italy, Victor Emanuele II. Head up to the top terrace of the museum and catch sight of a panoramic view over Rome, you can see St. Peter's dome, the Colosseum, the Roman forum, and even the mountains in the  distance.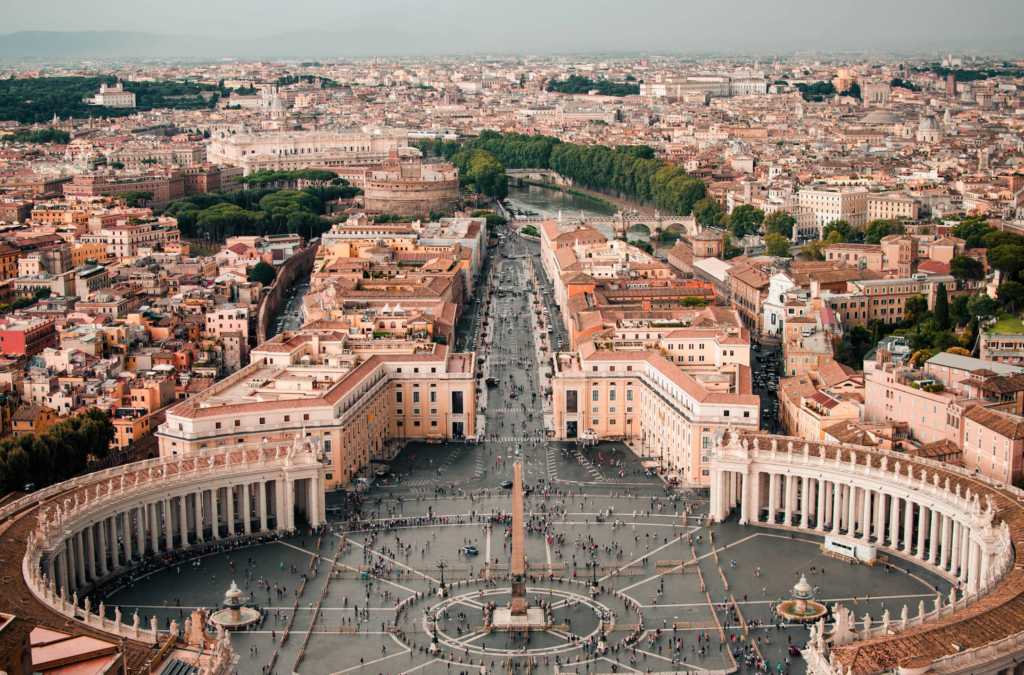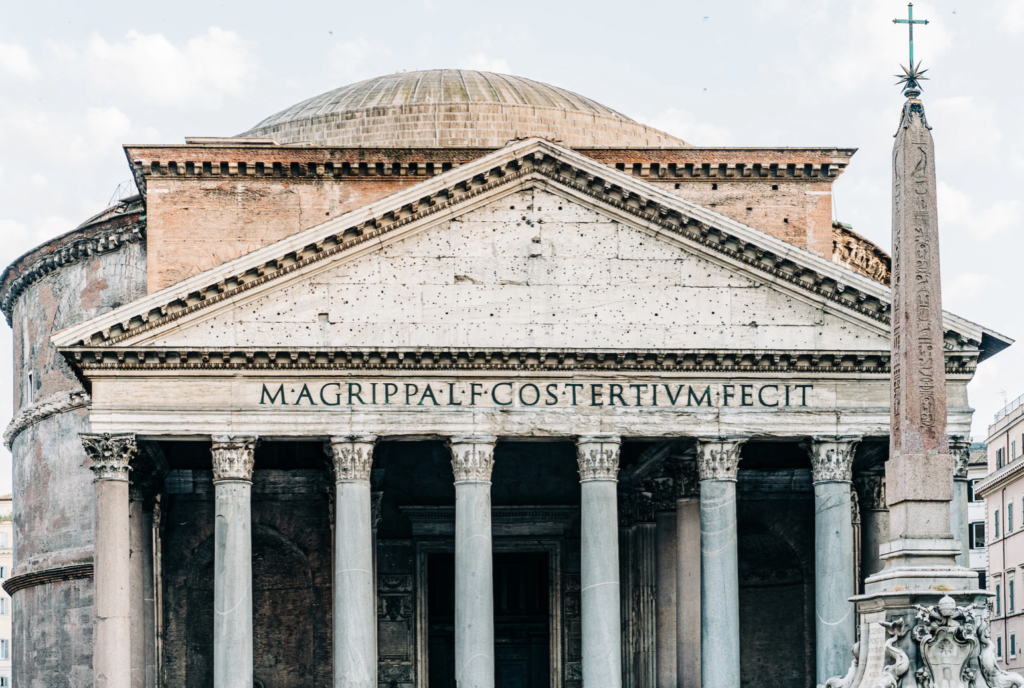 Top neighbourhoods to explore
1. Prati and around the Vatican City: Known for their proximity to the Vatican and the beauty of St. Peter's Square, as well as their elegant shopping streets, charming cafes, and historical architecture. These neighbourhoods offer a more peaceful and upscale atmosphere compared to the busy city centre, making them a popular choice for visitors who want to be close to the Vatican but also enjoy a more residential vibe.
2. Trastevere: The foodie neighbourhood of Rome that sticks to its centuries-old roots. The bohemian streets come to life in the evening with all the sightseers stopping in their quests to wine and dine at one of the many top eateries and bars in the city. 
3. Fontana di Trevi: Striking architecture, very central location and home to perhaps the most famous fountain in the world!
4. Via Condotti: Beautiful streets and buildings; this is one of the famous filming locations in 'House of Gucci' – so definitely a place to visit if staying in Rome for more than a couple of days.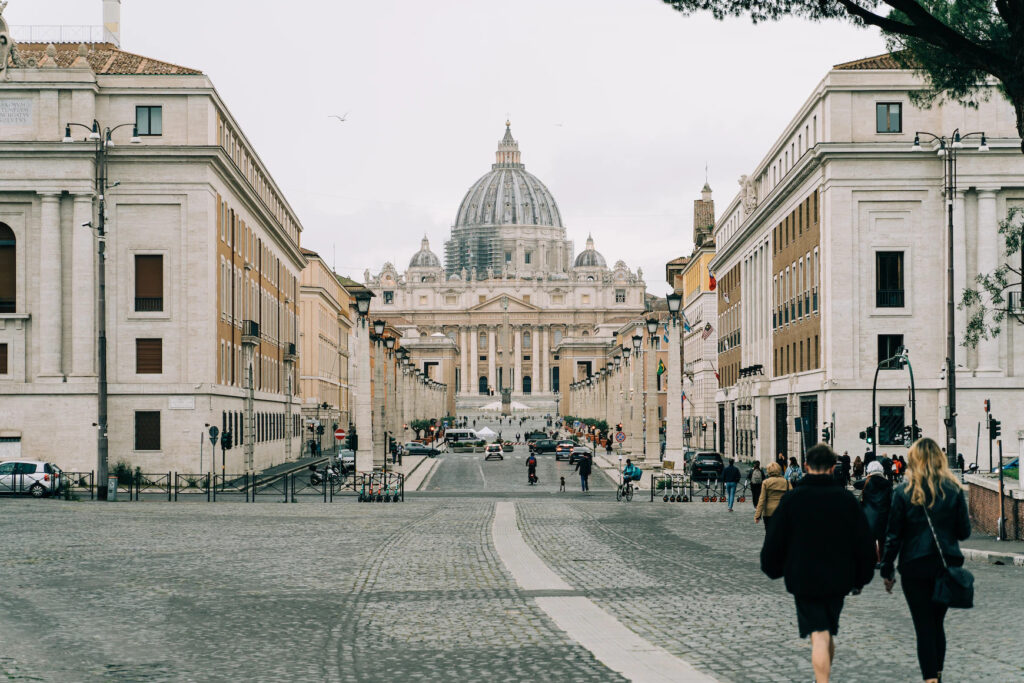 Where to eat…
Cafes
1. Roscioli Caffè Pasticceria: This traditional coffee hangout packs a serious punch, serving perfect breakfast cornetti, homemade gateaux, zesty fruit tarts and arguably the best espressos in Rome. 
2. Pasticceria Barberini: The locals of Testaccio have been flocking to Barberini for their morning coffee and pastries for almost a century. The delicate array of sweet treats are all made on-site, think cream-filled creations, almond-topped croissants and mini tiramisu.
3. Le Levain Roma: This artisanal patisserie has a great French vibe and serves just-baked bread, sweet eclairs, and macarons. A popular location among tourists and locals alike, offering a delicious taste of Rome's thriving café culture.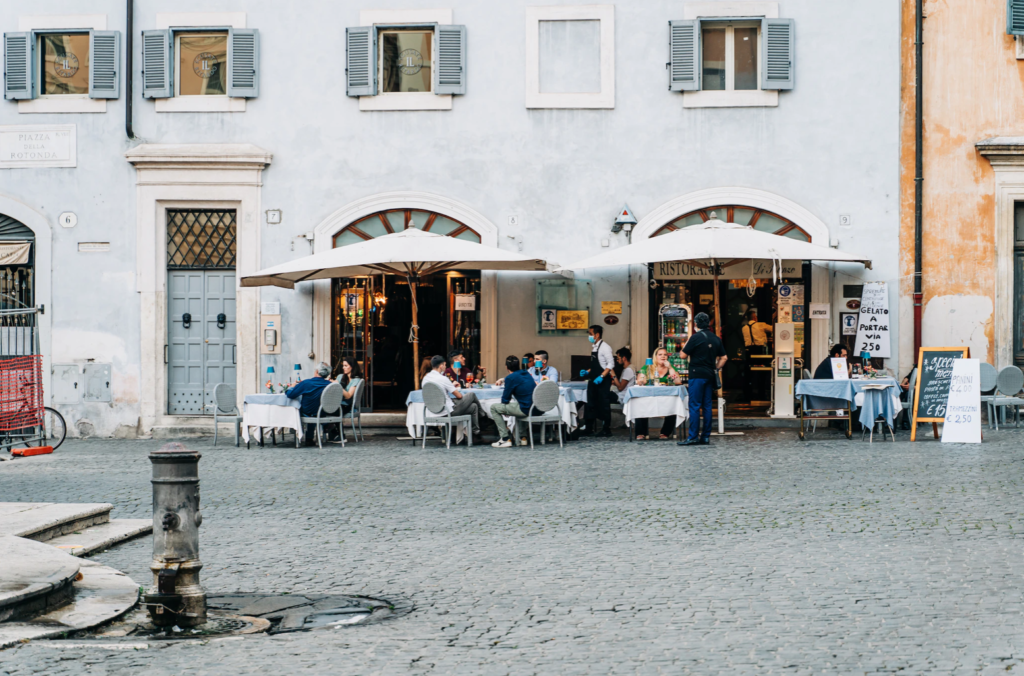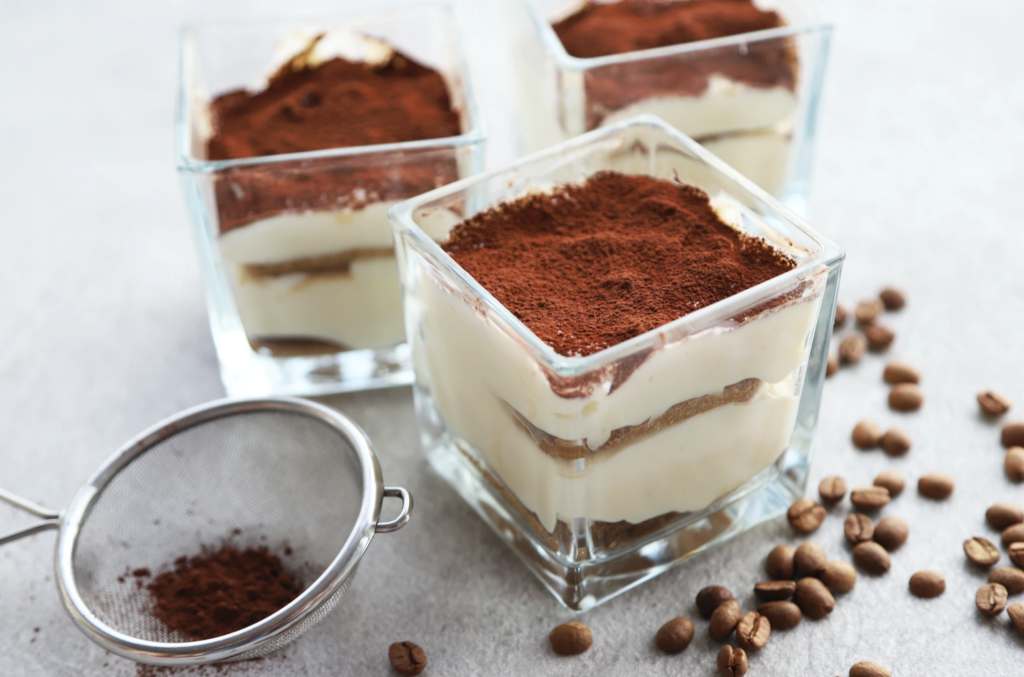 Where to eat… Restaurants
1. Nannarella: Kick off your Italian culinary adventure here, a very traditional option offering Italian culinary staples. A great place to get a taste of the mouthwatering spaghetti carbonara in a charming cobbled street setting. 
2. Tonnarello: A casual tavern located in the heart of Trastevere, serves authentic Italian fare with recipes that have been passed down from generation to generation. The chefs prepare fresh pasta every morning, so be sure to sample one of their pasta dishes – the famed 'Cacio e Pepe' is our top choice. 
3. Osteria da Fortunata: If looking for a restaurant that promises hearty Italian meals, you can't go wrong with Osteria Da Fortunata. A real down-to-earth, country-style venue staging organic cuisine and handmade pasta delights. 
4. Alfredo Alla Scrofa: A rustic 1907-founded eatery and the birthplace of the famous Fettuccine Alfredo pasta. A must-visit destination with food savoured by celebrities, as previous guests include the likes of Audrey Hepburn and other well-known figures.
5. Roscioli: You can't get more Italian than this – think regional products stocking the walls, local wines on display, and dried meats hanging from the ceiling. As for the menu, there's something to suit every taste here from burrata with white truffle to homemade tortellini and one to book ahead as a very trendy haunt amongst tourists and locals alike.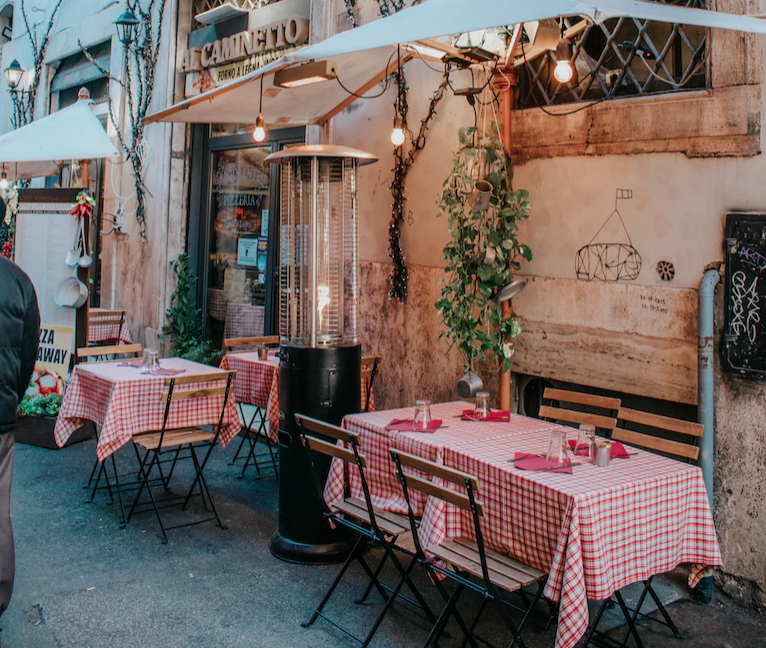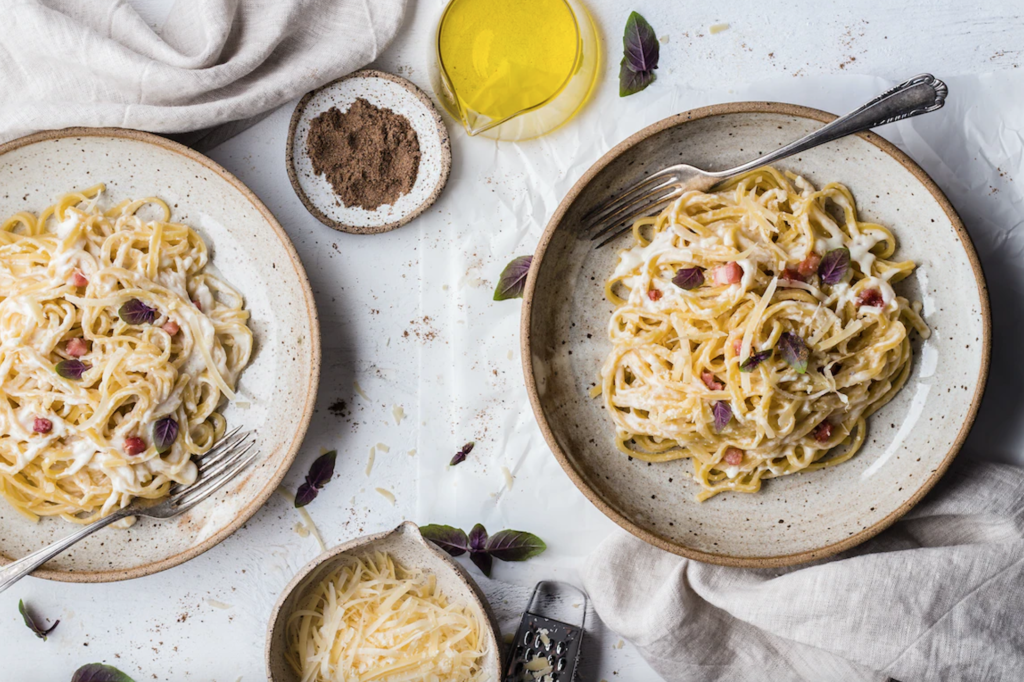 Where to eat… Restaurants continued.
6. Pompi Tiramisu: A tiramisu hotspot with an assortment of flavours from the classic coffee take to a pistachio twist. Order a takeaway cappuccino with your tiramisu treat and explore the nearby wonders of Rome from their doorstep. 
7. La Zanzara: A vintage-style fine dining experience featuring local seafood plates, including cod-stuffed gnocchi with truffle caviar and fresh grilled seabass. All are paired glasses from an extensive wine list, artisanal beers, and signature house cocktails.
8. Antica Osteria Brunetti: A laid-back restaurant with a comforting ambience serving fresh pasta, good wine, and delicious Roman cuisine at a great price point – be sure to save room for their homemade desserts!
9. Trattoria Perilli: In search of the best carbonara in town? Look no further than this family-run trattoria serving up a temple of pasta and classic Roman mains. Interiors here offer authentic, old-school vibes – think white tablecloths, bowties and antique Italian artwork.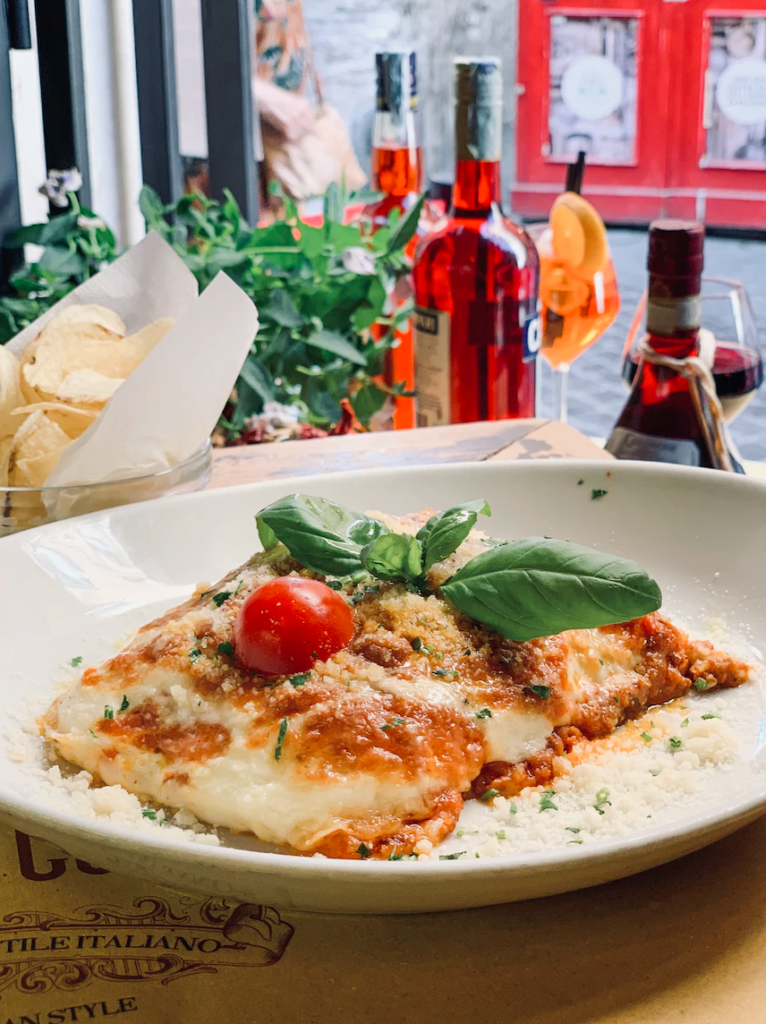 Where to eat… Pizzerias
1. L'Elementare Trastevere: Enjoy a selection of great pizzas, fried food and excellent craft beers in a home-from-home atmosphere.
2. La Gatta Mangiona: Dine with the locals and tick the authentic local experience off your Rome to-do list with this pizzeria. The amazing Neapolitan-style pizzas, fried courgette flowers, and potato croquettes are a must!
3. 180g  Pizzeria Romana: One of the best places to go to sample the typical Roman-style pizza and regional street food. 
4. Pizzeria Giacomelli:  A family-owned pizzeria opened in 1946, serving mouth-watering pizza, grilled seafood, and many other Italian specialities.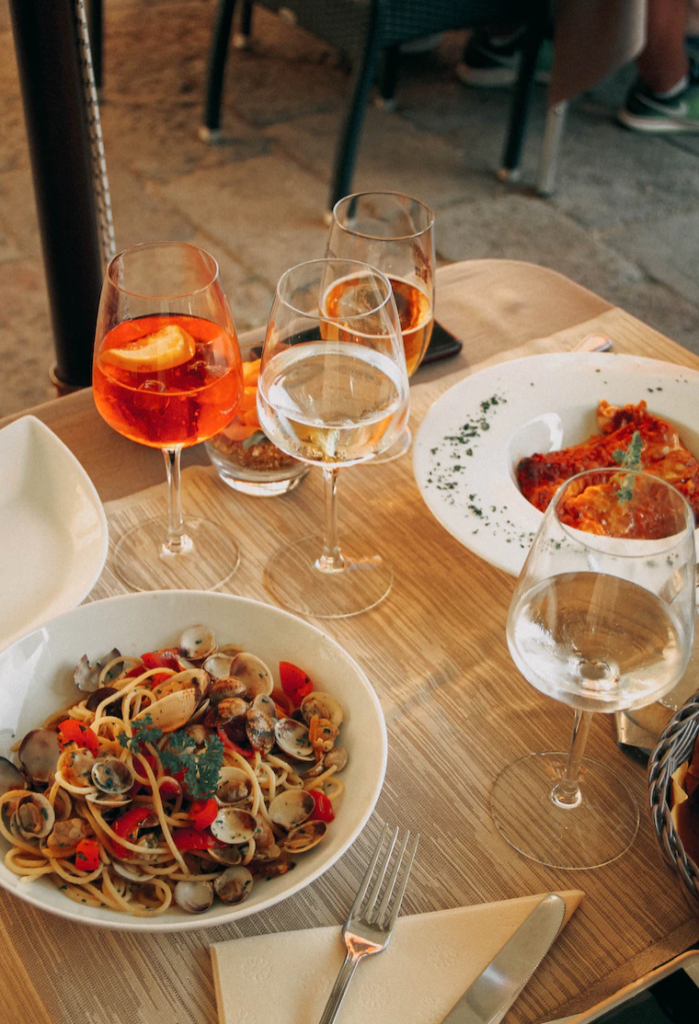 Where to drink
1. Giardino Bar: The rooftop bar of Hotel Eden with a cocktail list designed to impress and breathtaking sunset views of Rome's greatest landmarks. Order the 'Ricordi di Roma' for something a little sweet or for a hint of citrus try the 'La Grande Bellezza'.
2. Terrazza Les Etoiles: A spectacular rooftop garden bar with beautiful golden-hour views of the city. Slip between drinks, finger food, and bubbles as you watch the sunset over St. Peter's Basilica.
3. The Court Rooftop Bar. Palazzo Manfredi: A modern temple of mixology set in a sophisticated hotel location, sip on Roman martinis and admire the timeless view of the Colosseum.
4. Cielo Terrace: The rooftop terrace bar at Hotel de la Villa is the perfect place to admire the ancient skyline of the Eternal City. Sample dim sum delights and drink luxury cocktails in a candlelit setting. 
5. Rooftop Oro Bistrot: This chic rooftop bar offers panoramic views over the Altare della Patria and a fine dining experience with a unique taster menu that won't disappoint – think sea urchin pomegranate risotto and truffle scallops.