Where to Eat and What to do in Cartagena
This city is a favourite among foodies, bursting with vibrant bars and mouth-watering menus that focus on time-honoured Colombian flavours. Outstanding food and epic adventures are never far away, but to save you the scrolling we've hand-picked our favourite eateries and bucket list moments in this handy guide. Read on as we reveal the best places to eat, drink, and do in Cartagena.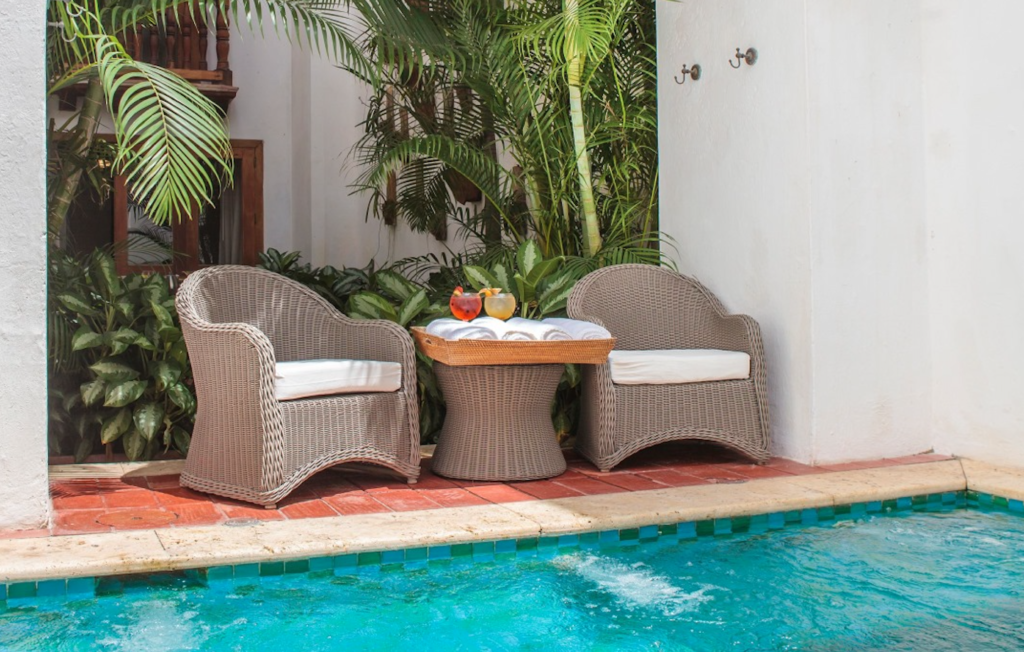 What to do
Walk around the city: The best way to explore Cartagena's old town is on foot, as it gives you the freedom to wander through the colonial streets at your own pace. Dive down side streets to discover epic spots that are often passed by, alongside the city's main attractions. *
nemo's recommended walking tour: La Torre del Reloj (The Clock Tower) – Santo Domingo and San Diego squares – Catedral de San Pedro – Catedral de Santa Catalina de Alejandría – Museo de la Inquisición and Zenú Gold Museum – Adolfo Heredia Theatre.
nemo's must-visit shopping areas:
– La Serrezuela: A historic bullfighting ring beautifully restored and transformed into a shopping centre, one of the architectural marvels of Cartagena's historic walled Old City.
– Las Bóvedas: A series of boutique and souvenir shops located on the eastern side of the Old City set up within the old jail cells.
– Bazurto Market: Hang with the locals at this market bursting with life – a true feast for the senses.
*All experiences marked with an asterisk can be booked through nemo, all others can be enjoyed independently.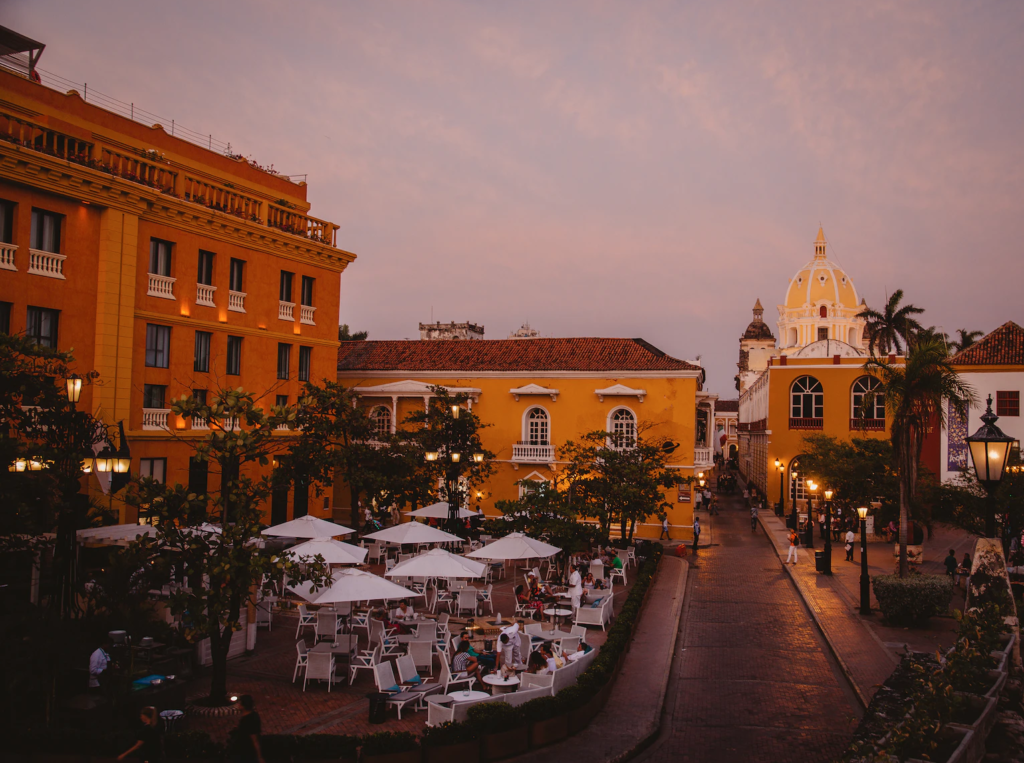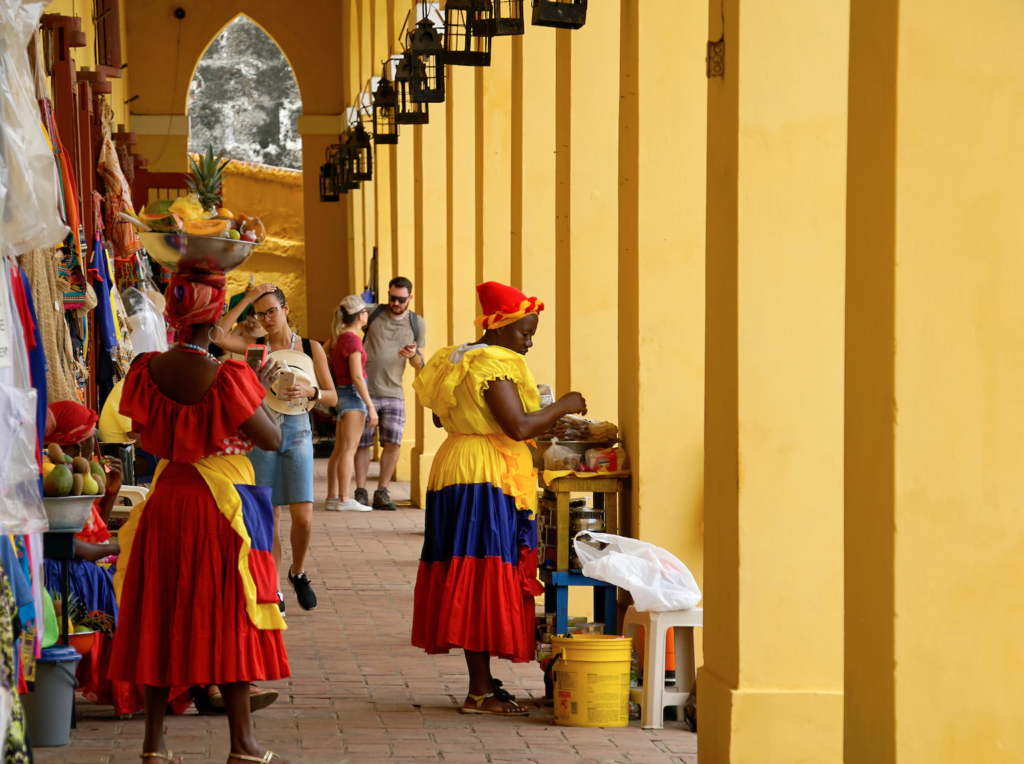 Where to eat
Breakfast and Brunch
1. Mila Pasteleria: Home of the original Cartagena brunch, this fancy patisserie serves up sweet treats and delights in the heart of the Old Town.
2. La Esquina del Pandebono: A great option to grab and go, serving Pandebono (a Colombian breakfast staple), freshly baked pastries and cold-pressed juices.
3. Epoca Espresso Bar: The city's best-kept coffee secret. Roasted in-house from the best of Colombia's beans, this could be the very best cup in the city and it's not just coffee snobs who will be satisfied, this trendy venue features an epic brunch menu too.
4. Crepes & Waffles: Sweet tooth? This is the spot for you. Serving every sweet treat under the sun from ice cream, shakes and pancakes, this locally-loved spot is perfect for an afternoon pick-me-up.
Lunch and Dinner
1. Celele: A unique gastronomic experience with innovative chefs showcasing the best flavours and techniques the Colombian Caribbean region has to offer, delivering world-class cuisine with fine attention to detail (book ahead).
2. Carmen: Situated in a beautiful, elegant and intimate colonial house downtown, Carmen offers contemporary cuisine with an emphasis on Colombian flavours (bookings essential).
3. Alma: For those looking for a more upscale experience, this is the place. Set within a beautiful enclosed courtyard space, Alma stages coastal Colombian cuisine. Enjoy the catch of the day with their delicate coconut seafood casserole that always goes down a treat.
4. La Unica: Keeping things fresh and fun, with an authentic Mexican-inspired menu that packs a punch. Attention to detail is everything, from the fresh flavourings and skilful mixologists to the flawless interiors (always packed so a booking here is essential).
5. La Vitrola: Set in a beautifully restored 400-year-old colonial home with an old-school vibe – think white tablecloths and authentic Colombian decor. This restaurant has earned its reputation and is well worth the visit with an exceptional choice of wines and live Cuban music. A strict dress code of no shorts and one to book ahead.
6. Don Juan: Offers sophisticated cuisine of Mediterranean hints and Caribbean ingredients. The seafood options always go down a treat – think delicate fish tacos and grilled octopus risotto.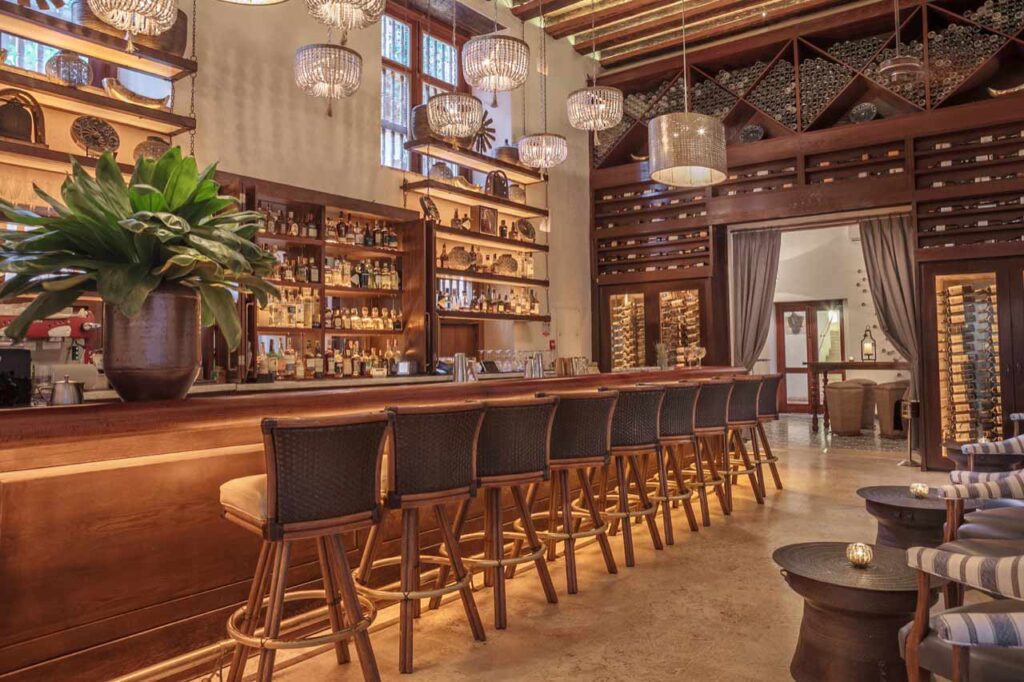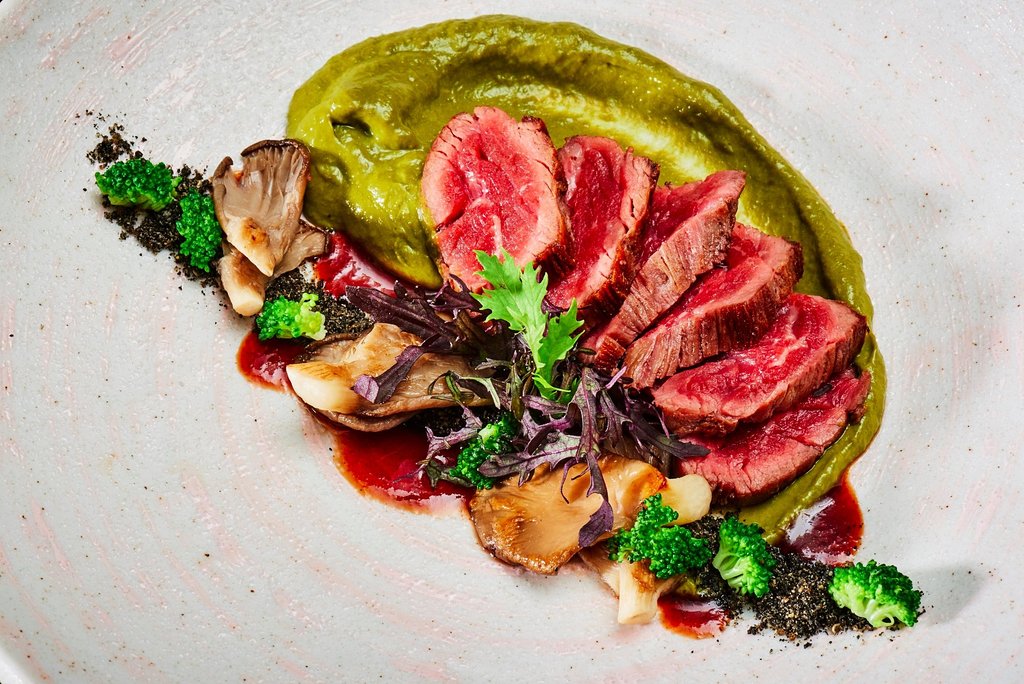 Traditional Caribbean
1. Candé: Serving 100% Cartagenero with no frills and no fusions. Each dish is a careful recreation of all the grandmas' classics elevated to a fine dining level of technique and skill.
2. Doña Lola: If the style is as important to you as the food on your plate, then Doña Lola might be the one for you. Housed in a beautiful boutique hotel with sophisticated decor and a tropical chic style, offering a menu of Cartagena classics and delightful Spanish tapas in a nod to the city's heritage.
3. Cocina de Pepina: An easy-going Colombian eatery with authentic food, giving guests a genuine sense of the history, people, and unique culture of the nation.
4. Mar de Leva: A full-of-life hangout with a vibrant atmosphere and live salsa band, guaranteed to get the party started with a menu consisting of all the traditional Cartagena top eats.
5. La Cevicheria: Sometimes, simplicity is the only way. A truly understated eatery serving only the classics from fresh seafood dishes to unadorned (but delicious) rice and pasta bowls.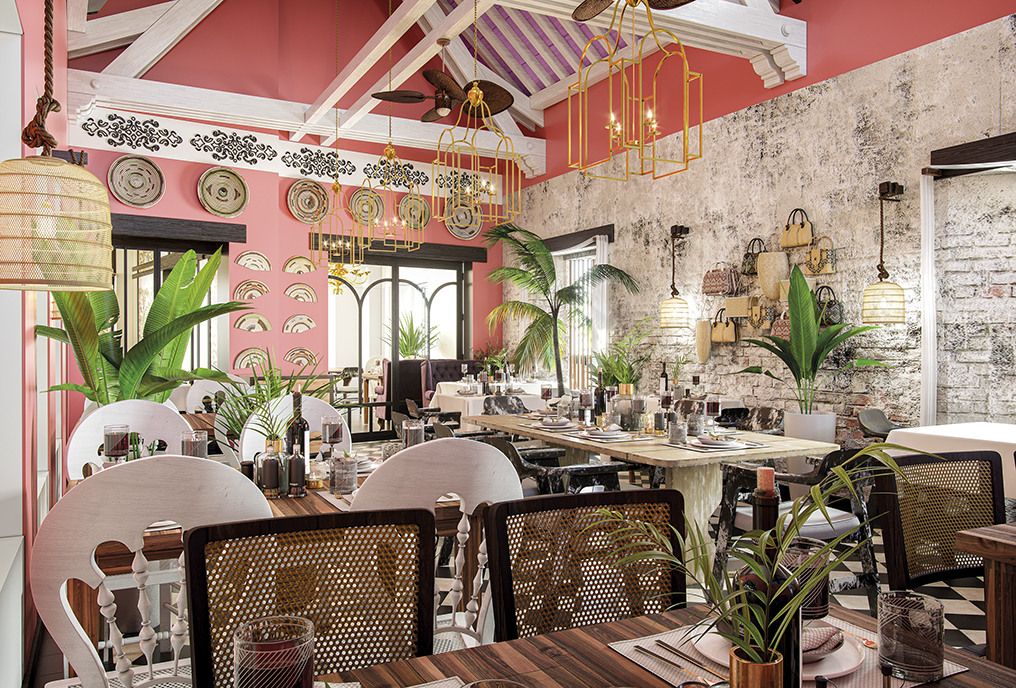 Where to drink
Bars
1. Alquimico: Set within a beautiful mansion, this multi-level cocktail bar is taking the city by storm with its range of cocktails and incredible rooftop terrace… earning a listing in The World's 50 Best Bars.
2. El Baron: One of the most recommended cocktail bars in Cartagena for good reason. Chilled and charming, it's a great spot to kick back and sip cocktails that centre on local spirits.
3. Cuba 1940: A stylish slice of Cuba's golden age offering authentic cocktails and light bites with salsa dancing every night. Everything here feels tropical from the passionfruit-infused mojitos to the in-house swimming pool.
4. Carmen Bar: Makes the best Negroni in town. The bar is an intimate yet romantic 10-person hangout, off to the side of the famed Carmen restaurant space.
5. Sofitel Santa Clara: In downtown Cartagena with an innovative menu of glamorous cocktails and botanical drinks. A sunset drink here with a panoramic view of the Caribbean Sea is a must!
Beach Clubs
1. Makani: A new luxury beach club set on the white sandy shores in Tierra Bomba. One of the best places in Cartagena to relax and enjoy the heat under the palms with breathtaking scenery.
2. Blue Apple: The place to go to get away from the bustle of the city. A palm-fringed oasis hidden away on the southern shore of the island of Tierra Bomba, offers a lively party scene by day and relaxed atmosphere by night.
3. Gente de Mar: A picture-perfect beach club in the Rosario islands serving refreshing cocktails paired with indulgent coastal bites. A beautiful location with nearby coral reefs for your snorkelling adventures.
4. Fenix Beach: A laid-back festival beach club scene with exotic cocktails, vibey DJ sets and a stylish shabby chic flair. Look no further to dance the night away on the dazzling shores of Tierra Bomba.