Why We Love Vietnam…
The unparalleled natural beauty from the sea to mountain tops, cities providing a fantastical sensory overload and mouthwatering sweet-and-sour cuisine, Vietnam is an incredible country of contrasts.
Although many westerners might still view Vietnam through the lens of history and war, in reality, the country is an oasis of harmony and peace; offering captivating natural beauty and tranquil villages. Its highlands and rainforests continue to yield new species and offer an abundance of exotic wildlife. The tropical islands and beaches are among the finest in the Asia-Pacific region. Decades have passed since Vietnam was officially united and during this time the country has done a remarkable job of healing its wounds. Today, this stunningly beautiful land is an outstanding travel destination that offers something for everyone – history, cultural heritage, or exploring the country's abundant exotic fauna and flora.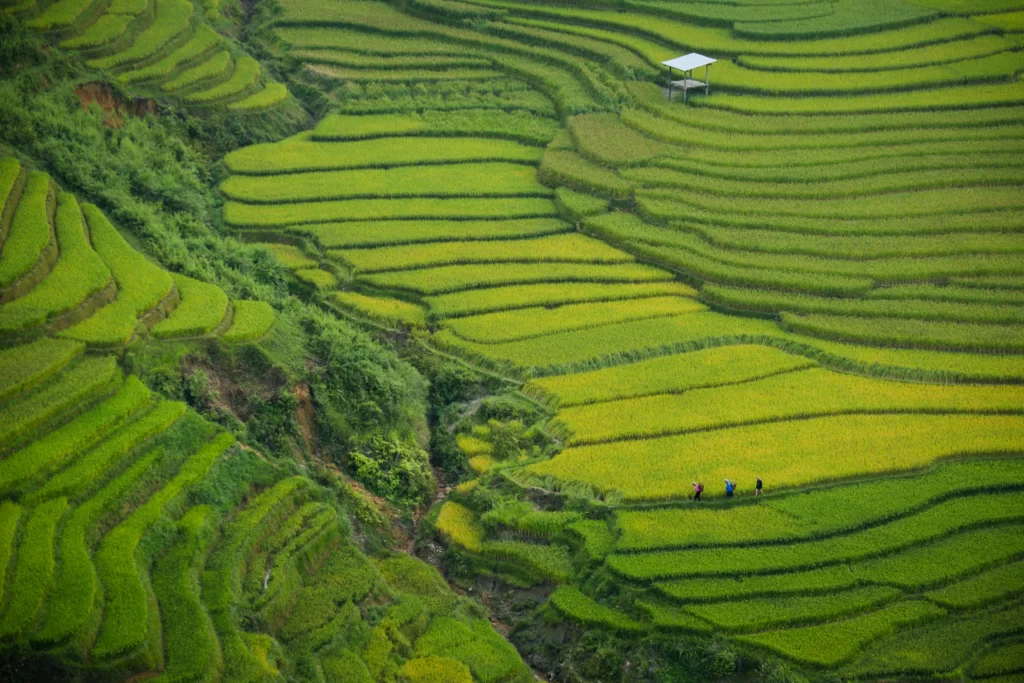 Entry Requirements 
Rules are often subject to change, please check the latest UK Government's advice for further information. 
Visas
You don't need a visa to visit Vietnam if you're staying for 15 days or less. For longer trips, you'll need to get a visa before you travel – please be sure to get the appropriate visa.
The visitors to Phu Quoc Island may stay without a visa for no more than 30 days. This visa waiver program also applies to those travelling to the island through any international ports of entry (air and sea). 
A visa requested as a multi-entry at embassies abroad is often issued as a single entry; it is recommended to double-check the visa stamp when collecting your passport. Multiple entry visas can also be arranged on arrival.
Covid-19 Rules
You do not require proof of Covid-19 vaccination or testing to enter Vietnam.
Please check the Government guidance if you are entering/returning to a different country, and do get in touch with our concierge team with any questions.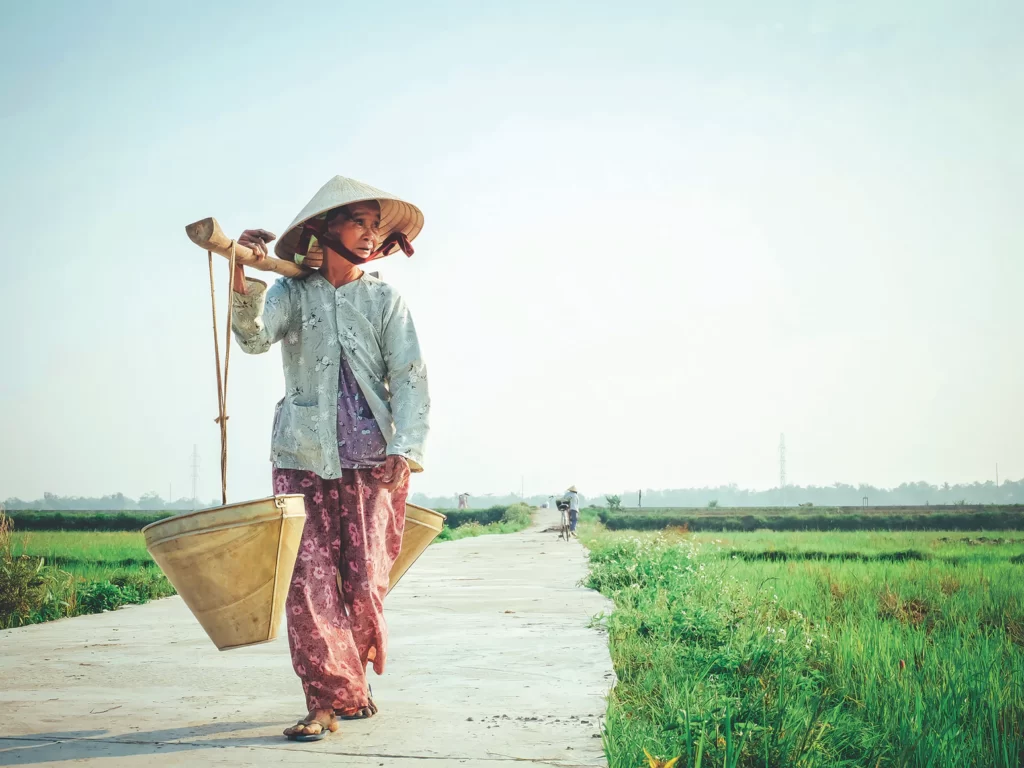 Currency & Tipping
The currency in Vietnam is the Vietnamese Dong. Vietnamese Dongs come in the following forms:
– Banknotes: 500; 1,000; 2,000; 5,000; 10,000; 20,000; 50,000; 100,000; 200,000; 500,000.
– Coins: 200; 500 (silver) and 1,000; 2,000; 5,000 (gold).
Banks are open Monday to Friday, from 8 a.m. to 5 p.m., and some are open on Saturday morning. In the major cities, there are plenty of exchange offices available to travellers, ATMs are widespread in many major towns but are far less common in rural areas. Travellers' cheques are accepted in banks, money changers and in some hotels, although most travellers now use debit cards throughout thanks to the increased frequency of ATMs. An increasing number of outlets accept MasterCard and Visa, however, outside main towns and cities, we recommend you carry cash. The US Dollar is the most favoured foreign currency. Australian, British, Japanese, Singaporean and Thai currency notes can usually be changed in larger cities. Very few shops, hotels or restaurants accept Travellers Checks.
Tipping for good service is not expected but is always appreciated. Tipping the guide and driver on your transfers and tours should depend on how satisfied you are with the excursion. Hotel porters should be tipped for carrying bags to the room. In other cases, it is totally up to the individual when and how much to tip.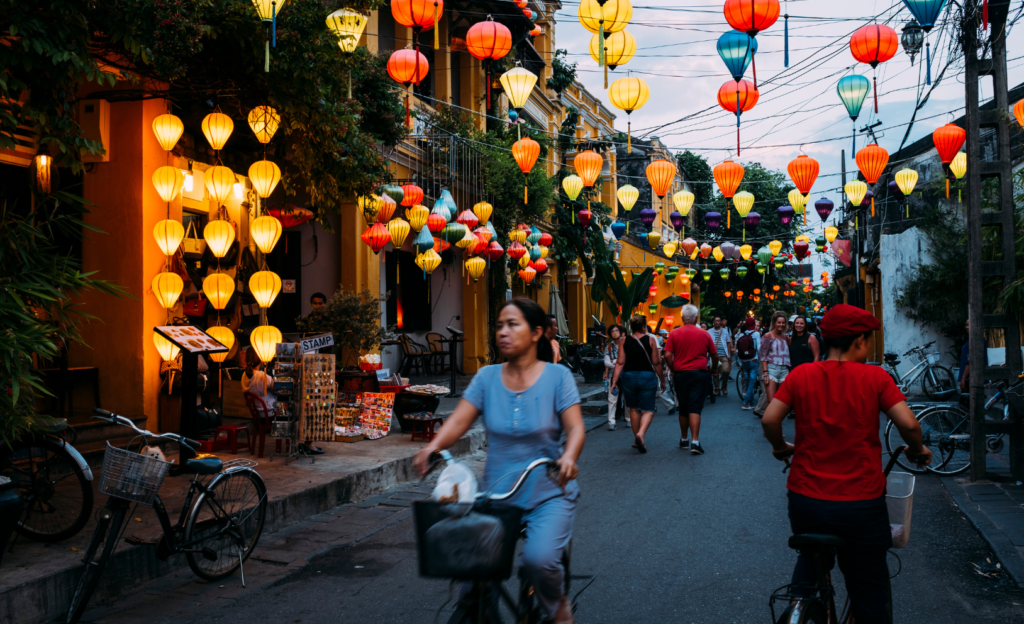 Transfers
We're able to arrange your transfers for you, just let us know your flight number, and we'll plan the route and let you know the cost! For multi-stop trips, we can also arrange your transfers between hotels/regions.
Vaccinations
Generally, no vaccinations are required except for yellow fever if you are travelling from an area where the disease is present. However, visitors should be inoculated against typhoid, cholera, hepatitis A and B, tetanus and polio. Malaria and Dengue Fever are present and it is advisable to take precautions especially if travelling off the established tourist trail. Please note that we are not medical advisors and recommend you consult your doctor or a travel doctor, as they will know which vaccinations you have had already and any additional ones necessary for your trip. You can also take a look here for travel vaccination information and advice on bringing medication into the country.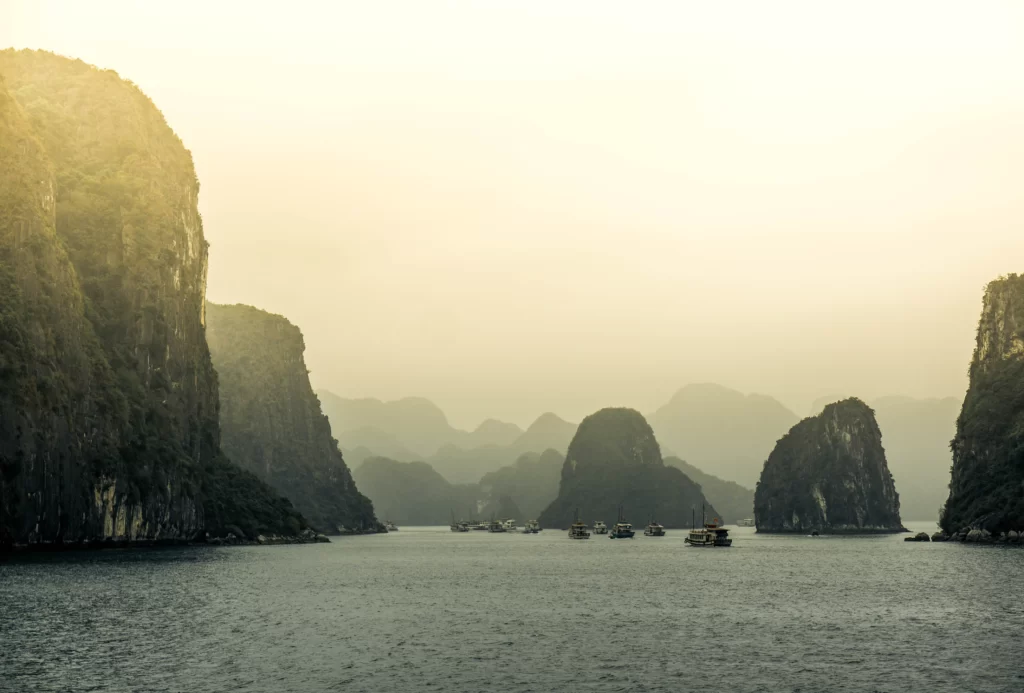 Laws and customs
Please take a look at Vietnam's full laws & customs here.
– Dress conservatively and cover legs, shoulders and low neck-lines when visiting temples and take your shoes off at the entrance to a Vietnamese home or religious site.
– Avoid public displays of affection. Anything beyond holding hands may be frowned upon in a conservative society.
– When venturing out from your hotel, make sure you take a hotel business card with you. This will make your return in a taxi much easier.
– Do not sit until you are shown where to sit. The oldest person always sits down first. 
– Do not show off; keep a low profile and a cool head, and remain polite. Losing your temper in Vietnam means a "loss of face".
– Do not take video cameras into the ethnic minority villages. They are considered too intrusive by the local people. 
– Do not take a photo of somebody without asking for their permission. 
– Do not take pictures of anything to do with the military, which is considered a breach of national security. 
Safety – Top Tip
Serious or violent crimes against foreigners in Vietnam are rare, but travellers should remain vigilant for petty theft, especially in larger cities such as Hanoi and Ho Chi Minh City and when travelling by bus or train. As a global rule, never leave belongings unattended and always maintain a firm grip on cameras and shoulder bags. In some tourist sites, you may encounter some insistent souvenir sellers. A polite "No, thank you" usually will suffice. Leave your expensive valuables at home and always use hotel safety deposits boxes or in-room safes for valuables
When crossing the street, try and enlist the help of a local to cross the street. If this is not possible commit yourself and walk at an even pace with your eyes on the incoming traffic. Placing your hand in the air will also alert motorists to your presence, they will move around you – confidence is key.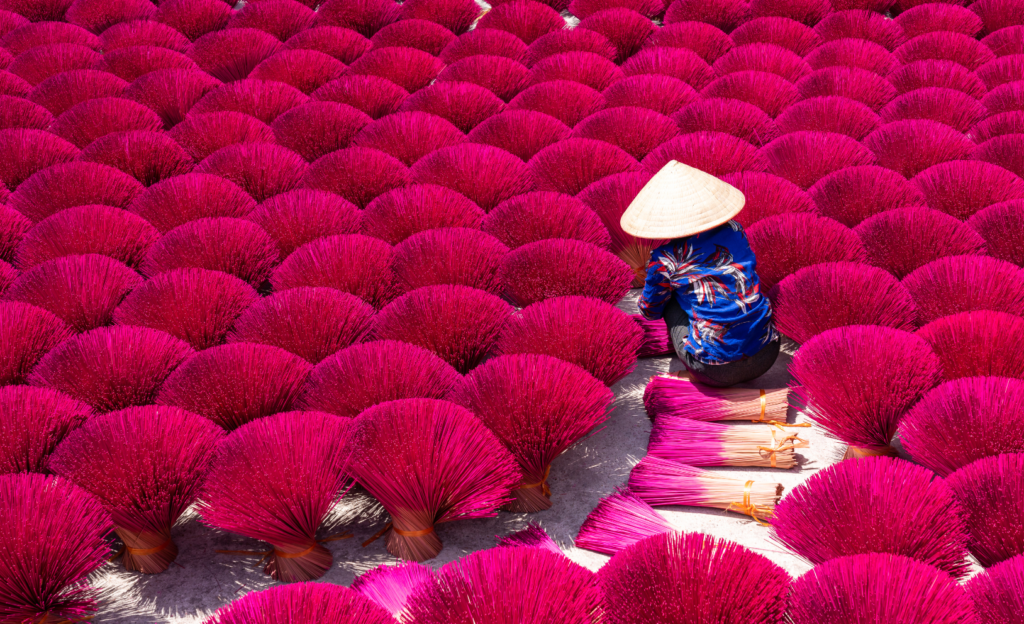 Climate & What To Pack
As with other regional tropical countries, lightweight cotton clothing is the most comfortable clothing in Vietnam. A lightweight raincoat is a good idea in the rainy season. It is advisable to cover your arms and legs in the evenings outside to protect against mosquito bites. An umbrella is also a good idea in both the hot and rainy seasons as it will offer protective shade from both the strong sun and the tropical downpours. Evenings in the north and the central regions can be quite chilly so bring a sweater and a good jacket especially if you're travelling between November to February. Visitors should not wear shorts, short skirts, cropped tops, vest tops, or similar clothing when visiting pagodas and monasteries and shoes should be removed before entering a religious building or a private home. 
Because of its geographical shape (Vietnam stretches over 2,000 km from North to South), the climate varies greatly, with three distinct climatic zones. Tropical monsoons occur from October to April in the central region and from May to September in the north and south. It is almost totally dry throughout the rest of the year. It can get exceptionally hot, all year round, but the north has a cooler time between October and April. Temperatures around the country can reach up to 40C in the pinnacle of the hot and rainy season (May to September), but the northern highlands and the capital Hanoi can often seem cold in the winter months. The high season runs from September to March. We do not recommend visiting Vietnam during the Lunar New Year, or Tet holidays (the Vietnamese New Year that falls between late January and February). The Tet holiday is the most important period of the year for Vietnamese people who take time off to visit their families in the countryside or take a holiday. All hotels, buses, trains and flights tend to get booked up.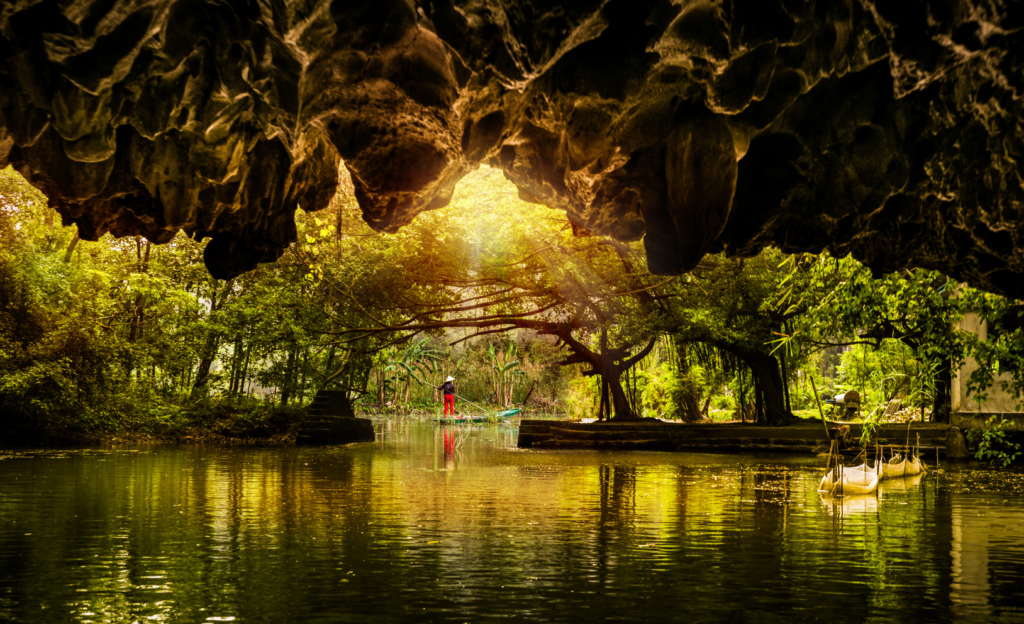 Flight & Time Zone
The total flight duration from London to Hanoi is 11 hours and 5 minutes and from London to Ho Chi Minh is 15 hours and 5 minutes including a stopover.
Vietnam is GMT +7.
Plug Type
For Vietnam there are three associated plug types, types A, C and F. Plug type A is the plug which has two flat parallel pins, plug type C is the plug with two round pins and plug type F has two round pins with two earth clips on the side.
Language
The national language is Vietnamese. The Vietnamese language has six different tones and is a difficult language for most foreigners to speak despite the fact that the Roman alphabet is used. For example, one word can have six different meanings depending on the tone used to pronounce it. In the main cities and major tourism destinations, English is widely spoken. 
Food
Vietnamese cuisine is some of the tastiest in all of Southeast Asia, from banh mi to pho the flavours rely on the freshest of seasonal vegetables and two often-staple ingredients, rice and fish sauce… and much more besides. No matter whether you're fine dining or enjoying a beachside BBQ, there'll be something to suit every tastebud in town.