The Ultimate Winter Adventure – Ski Mountaineering
Designer Alpine Adventures
Think minimal design, discreet colour combinations and views to die for, Hotel Schgaguler emulates its incredible natural surroundings and the majestic Dolomites beyond. It's a fantastic destination year-round, but this winter it makes for the perfect snowy escape with more than a hint of adventure with their ski mountaineering package!
Ski mountaineering offers an unrivalled sense of adventure and freedom, and Schgaguler offers a selection of tours with expert mountain guides to totally (and safely!) immerse yourself in the spirit of the mountains. Enjoy massages, warming fireplace drinks and delicious meals alongside  the company of fellow adventurous spirits. Whether you're a beginner or learned skier, this is the perfect ski week for you.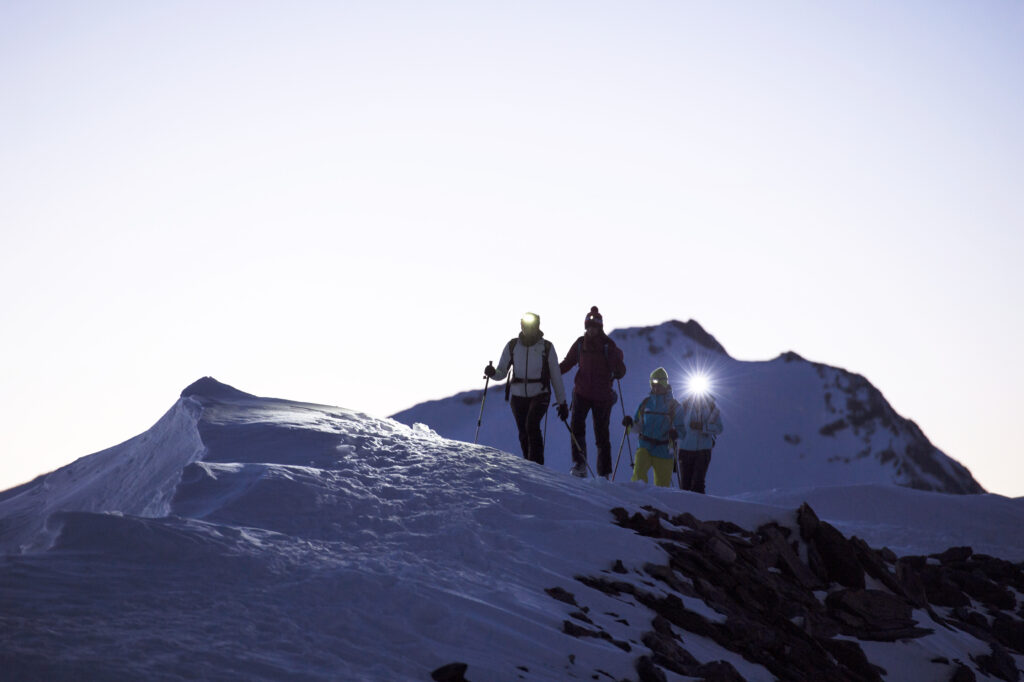 What's Included in the Ski Package?
Discounted Equipment Rental – Head to Hotel Schgaguler's local ski rental for boots, ski poles and skis: all that you need to experience cross-country skiing in total freedom and with a 20% discount on rental price.
Welcome Drink – Upon arrival you'll enjoy welcome drinks with your group of fellow winter adventurers, with incredible views of the Dolomites.
Breakfast – Enjoy hearty breakfasts for a perfect start to a new day on the skis.
Sella and Val Mesdi Tour – Your First Adventure : Via the Pordoi cable car you will reach the majestic Sella, to be discovered metre after metre on your ski before descending along the picturesque Val Mesdi.
Sasso Piatto Tour – Your Second Adventure: An iconic peak in the Dolomites, behold Sasso Piatto's  extraordinary views and the glittering snow covering its vastity, on which you can ski in absolute freedom.
Forcella dei Denti di Terra Rossa Tour – Your Third Adventure: From the slopes of the Sciliar massif, you will reach the Forcella dei Denti di Terra Rossa and then head back to the valley through the wonders of the Alpe di Siusi.
Sport Massage – Soothe those post-slope aches with a relaxing massage.
Dinner – Every evening, the hotel restaurant will treat you to a four-course dinner before your well-deserved rest, while you dream of your next downhill on the snowy slopes.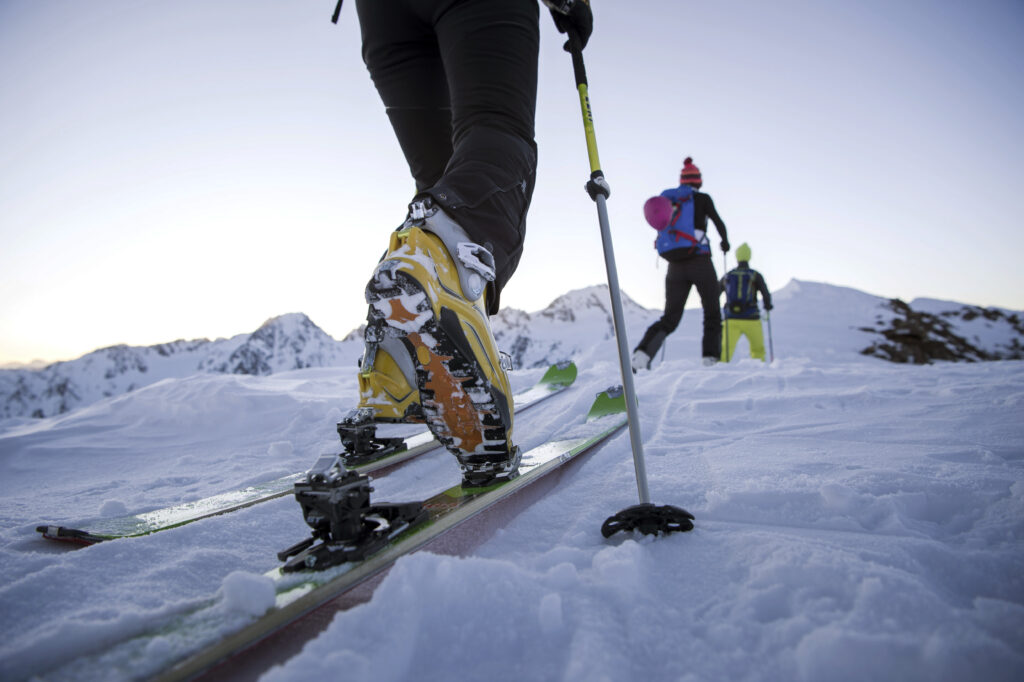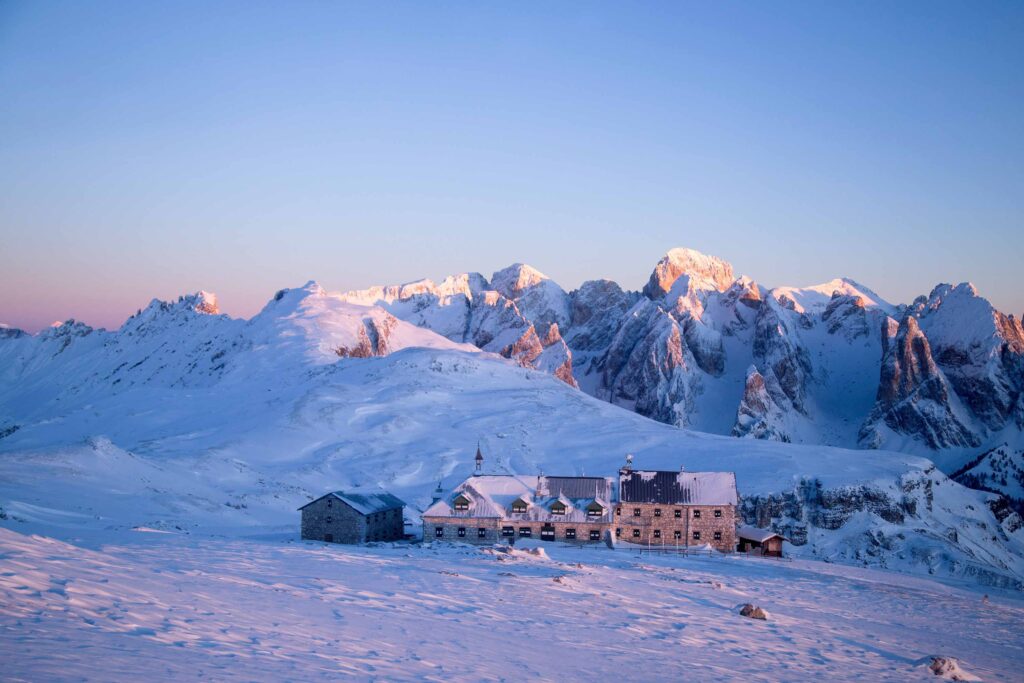 Ski Mountaineering – Day – by – day
The trip runs Sunday – Friday and includes leisure days during which you can enjoy the world-class SPA or head into central Castelrotto for a spot of shopping!
Sunday – Arrive and meet your fellow skiers for the week alongside your fantastic guide, Helmut Kostner at the hotel bar. Helmut will give you a brief introduction to ski mountaineering and the tours of the upcoming days.
Monday – Head to Selva di Val Gardena, hop in the pordoi cable car to the top of Sella Massif where Helmut will give a lesson on technique and safety. Then, the fun really starts as you descend along the stunning Val Mesdi, bring your GoPro for those action shots.
Wednesday – Today's adventure sees skiers cross the Alpe di Suisi through picture-perfect slops to reach Saltria, the starting point of today's tour. Now it's time for a serious adventure as you climb the stunning Sasso Piatto mountain, once you've reached the awe-inspiring summit you'll relish the downward slope home alongside spectacular views of the Dolomites.
Thursday – Today is a day at leisure, fill it with a trip to the picturesque town centre of Castelrotto before heading back to kick back and soothe those aching muscles in their beautiful SPA.
Friday – Finish in style as you depart for the third and final tour. Today you'll climb the spectaculat Forcella dei Denti di Terra Rossa before descending through fresh powder with 'wow' worthy views of the Alpe di Suisi UNESCO World Heritage site.
The Lowdown
Tour dates: 16.01.22 – 22.01.22 & 13.03.22 – 19.03.22
Prices: From £1699pp based on 2 adults sharing a Garden Room for 6 nights on 16/1/22 or 13/3/22, including return transfers from Innsbruck airport, daily breakfast, dinner and afternoon cakes & pastries as well as a full itinerary of guided ski mountaineering and 1 massage per person per stay.
Equipment hire is available for €182pp for 5 days.
Room upgrades and extra nights are available on request.
Get to know your guide
This week of alpine adventure is led by Helmut Kostner, a certified and highly experienced mountain guide. He grew up in Castelrotto and climbs the Dolomites regularly since then – check out the video below to hear from him!
But wait, there's more!
If you can't make the ski mountaineering dates, but want your fix of sunshine and snow – fear not! Hotel Schgaguler has plenty more to offer and incredible year-round activities. It's the perfect stay for a weekend ski break with hundreds of incredible slopes and off-piste trails alongside weekly winter activities like night hikes with moonlit tobogganing, and in the summer the trails turn to an lush paradise and a hikers' dream! Don't fancy quite so much of an adventure? Schgaguler's incredible spa and tranquil surrounds is the perfect destination for a weekend of pampering and peace.
Fancy kick-starting your new year with an alpine adventure? Simply get in touch to book your snowy escape!