The Best Experiences to Maximise your Leftover Leave
End The Year On A High
You asked, we answered. We've had so many of you looking to use up your leftover annual leave and head off on unique experiences and incredible stays. So, we've worked our magic and found five totally unique activities to end your year on a high and make sure that leave doesn't go to waste! From Icelandic tours on snow-mobile to snorkelling with manta rays in the Maldives and taking part in amazing conservation work in Laikpia, there's something here for every traveller.
Read on to explore a world of amazing adventures and where to stay to enjoy them, have your calendar to hand … you're going to want to book those days off!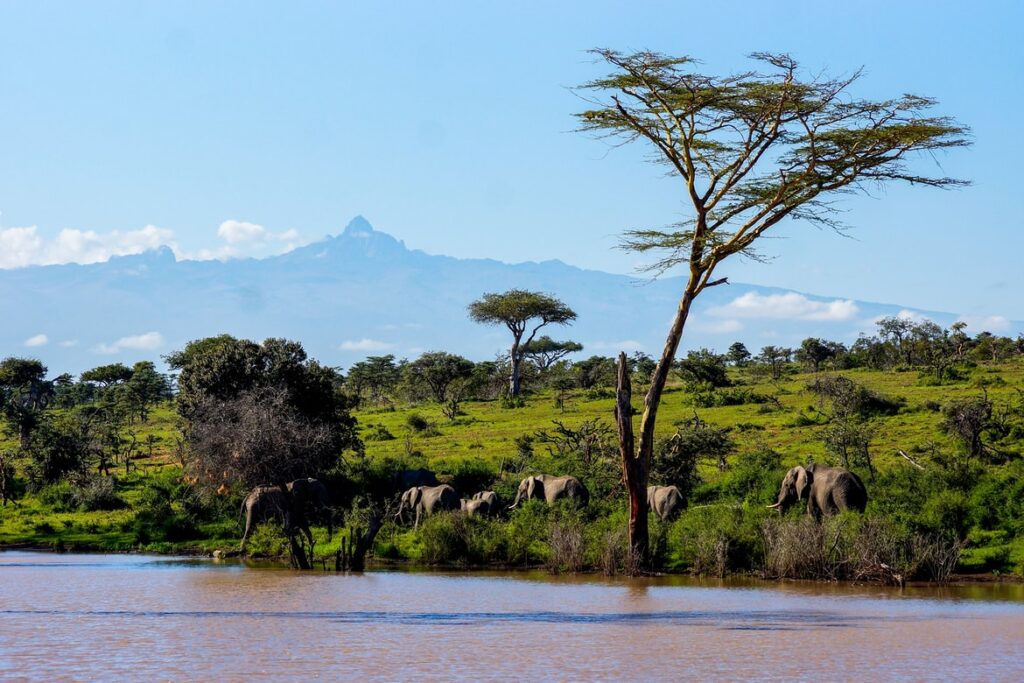 Snow Mobile Adventures in Iceland
First up is a one day tour which combines a tour of the Golden Circle's main sights and a snowmobile ride on Langjökull glacier. If it's an intrepid winter escape you're looking for, this one's for you! You'll get to see the world's oldest parliament (dating back to 930!) and stroll through the incredible Almannagjá gorge, pass Lake Laugarvatn through to the Haukadalur valley, the most-known geothermal area in Iceland. Here you'll spot a few of Iceland's famous spouting geysers before heading to Iceland's most famous waterfall Gullfoss.
Then it's time to hit the throttle on your snowmobile (after a quick safety lesson!) and head on a tour of Langjökull, the second largest glacier in Iceland. Speed through ethereal, pastel landscapes … be sure to bring your GoPro – these are moments to last a lifetime!
📍 Where to stay? – ION Adventure Hotel
Check out this video to explore this incredible, remote hotel.
Wild Dog Conservation _ Laikipia
Laikipia's boundless wild landscapes, incredible scenery and wildlife that is not only on the increase, but of greater size than anywhere else in Kenya (besindes the Masai Mara), make it totally unique to all other African regions. The area around Laikipia Wilderness Camp, in particular, has one of the fastest-growing populations of wild dog, or 'painted dog', in Africa – but even with this population growth the species is, still, critically endangered. So, for a truly remarkable experience you can take part in Laikipia's amazing conservation work and spend days tracking these wonderful creatures, recording crucial data and, when do spot them, getting the opportunity to capture fantastic photographs as well.
📍 Where to stay? – Laikipia Wilderness
Truffle Hunting _ Umbia
For the foodie fanatics among you we'll travel over to Umbria, the 'green heart' of Italy, to escape for a few days of truffle hunting … and feasting! Umbria takes centre-stage in Italy's truffle hunting traditions and is the single biggest producer of truffles in the country, December to March is the best time to sample them! Spend time immersed in Umbria's cultural cuisine and head into the forests and fields with local truffle hunters and their canine companions. Take in the beautiful views, learn all about truffles and, once you've harvested your bounty, pause to enjoy a glass of Umbian wine and a taste of your truffles. Head back and enjoy further days of feasting on the regions delicious produce, alongside spa treatments and long countryside walks.
📍 Where to stay? Tenuta di Murlo
Whale Watching _ Sri Lanka
From November to April each year, Sri Lanka's south coast seas calm and sea safaris become the highlight of many travellers' trips. November to April is also when the whales migrate and Mirissa is their prime feeding ground, making it the perfect place to see if you can glimpse these magnificent sea creatures. You'll head out with an experienced, local marine naturalist on a small speedboat (no large-scale ferry excursions here!) to learn about and, ultimately, behold some of the world's most impressive mammals, alongside opportunities to spot dolphins, turtles and more.
As if this wasn't fantastic enough, upon returning to shore you'll drop anchor in the Weligama Bay and enjoy a delicious home-made breakfast on board, before jumping in to the azure waters of Weligama for a post-breakfast swim. Bliss.
It's important to note that this ocean safari is run as ethically as possible, and adheres strictly to observation guidelines such as how close one can get to the whales and speeds at which to travel when  near a whale or a pod of whales.
Fun fact: Did you know a blue whale's tongue tongue alone can weigh as much as an elephant?! 🐋
📍 Where to stay? Cape Weligama
Diving with Manta Rays _ Maldives
Combine exceptional luxury and marine adventure with a stay in the Maldives this winter, and an incredible diving with manta rays experience. Laamu Atoll in the Maldives is home to Hithadhoo Corner and more than 120 resident manta rays, which researchers from the Manta Trust have been studying since 2014. This experience allows you to take part in their conservation strategies, learning how to identify each manta ray via their unique spot patterns and recording vital data for future research.
Did you know? Laamu also has the only year-round manta ray cleaning station in the Maldives as well as the world's first non-invasive underwater ultrasound scanner. This leading conservation effort enables contactless scanning of wild pregnant reef manta rays to study gestation and embryonic development. This information is vital to guide conservation strategies.
📍 Where to stay? – Six Senses Laamu
So, put that leftover leave to good use and head for an exceptional adventure to finish the year with a bang. Feeling inspired but don't know where to start? Head to our discovery form and we'll take it from there!