Get ready to be transported to a fairy-tale land of rolling hills, stunning coastlines, and quaint hilltop towns that will steal your heart. Sip award-winning wines and indulge in local delicacies as you wander through exclusive wineries and lush vineyards. For the adventurous, hop on a Vespa and explore the countryside or take a leisurely stroll through nature. And for the foodies out there, prepare to be dazzled by the exquisite Tuscan cuisine and fine wines in the region's many restaurants and wine bars. But with so many hidden gems to explore, it can be overwhelming to know where to start. That's why we've curated an inside guide to our favourite villages, eateries, and vineyards for your ultimate Tuscan countryside escape.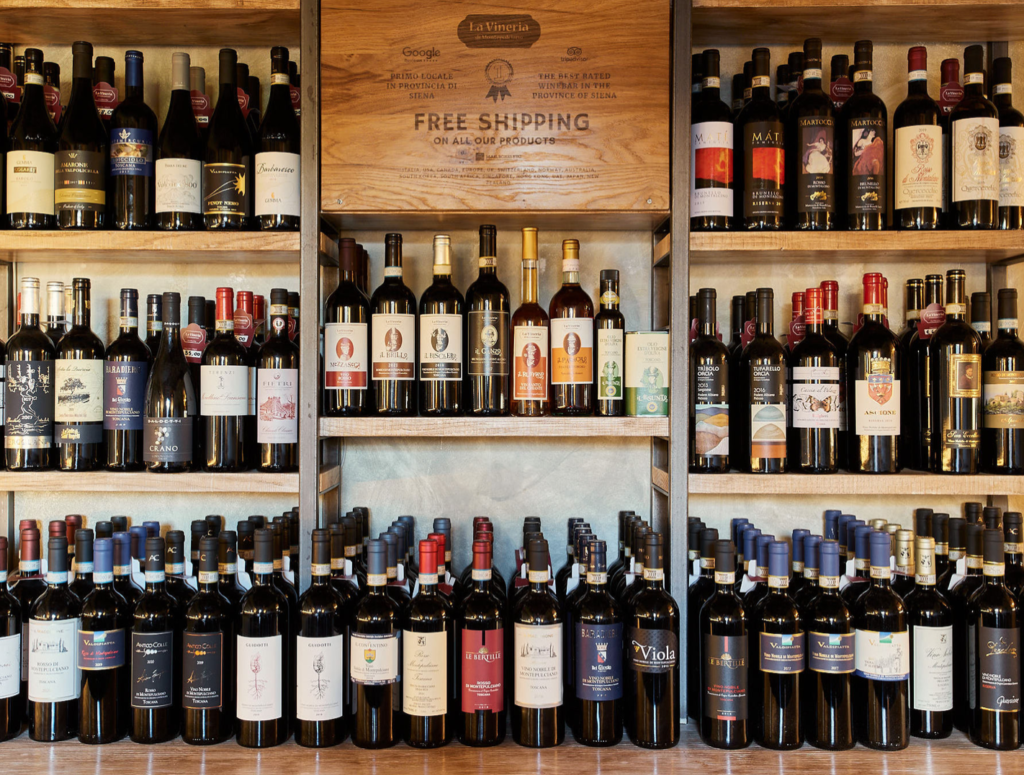 Cortona
A real gem of Southern Tuscany that should be a must on everyone's Italian itinerary. This quaint little hamlet is enclosed by ancient stone walls and charming cobbled alleyways, nestled on a hilltop with stunning views over the Val di Chiana and Lake Trasimeno. Spend your days wining and dining out at our top eateries in the area, stopping by local cafés for your daily dose of espresso and tiramisu, or take a step back in time on a visit to the ancient church, Basilica of Santa Margherita.
Recommendations in Cortona
Ristorante La Loggetta: Housed in the former wine cellar sitting right on the old town square of Cortona, serving classic Tuscan fare, hearty pasta dishes, and delicious sweet treats. A delightful spot for lunch under the Tuscan sun, paired with a glass of white wine for a real treat.
Cortona Bistrot: An intimate family-run restaurant featuring Italian staples with a unique twist, an extensive wine selection, and stunning views from the outside tables. Our top picks are the classic lasagna and gnocchi ricotta bake. 
Osteria del Teatro: A rustic-chic setting reclaiming the typical features of the region's ancient inns, serving typical Tuscan-style pasta, meat dishes and a sharing option of truffle fondue. This eatery stands out from the crowd and is a must among travellers and locals alike.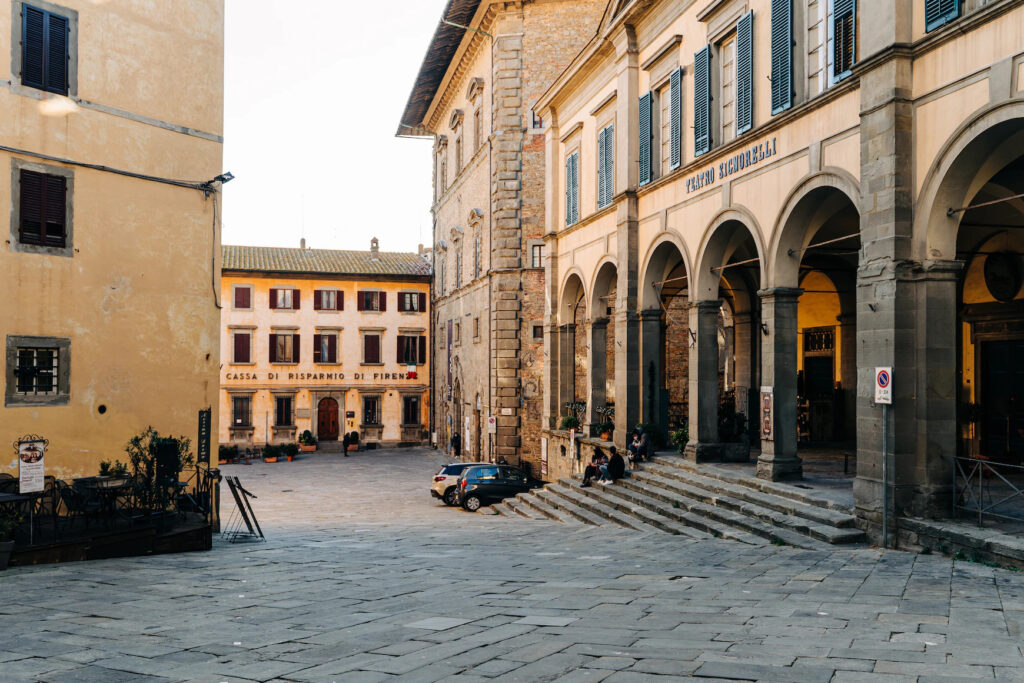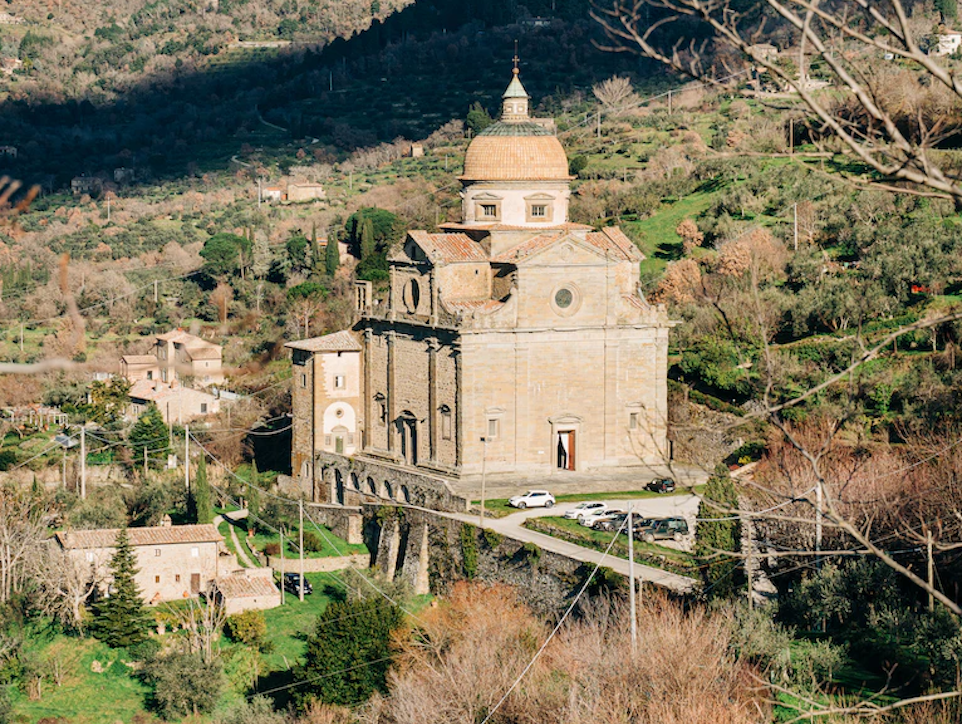 Montepulciano
The beautiful wine town of Montepulciano seems completely untouched by time. Spend your days enjoying the region's renowned Vino Nobile red wine from the lavish wine bars and vineyards in the area, or climb to the very top of the bell tower for expansive views over the ancient hilltop village.
Recommendations in Montepulciano
La Dogana Enoteca: A sophisticated eatery that combines minimalist architecture with the warmth of authentic Italian heritage. The menu centres around traditional Tuscan roots with a hint of modern influence; from the open glass windows guests can take in views of rolling vineyards and the organic kitchen gardens.  
E Lucevan le Stelle:  A wine bar, bistro, and boutique art space in the heart of old town Montepulciano, famed for its beautiful views of the valley and the ancient wonder of San Biagio Church. The soft sounds of jazz bands play here on the regular, so kick back with a glass of wine and enjoy the night ahead. 
La Vineria di Montepulciano: This whole in-the-wall wine bar is the top pick if you looking for an old-world cosy setting for a classic Italian aperitivo. The house wine here is excellent, all are very reasonably priced and the amazing staff are always on hand to make top recommendations for the perfect food and wine pairings.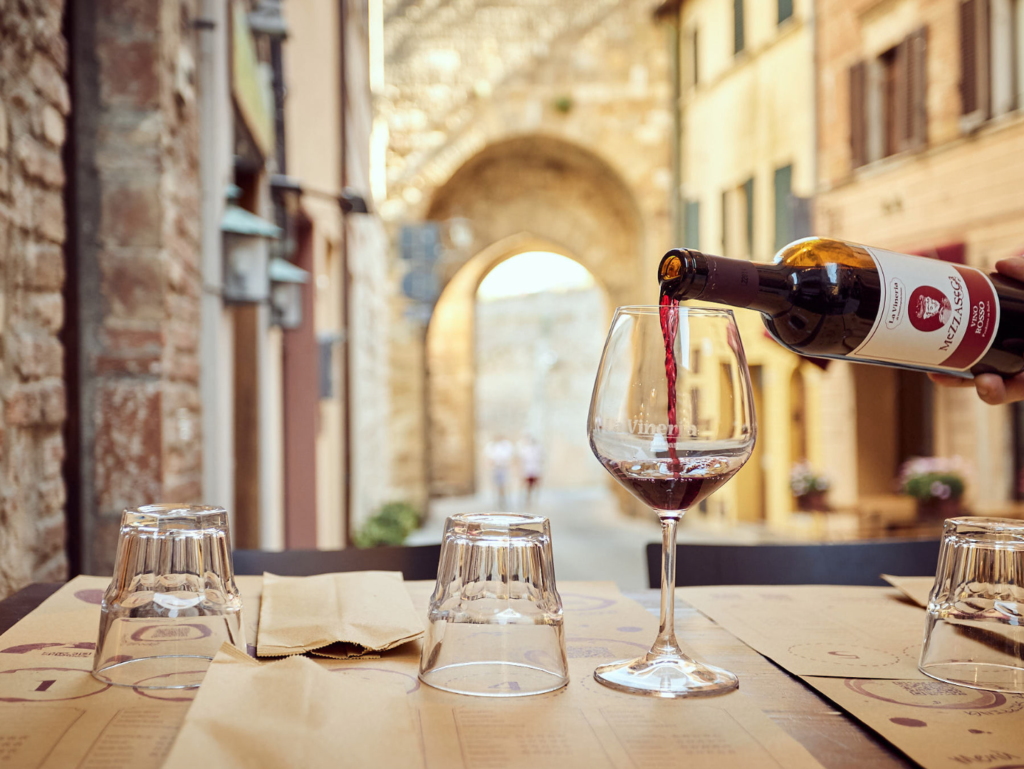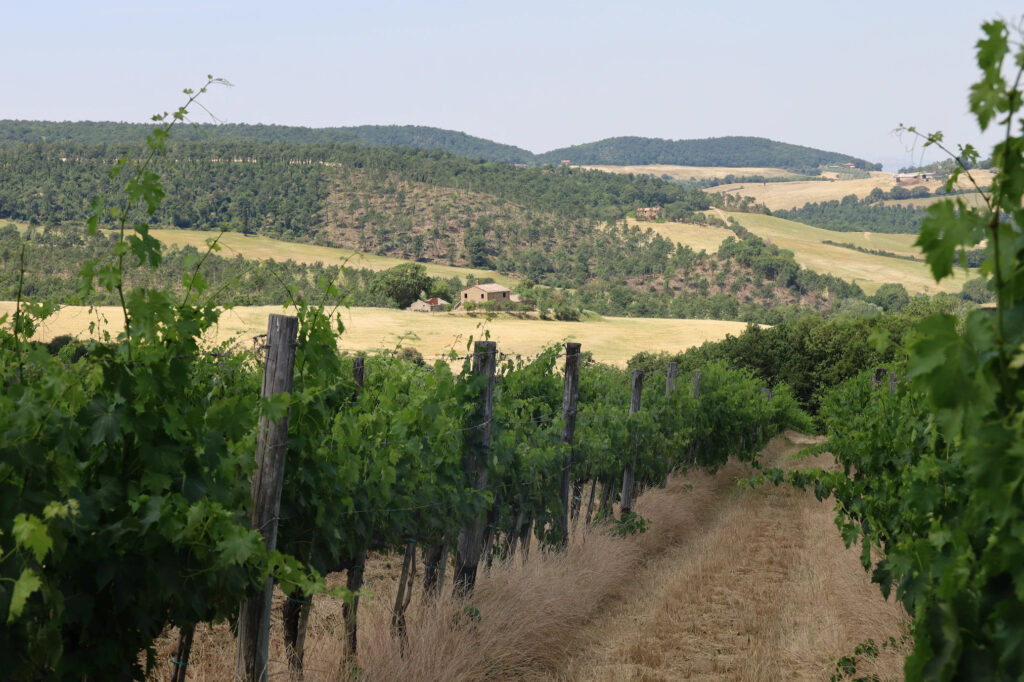 Pienza
A vision of Renaissance perfection in the heart of Tuscany with the ultimate combination of Italian architecture, cuisine, and tradition. With its realm of cypress trees, hillside scenery, country lanes and urban designs, Pienza has served as an inspiration to numerous poets, writers, and artists. Back in 1996, UNESCO decided to make the centre of the town a World Heritage Site. 
Recommendations in Pienza
Baccus L'Osteria: A rustic eatery with vintage bottles on display, wooden tables and a red sunshade canopy. The truffle pasta and Florentine steak are our top picks from the menu. 
Podere Il Casale: A sophisticated farm-to-table restaurant that focuses on serving fresh home-grown veggies and meat from local farmers with fine attention to the stylish aesthetics of every dish. Sit out on the terrace area and admire the panoramic views overlooking the entire Val d'Orcia whilst sipping on a glass of Pienza's organic wines.
Sette Di Vino: An old-fashioned osteria serving homestyle Tuscan dishes a little different to the norm, makes for a great lunchtime option to enjoy the sunshine outside in the town square.
Bar Il Casello: A perfect location for a sunset Negroni with a beautiful valley view you can't beat.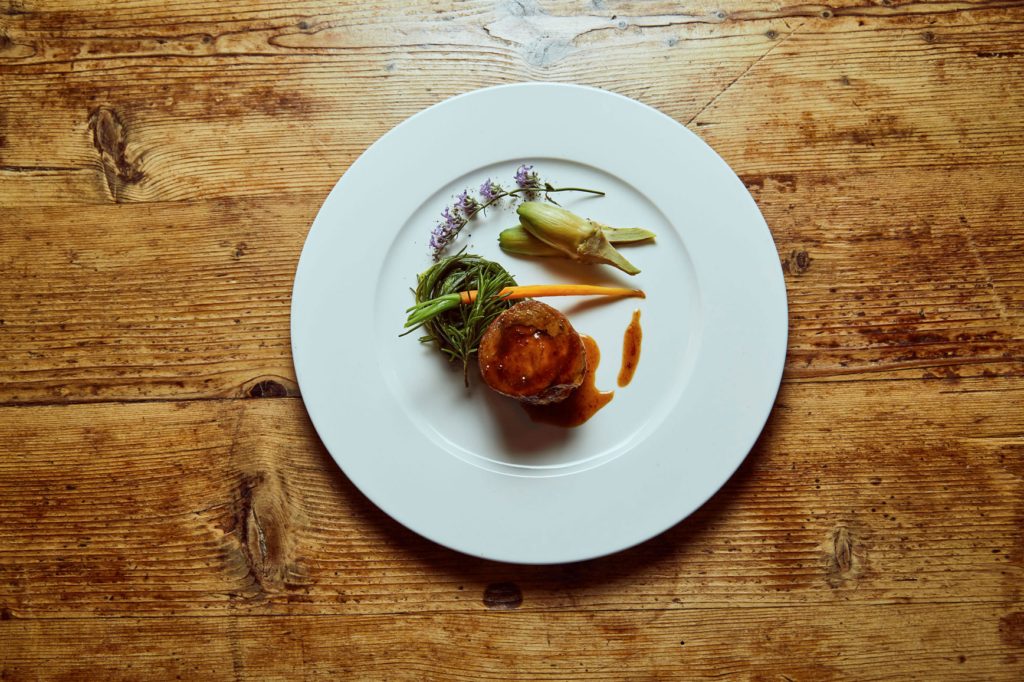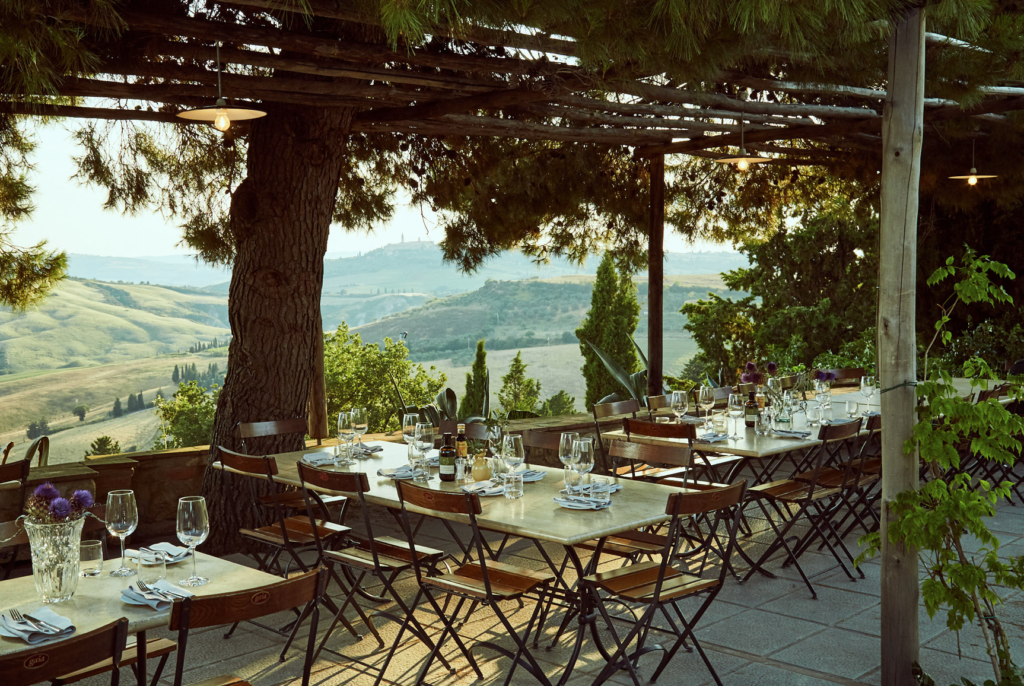 Siena
Siena is a great stop-off point along your Tuscan travels, with its gothic architecture, inspiring art collections, and vibrant street markets, providing you with plenty to marvel at. Once you taste the divine (but sometimes pricey) gelato and traditional plates of Siena, you will fall in love with the city. It's no secret that Tuscany is home to the top wines in Italy. Siena is no exception here! The city is nestled between the Chianti region and Montalcino, so it's a real heaven for wine buffs.
Recommendations in Siena
Osteria da Divo: Travel back to ancient times in this historic restaurant housed in an Etruscan cave and vaulted medieval hall serving elegant regional cuisine and local wines. For an evening of fine dining, be sure to order the 'lamb fillet marinated with Vin Santo wine and aromatic herbs'. 
Antica Trattoria Papei: Opened in 1939, the Tuscan fare is the menu's focus with dishes assuming new characteristics and flavours with the turn of every season. A delicious recommendation here is the pici pasta or hand-rolled spaghetti, dishes which have charmed crowds of tourists and locals for years.
Osteria Il Carroccio: A low-key cosy trattoria with amazing service, house wines, and hearty food at a great price. The fresh gnocchi served with black truffle is a top pick from our travellers.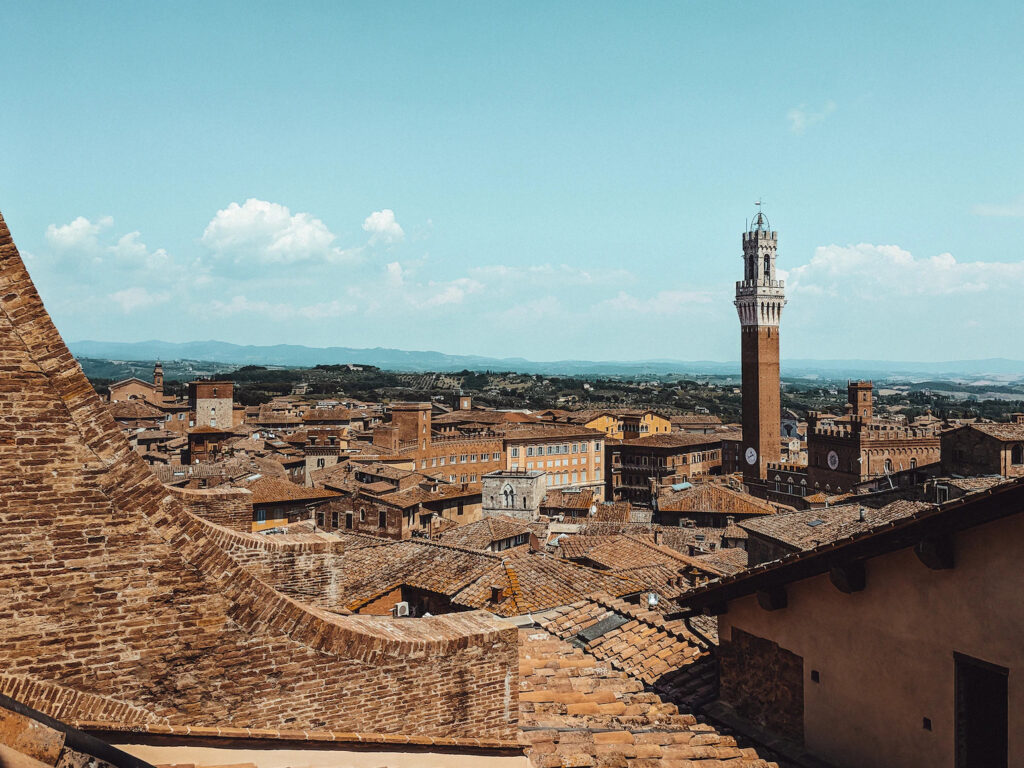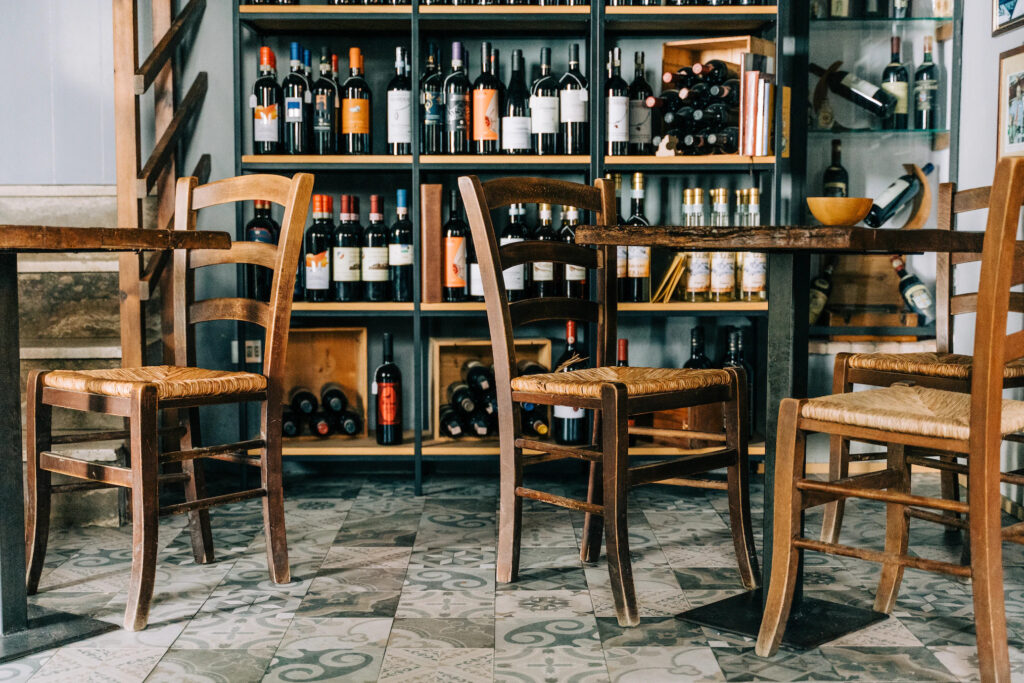 San Gimignano
An Italian medieval town southwest of Florence, San Gimignano, is a must on any Tuscan itinerary. Referred to as Italy's Medieval Manhattan with its striking skyline of 13 sky-high stone towers rising from the Tuscan countryside and surrounding vineyards. No matter if you stay a few days or just stop by San Gimignano for a day trip from Florence (best to visit early morning or late afternoon as it can get quite busy) you'll find that there are lots of places to explore and eateries to discover. Also known for some of the best gelato in Italy, so be sure to head to Gelateria Dondoli on your visit – it's our Brand Manager Sarah's favourite ever!
Recommendations in San Gimignano
La Mangiatoia: Located right in the centre of San Gimignano in the stables of an old mansion boasting stylish interiors, classical music, and Tuscan wines. 
La Mandragola: Set in a welcoming and cosy setting, traditionally offering Tuscan dishes with panoramic outdoor garden space and an open-air terrace. The homemade bronze-drawn pasta and Cinta Senese cold cuts are a true delight.
Le Vecchie Mura: Down the narrow cobbled streets of San Gimignano, you'll find Le Vecchie Mura. Since it first opened in 1982, this friendly and chic eatery has drawn both locals and travellers with its mouthwatering cuisines and stylish atmosphere. Dine out on the terrace for views of the gorgeous Tuscan countryside.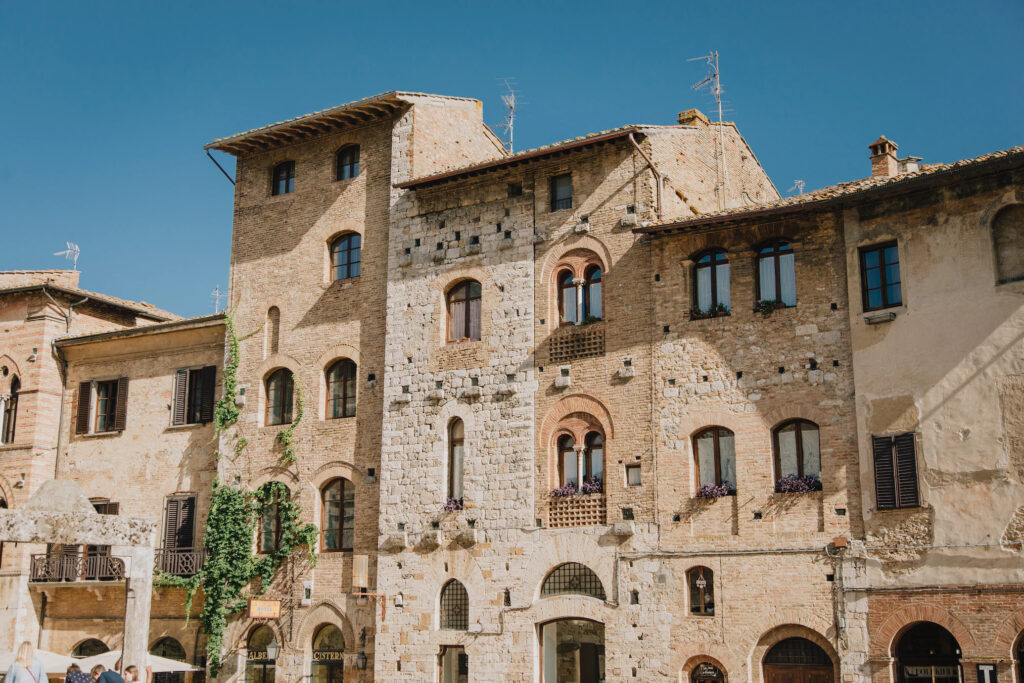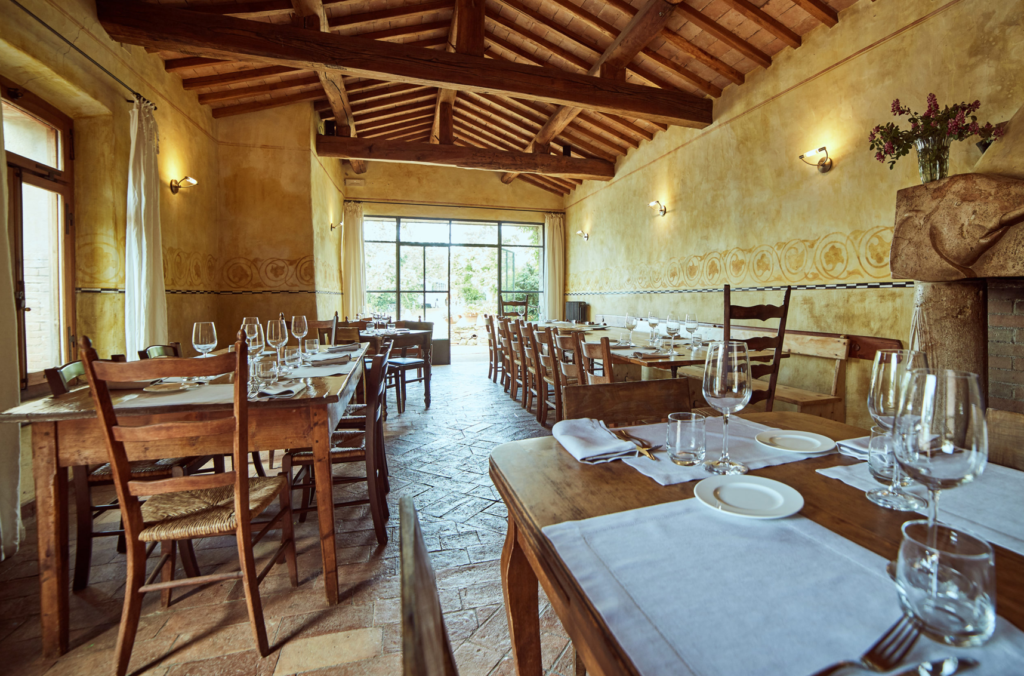 Arezzo
A hidden gem, Arezzo is a beautiful and vibrant city steeped in rich art and architecture and one of the wealthiest cities in Tuscany due to its long tradition in gold-smithery. Its crowd-free atmosphere means you can enjoy an authentic experience of Italian history and culture at your own pace, from the Basilica di San Francesco and Church of San Domenico to the must-see antique market at the Piazza Grande.
Recommendations in Arezzo
Le Chiavi d'Oro: Positioned in Arezzo's old district, this eatery boasts a minimalist aesthetic with elegant wooden textures. The key focus here is on the dishes using skilful interpretations of old-style fares, which are said to be the best not only in the city but also throughout Tuscany. 
Convivio Ristotigelleria Toscana: From handmade egg tagliatelle to regional wines and Champagne Rosé, this is a top restaurant option packed full of vibrant flavours and character that won't disappoint. 
Terramira: Tradition and innovation find an ultimate fusion in the cuisine of Terramira. Brothers, Filippo and Lorenzo, take diners through a story of Tuscany through a sampling experience of elegant pairings – think 'glazed grilled eel, sautéed rice and sweet and sour roots' and 'egg, artichokes, mustard and buffalo parmesan'.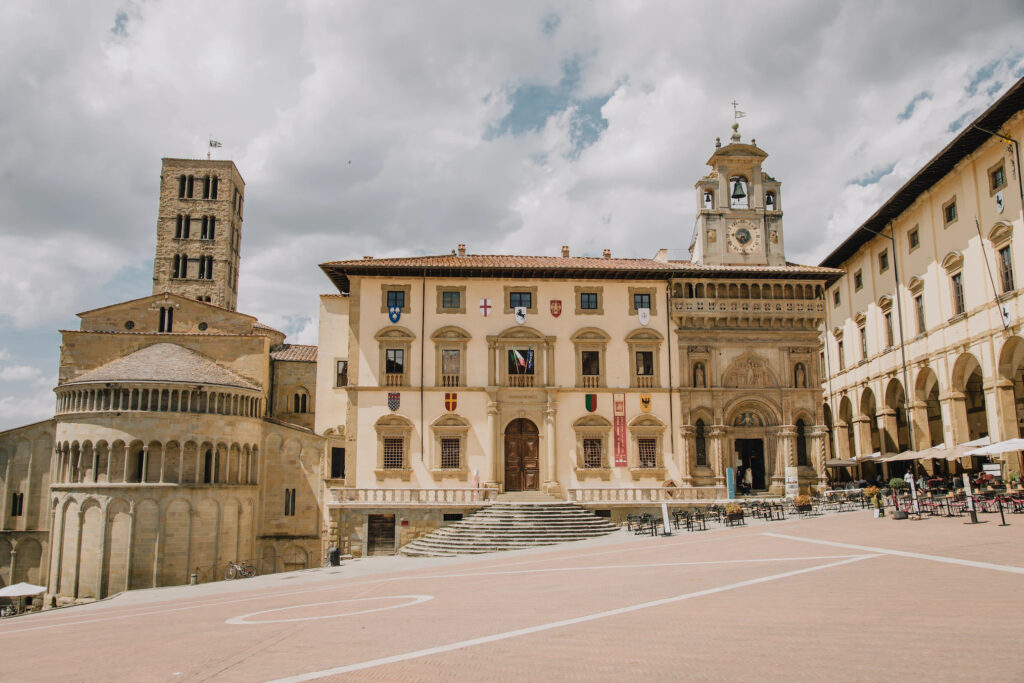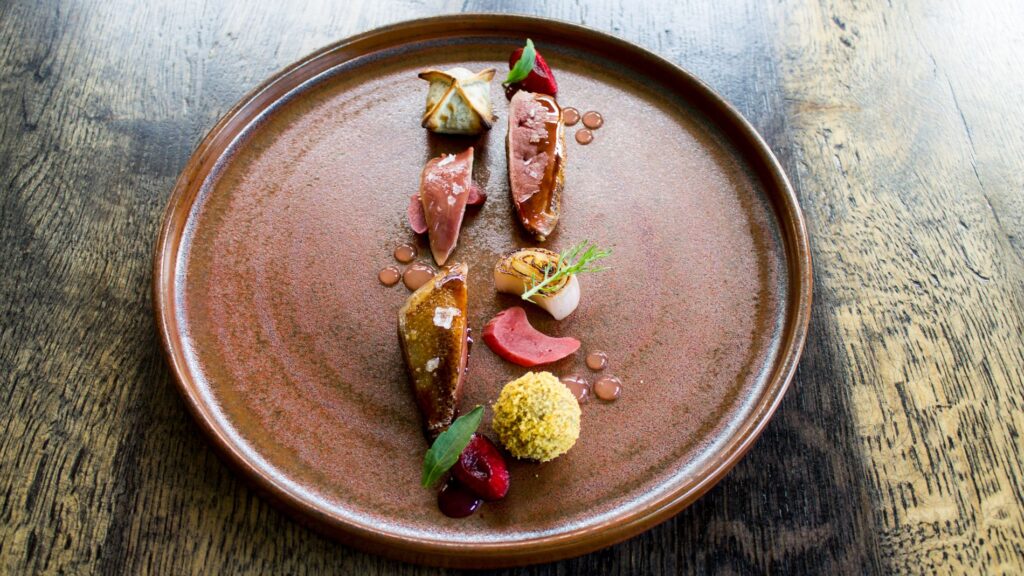 What to do…
Wine tasting: From countryside trattorias and Michelin-starred restaurants to picturesque vineyards and wineries, all our Tuscan wine-tasting tours give travellers the opportunity to savour the true taste of Italy's finest wines and gastronomic delights. Visit top-rated wineries in the famed Chianti Region with our expert guides, tour the cellars, and discover the ancient techniques of production. Sample different grapes, olive oils, and Tuscan specialities. *
Explore Tuscany by Vespa or sidecar: Travel the famed cypress tree-lined roads of Tuscany in style and experience the local Italian lifestyle with the iconic Vespa and sidecar ride. The tours usually begin in central Florence and end with lunch in a boutique winery. *
Cooking classes: Discover the secrets of Tuscan cuisine on an expert cookery course during which you'll whip up homemade pasta, pizzas, hearty Tuscan stews, and creamy gelato. You'll return with a host of new recipes to bring some Italian flavour to your dinners back home. *
Spa day at San Giovanni Terme Rapolano: If you feel like a day off from cultural exploring and indulging in rich Tuscan cuisines, treat yourself to a day of full relaxation and well-being. Immerse yourself in the thermal springs of San Giovanni Terme Rapolano, for a feeling of pure luxury and comfort that will refresh your body and mind. The perfect option for our honeymoon travellers.
Exploring some of Tuscany's best-kept villages: Explore all the hidden corners of the Tuscan hills with trips to the picturesque hilltop towns uncovering historic squares, cobbled streets, and ancient buildings. The towns make fascinating places to stop over and visit on your Italian itinerary – these tours can be done independently or booked as a private tour with transfers and our expert guides. *
*All experiences marked with an asterisk can be booked through nemo, all others can be enjoyed independently.
Tips for getting around…
– With transfers to and from activities, leave it with the nemo team as we can arrange all the transport necessary to get you to your destinations. We do also advise making a direct reservation with your hotel, as taxis are often only available on demand. 
– Car hire is the best option to explore the countryside and charming towns of Tuscany. Car rental offices can be found in all the airports and major train stations in the region.
– The scenic drive from Florence can be between 1-2 hours depending on where you are staying in Tuscany.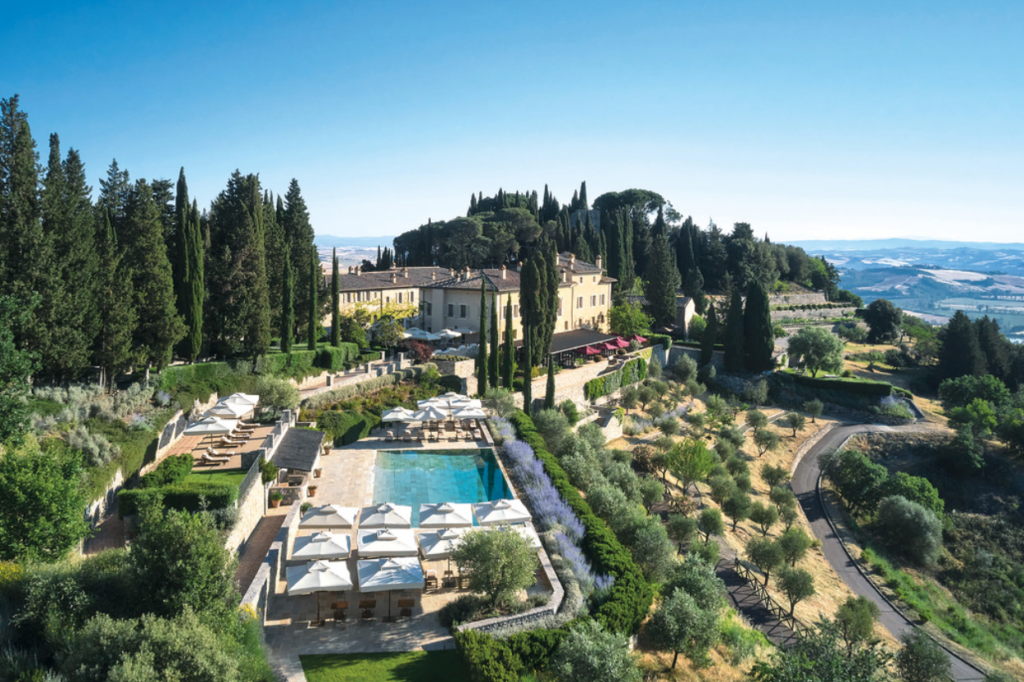 Some of the best wineries in Tuscany…
Fattoria Santa Vittoria: Set in an impressive vineyard setting in a lovingly restored old farmers' building, offering both luxury hospitality and top-quality wine production. Head out on a truffle hunting trail or sip on great wines while learning about the history and winemaking process of the Tuscan grape.
Rosewood Castiglion del Bosco: Tucked away among one of the oldest and most unspoiled estates in Tuscany, Rosewood Castiglion del Bosco is infused with idyllic natural beauty, Italian heritage, and local lifestyle. Explore the ancient wonders of the wine cellar, stroll through lavender fields, or indulge in state-of-the-art spa treatments for the ultimate dose of countryside comfort.
Borgo San Felice: An old Tuscan hamlet set on the hills of Chianti Classico, surrounded by acres and acres of sprawling vineyards and ancient olive groves. The San Felice winery creates outstanding Chianti Classico wines, including Gran Selezione Il Grigio and Poggio Rosso, that are effortlessly paired with dishes served from the Michelin-starred eateries on site.