Why We Love Costa Rica…
Home to a vibrant array of wildlife, and with beaches as enticing as its jungle, there's a wealth of activities and terrain to be explored!
Entry Requirements 
Visas
British and American nationals do not need a visa to enter Costa Rica. You may stay as a visitor for up to 90 days under a tourist visa waiver, although the exact period is at the discretion of the immigration officer on arrival. Your passport should have at least one day's validity from the date you are leaving Costa Rica. 
Note: If you're flying via the US, in or out of Costa Rica, you will require an ESTA. Your airline will be able to provide you with further information.
Covid-19 Rules
Please see the British Government advice here.
There are no entry requirements for Costa Rica.
Please check the Government guidance if you are entering/returning to a different country, and do get in touch with our concierge team with any questions.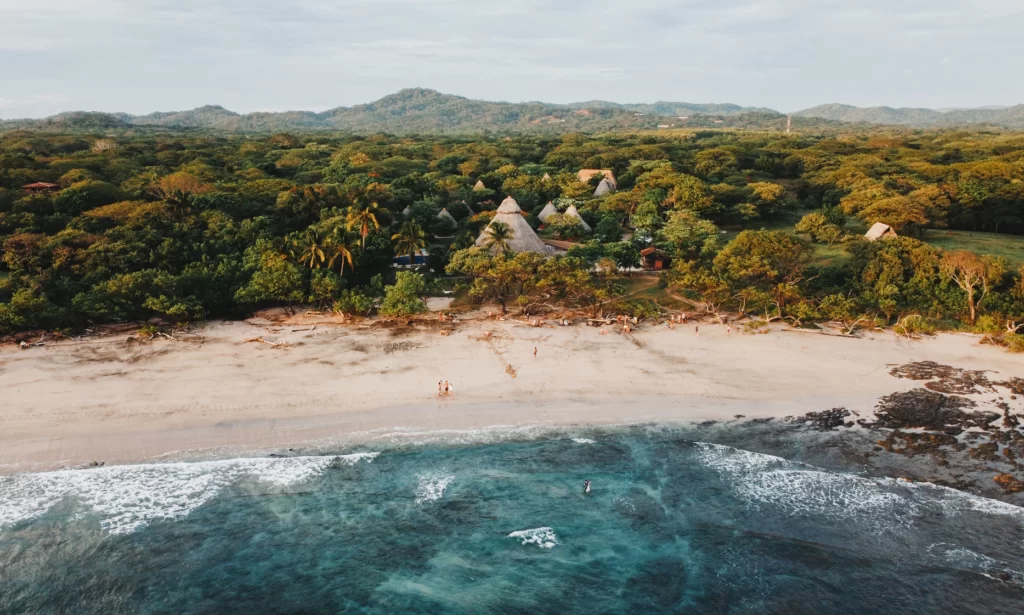 Transfers & Luggage Allowance
We're able to arrange your transfers for you, just let us know your flight number, and we'll plan the route and let you know the cost! For multi-stop trips, we can also arrange your transfers between hotels/regions. Please note, domestic and charter flights, as well as water taxis within Costa Rica, impose luggage weight restrictions of 40lbs/18kgs per person. 
Climate
Costa Rica boasts a tropical climate with warm temperatures year-round. The dry season when rainfall is minimal is between December and April and the green season is between May and November. 
Tortuguero: Humid/tropical climate and 26°C average temperature.
Guanacaste: Dry/temperate climate and 28°C average temperature.
La Fortuna-Arenal: Humid/tropical climate and 26°C average temperature.
Mid-Pacific: Dry/tropical and 25°C average temperature.
South Pacific: Humid/tropical climate and 27°C average temperature.
Puntarenas and the Gulf Islands: Dry/tropical and 28°C average temperature.
Central Valley: Tropical and 20°C average temperature.
Monteverde: Humid/tropical climate and 25°C average temperature.
What To Pack
Swimsuit – Suncream – Walking boots – Waterproof shoes/sandals – Waterproof jacket – Undergarments – 2 pairs of trousers – Shorts – Sunhat – Jumper/sweatshirt – Binoculars (highly recommended!) – Camera – T-shirts – Sunglasses – Earplugs – Money belt – Bandanna – Enough of any medicine you are currently taking for your time in the jungle.
Field Gear: A small day pack to carry souvenirs, and for side trips involving domestic flights, charter planes or boats – Plastic bags for gear or clothing protection – Bird book (if you're an avid birder!) – Headtorch – Reusable water bottles, plastic bottles are forbidden in certain places.
We will provide you with a personalised nemo towel for your trip, so no need to pack one to bring along with you!
Wildlife Sighting Timetable
Check out our timetable to see when you should visit to spot the wildlife that you're keen to see.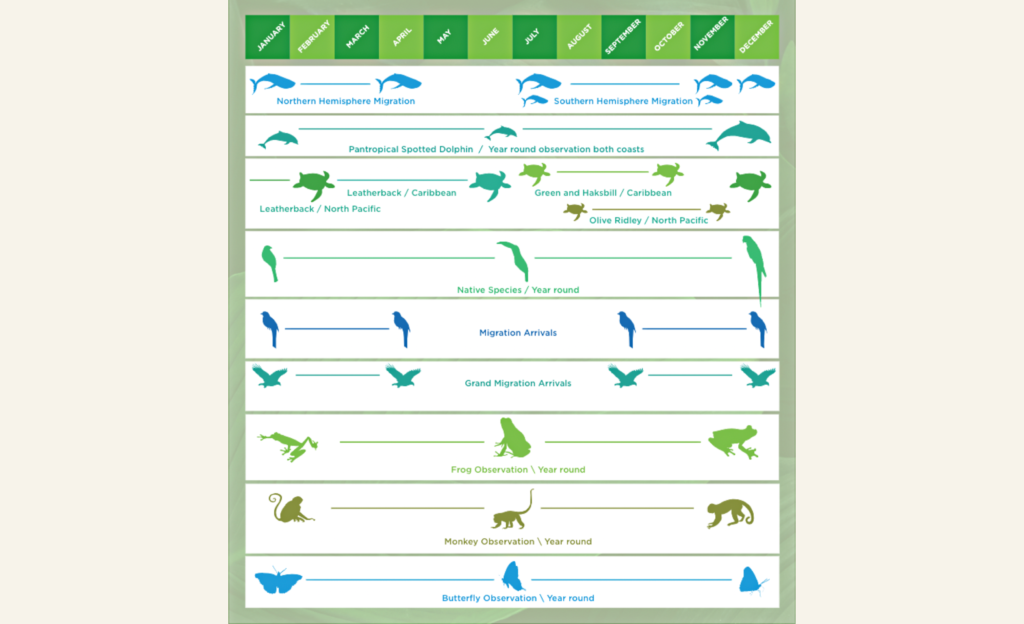 Laws and Customs
Take a look at Costa Rica's laws & customs here.
You should be able to produce an identity document such as a passport at the request of the police. A photocopy is usually acceptable as long as the original would be available for later inspection if required. 
Plug Type
The plug type in Costa Rica is the same as in the USA and features 2-pronged types.
Currency
Costa Rican Colón, but the United States dollar ($) is also wildly accepted.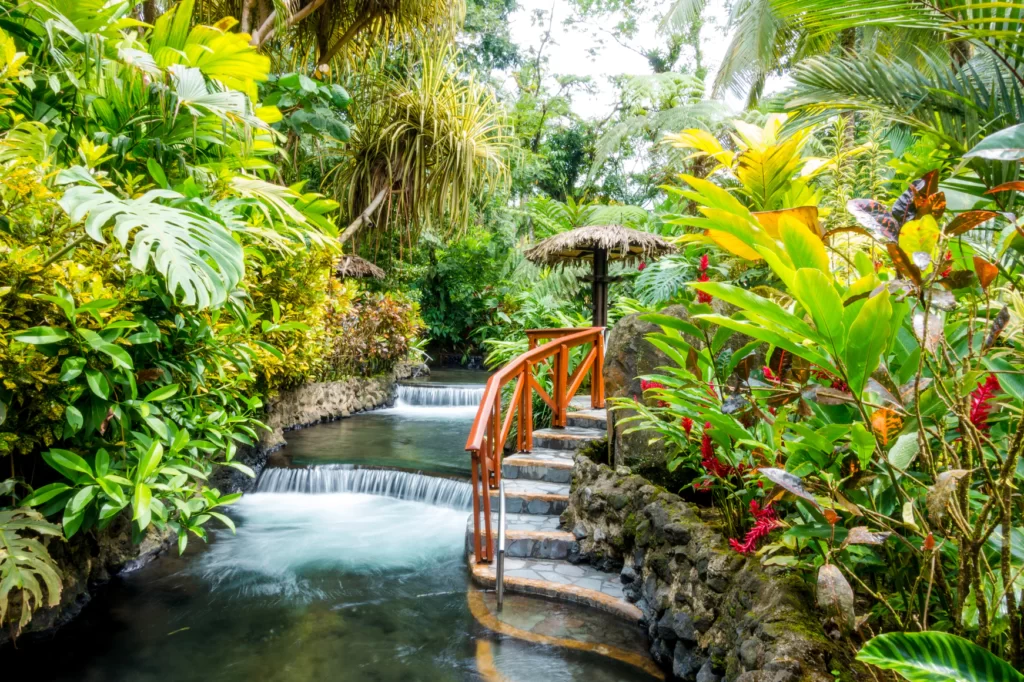 Vaccinations
We aren't certified to give medical advice so always recommend you consult your doctor or a travel doctor, as they will know which vaccinations you have had already and any additional ones necessary for your trip. You can also take a look here for travel vaccination information and advice on bringing medication into the country.
Tipping
We highly recommend that you can keep $5, 10 and $20 dollar bills with you for the trip.  Dollars are well accepted in all establishments as well as credit cards.  You can also exchange $150-200 into colones at the airport and there are ATM machines in every village in case you need more.
All restaurant bills in Costa Rica add a 10% service charge. Please note, it is also important to tip tour guides and drivers – Airport transfer guides: $2/person. Local day tour guides: $2 to $5/person/day. Full-time drivers: $1 to $5/person/day. Full-time guides: $2 to $10/person/day.
Flights & time zone
The average direct flight time from the UK to Costa Rica is 10 hours 37 minutes.
The time zone is GMT – 6.
Language
Spanish is the official language in Costa Rica.
Food
Costa Rican food often consists of rice, beans and salad, chicken and seafood, and we recommend everyone tries Gallo Pinto at least once when travelling through this destination.