Marrakech has been alluring travellers with its exotic, chaotic allure for decades. A place where spice-scented souks sit alongside iconic boutique hotels and see stall holders jostle for your attention, a place to discover a confluence of cultures that have inspired many an artist to date. Sarah and Venetia have just returned from a Moroccan adventure, and they've brought back a little black book of recommendations for the city. Read on to discover our favourite way to spend a weekend in Marrakech.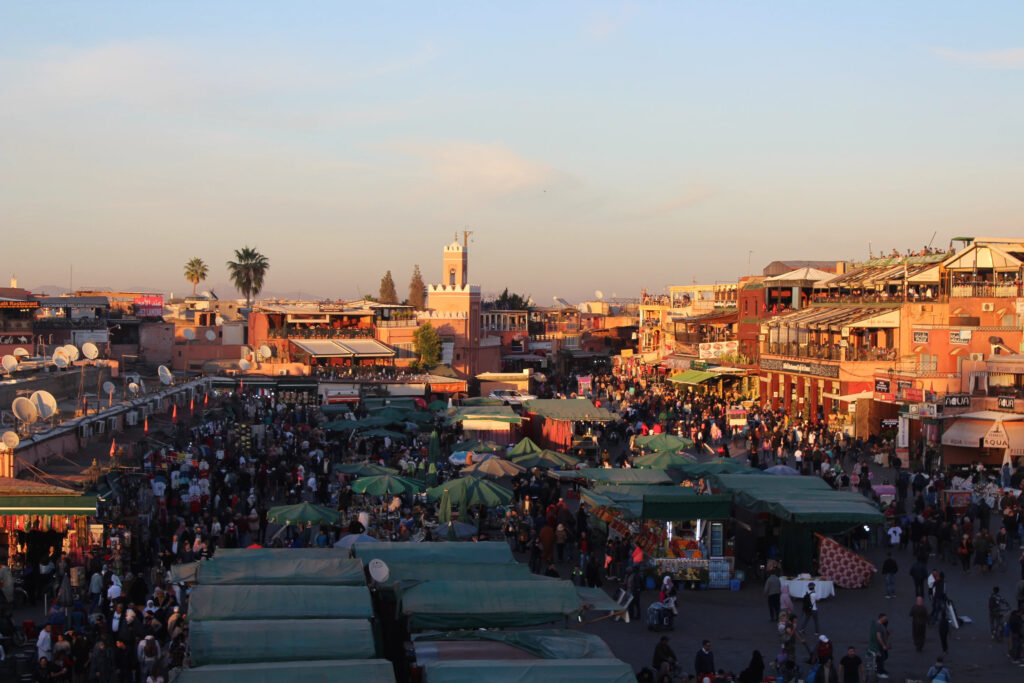 Friday
After checking into your hotel, it's time to hit the souks. For thousands of years, these souks have been the city's trade centre and are a famously rambunctious affair. Every day, motorbikes, carts, tuk-tuks and thousands of locals and tourists alike pass through the technicolour alleys. It may seem counterintuitive, but don't be afraid to get lost; in fact, we actively encourage it. Allow your senses to lead you and you'll soon come across a plethora of goods, services, and trinkets; intricately detailed, handmade rugs; hand luggage-worthy souvenirs, and more spices than you can shake a saffron-filled fist at. Once you've purchased a souvenir or two, head to Nomad (pre-book a rooftop table) to dine on deliciously light, traditionally Moroccan cuisine whipped up by its visiting series of chefs. Alcohol isn't served here (a common theme throughout Marrakech's restaurant collection), but if you fancy a nightcap head to head to Cafe Arabe, it's one of the best spots for a rooftop cocktail. 
Saturday
Set the alarm for a relatively early start and fuel up on breakfast at your expertly-matched hotel. Breakfasts in Marrakech are deliciously light, the freshest of fruits and homemade fromage complemented by expertly-poured mint tea and coffee. Fuelled for the day ahead, it's time to hop in a taxi and head to Le Jardin Majorelle. Famed for its inspirational owner, French fashion designer Yves Saint Laurent, this eclectic botanical garden and newly-opened YSL museum are now open to public exploration – and inspiration! We recommend getting there early to escape the queues and purchase a combined ticket for entry to the Berber Museum to, then spend a couple of hours immersing yourself in the beautiful panorama of displays.
Feeling peckish? Return to the centre and head over to Le Jardin Secret, one of the largest and oldest palaces in Marrakech that dates back to the Saadian Dynasty. It's the ideal place to pass the hottest afternoon hours, best punctuated with lunch at the rooftop cafe Discover art-filled nooks as you explore the serene courtyards, all of which are outstanding examples of Islamic art and architecture.
After absorbing the gardens' history, take a leisurely stroll back through the souks to your hotel. We advise booking a hammam or a spa treatment (we'll arrange everything), to soothe the soul after a morning in the medina. Then, as the afternoon heat gives way to balmy evening warmth, enjoy a sunset aperitif at El Fenn, one of our favourite rooftop bars in the city. We highly recommend ordering the lychee martini; you won't be disappointed! This iconic bar fills up quickly due to its justifiable popularity among locals and tourists alike, so ask us to reserve a table for you ahead of time. When your martini glasses are empty, it's time for dinner at Kabana Marrakech, another spectacular rooftop restaurant nearby El Fenn that serves Mediterranean-inspired cuisine in a lush, leafy setting.
Sunday
After a leisurely morning, stop by at Cafe des Epices for brunch. This world-renowned cafe serves delicious, authentic light bites (crepes, salads and sandwiches) alongside refreshing mocktails. It's the perfect way to fuel up for your cooking class experience… Which is an absolute must-do on any trip to Marrakech. A local guide will lead you through the souks to barter for spices and other ingredients before taking a tuk-tuk to Riad Orange, a beautiful oasis just outside of the medina. Here, wonderful local women will teach you how to prepare a multi-course Moroccan dinner. Discover authentic courses ranging from aubergine salad to traditional tagines and deliciously sweet almond biscuits. This experience is a wonderful way to explore Moroccan culture through its culinary nuances, bringing back recipes to wow your friends and family on your return.
It's time to leave this enthralling city, but which region are you exploring next? Whether it's the Atlas Mountains, the Agafay Desert or beyond… Get inspired! Explore the Sahara with our customisable Moroccan itineraries or test your surfing skills on a surf trip to Taghazout.
Other things we love to do in Marrakech
Marrakech is perfect for minimoons, or as part of an adventurous longer trip. Below we've listed a few of our favourite things to do in the city, you'll find them all in our post-booking app too!
 – Sidecar tour. An exhilarating way to explore the side of Marrakech that travellers often don't get to see.
– LRNCE
Fancy adding a few days in Marrakech to your epic Moroccan escape? Check out our curated Moroccan trips for the ultimate inspiration, hit 'Design Your Trip' button on our itinerary pages to start piecing together your dream escape. Need some guidance or fancy chatting it through? We're only an email or call away.