Sail Away… Getting Around The Cyclades
The Cyclades are a collection of idyllic islands in the Aegean Sea, offering a perfect blend of spectacular beaches, ancient ruins, and bougainvillaea-adorned villages. This archipelago is a must-visit for anyone looking to escape the hustle and bustle of everyday life and immerse themselves in the isles' laid-back lifestyle. Whether you're a seasoned traveller or are just starting out, getting around the Cyclades needn't be a chore. In this blog, we take you through everything you need to know about exploring this magical archipelago. From general travel advice to ferry top tips, and our favourite island routes, we've got you covered. So, sit back, relax, and join us on a journey from shore to shore of the Cyclades.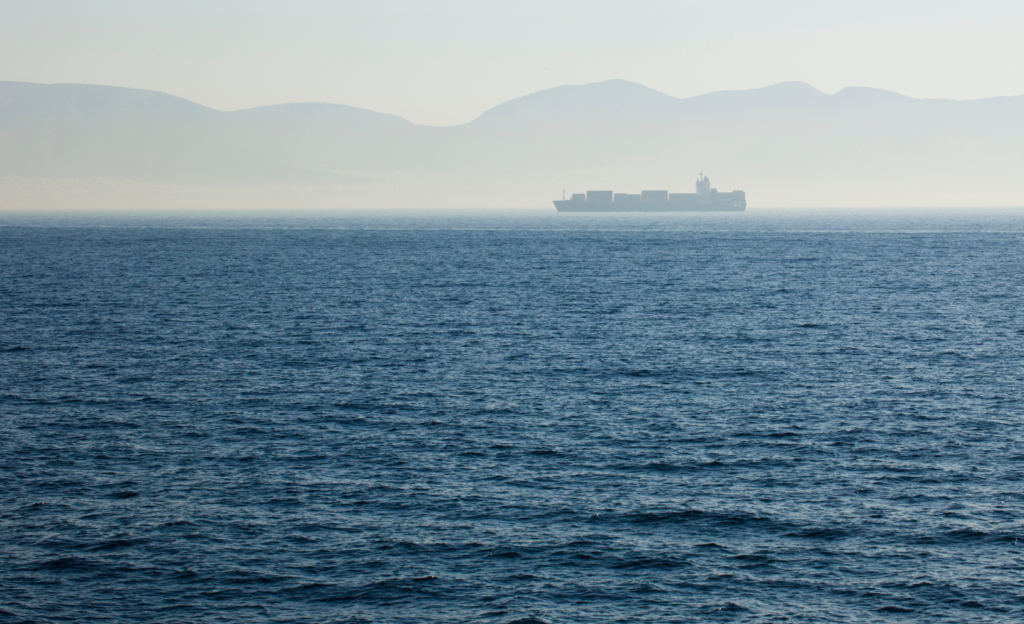 General travel advice
Ferries are a great mode of transport for travellers to discover the idyllic islands of the Cyclades. These islands are often inaccessible by air, but, with ferry ports conveniently located on many of the islands, getting around is a breeze. Journeys range from a quick half hour to a leisurely 4 hours, offering stunning views of the picturesque surroundings. Booking through nemo grants you access to all the information you need for your ferry journey, including the website for the ferry company and your Vamoos app with the ferry booking reference, port information, and timings – also allowing you to check in to your ferry 48 hours before departure. Just remember, for e-tickets without a QR code, you'll need to pick them up at the ferry port. Say goodbye to the hassle of airport check-in procedures and hello to the refreshing sea air and warm sun while lounging on the ferry deck.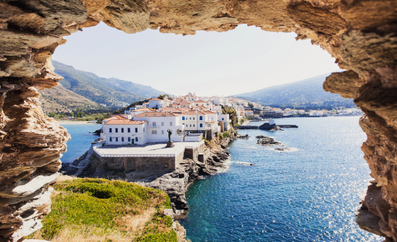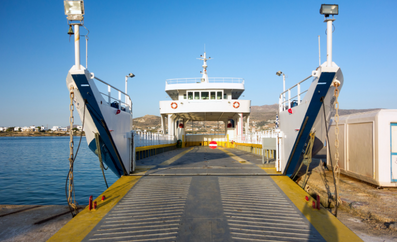 Discovering the Greek Island Ferry Network
– Athens to the Greek Islands: Your gateway to the Aegean. Enjoy the seamless connectivity of Athens to the Greek Islands with at least one ferry each day to/from Athens year-round. There are two ports in Athens – Piraeus is a bustling hub close to the centre, which most travellers will use thanks to its accessibility and choice of ferry routes. The second is Rafina, closer to the airport and offers a slightly more relaxed vibe but doesn't have as many ferry route options.
– Mykonos to Santorini: Summer Romance. The daily ferry route between Mykonos and Santorini is available from late March to early October. Plan ahead for the off-season with ferries via Athens or a scenic flight.
– Naxos, Paros, Ios to Santorini: Year-Round Convenience. The direct daily ferries between these diverse islands are offered year-round.
– Crete to Santorini: A Seasonal Escape. Explore the two largest islands of Greece with daily ferries running from late March to late October. Connect via Athens or fly over the Aegean for the rest of the year.
– Rhodes to Crete: A Slow-Paced Journey. Take in the sights of the Aegean with Rhodes' sporadic ferry service to Crete, often on an overnight trip.
– Rhodes to Santorini, Mykonos, Cyclades: Indirect yet Intriguing. Daily ferries from Rhodes to Athens often stop at Syros, Naxos, or Paros, offering a chance to delve deeper into the Cycladic islands before connecting to Mykonos and Santorini.
– Corfu to Santorini, Crete, Mykonos: West Meets East. Unfortunately, there are no direct ferries from Corfu, Zakynthos, or Kefalonia to the popular destinations in the Aegean and beyond, such as the Cycladic islands, Crete, Rhodes, or any other islands in the Aegean.
– Italy to Greece: A Summer Affair. Take advantage of the seasonal ferry routes from the east coast of Italy to the west coast of Greece, reaching destinations such as Corfu, Igoumenitsa, and Patras. Sadly, there are no direct connections to the popular Greek islands of Crete, Santorini, Mykonos, or the Cyclades.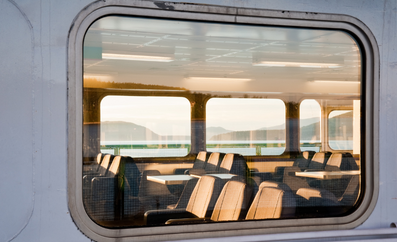 Top tips
– Make sure that you arrive at the port around 45 minutes to an hour before departure, particularly if you are travelling with a vehicle — the ferry will not wait for you if you're not there.
– Ferry services can be affected by strong winds. If it's especially windy, you can contact the local port authority or the local travel agency to confirm your departure time. Handy tip: Track your ferry on the app!
– Travelling when the wind picks up may mean you're in for quite a bumpy ride, we'd recommend taking a seasickness tablet for the journey if you're prone – just in case.
– Tickets include one big piece of luggage per person alongside smaller bags for your personal belongings. Baggage does not need to be checked in. 
– Transportation strikes in Greece sometimes occur, which can mean no taxis, ferries etc. Whilst these strikes can occur year-round, there is almost certainly one at the start of May. We will always endeavour to let you know if these are happening and if/how they will affect your route.
– Most Greek ferries will have some amenities available on board, think sandwiches, ice cream, pastries, chips, sweet snacks, beer, wine, coffee, and soft drinks. 
– On large car ferries and large high-speed ferries, luggage storage is on the bottom level as you enter the ship. On smaller ferries, you will keep your luggage with you. Ferry companies in Greece are usually quite flexible regarding the number of items, luggage size, and weight.  Keep in mind that there is no check-in procedure for luggage items.
– Come prepared for the business of the port, there'll be lots going on and it doesn't always feel like the smoothest of operations, with delays at times. Rest assured we will do all we can to prepare you for your journey and put your mind at ease with all your travel documents available within our app.